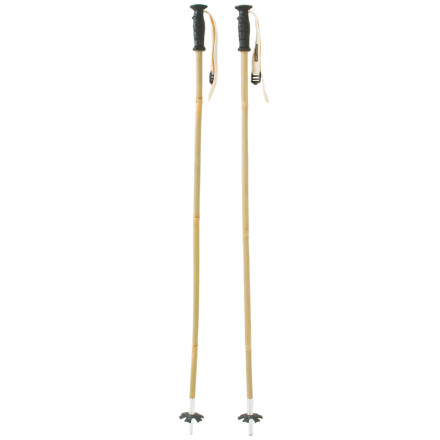 Detail Images

Videos

Community Images
Description
An eco-friendly pole that reminds you what skiing was and what it could be.
Harnessing the ancient power of bamboo, Soul Pole's Original Soul Pole brings you the balance and support you need to ski while providing a sustainable solution that's full of classic Dick Durrance-era style. The Soul Pole is both a nod to skiing's history as well as a trail-blazing effort to bring sustainability to the industry's future. Using a strong, lightweight, and unfinished bamboo shaft, the pole helps you skate over the flats and add balance while navigating through a maze of steep terrain.
Recycled rubber grip along with a hemp wrist strap provide security and assurance that you're making the right choice for the planet
Recycled plastic powder basket gives you leverage in fresh snow
Metal tip plunges into ice when skating over the flats or catching your balance in steep terrain
Share your thoughts
What do you think of the
Soul Poles
Original Soul Pole
? Share a...
0 Stars Would be More Appropriate
Familiarity:

I've used it several times
I purchased a pair of Soul Poles from Backcountry.com in December of 2014 and within probably 10-12 days on the mountain, both poles developed multiple long, vertical cracks along a significant portion of the shaft. While still under warranty, Soul Poles feels that the buyer should have pay for shipping both ways - unreal when their lousy product falls apart almost immediately. Additionally, the plastic portions that lock the straps into place are cheap and inadequate at keeping the straps stationary. I tried contacting the company and received absolutely no response even after three weeks of waiting. Second inquiry into total lack of customer service was sent on 9/14, but at this point I'm not expecting much of anything . It's unfortunate such a cool idea just doesn't hold up and the guys running show appear to be absolute bums. Buyer beware!
Best poles ever!
Familiarity:

I've used it once or twice and have initial impressions
I couldn't be happier with these poles! They are hands down, the best looking poles I've ever laid eyes on. The grips have very pleasing ergonomics and everything seems very well put together. They have about the same weight/feel as a similar aluminum pole. For length selection, these measure "true to size" in inches (which is a tad longer than some other manufacturer's sizing).
Best Pole Around
Familiarity:

I've put it through the wringer
These poles are not only more durable than a traditional aluminum pole, but also much more aesthetically pleasing. These poles fit the contour of your hand beautifully and are light enough to shred with the best of them.

Long story short, by getting a pair of soul poles I have ultimately saved money (by them not breaking), supported an amazing company and helped save the earth.
Photo Credit : Bruno Long

www.brunolong.com
Quality Shafts
Familiarity:

I've put it through the wringer
I actually had the pleasure of visiting the Soul Pole Factory in Park City, Utah to build my own pair. Though the grips, baskets and straps are differing colors, they are functionally identical as the product you see listed here.

Soul Poles are something really special, and it's their story and beautiful aesthetics that make me proud to wield them when I ski.
All the bamboo used in manufacturing is sourced from a single family farm in China. The bamboo species grown on this farm (Tonkin Bamboo) is perfect in terms of strength to weight ratio, diameter, and durability for ski poles.

The boo is sorted at the farm and shipped to Park City, where the crew at the factory assembles and builds poles by hand. The Quality Control is unreal because there are so many steps where actual hands (not robots) are touching the poles, checking for the best quality.

I use my poles both inbounds and backcountry touring. They have a great swing weight to them and are very comfortable to use. The baskets are excellent in powder and don't seem to catch on snow (I've had problems with that in the past). They are fun to use! A larger pair of baskets is included if you ski a ton of pow or plan to use these for backcountry touring.

My one complaint (and this will not apply to 90% of users) is that the grip was a little bit too large for my hand. Full disclosure: I have the hands of a 12 year old child. I found there was just a little too much bulk on the grip for me to comfortably grasp the poles with my mittens - gloves were better. Soul Pole is actually coming out with a kid/female friendly grip soon, so as soon as that becomes available, I'm going to visit the shop and switch them out. These will then be the ULTIMATE pole, so I can't wait!

Really enjoyed meeting the crew at Soul Poles and can say with complete confidence these are real humans that are 100% passionate about what they do and the product they make. I'm super stoked to support them!

I absolutely love the soul pole. Such a good pole that's extremely durable, customizable, has the best grip I've ever used, and the weight is great. I use it hiking, touring, and inbounds skiing.
do you have a pet panda?
Familiarity:

I've put it through the wringer
I picked up a pair of SoulPoles in early November and they've held up perfectly through my 30+ days on the hill (explosive yard sales and pole-thwacking before dropping in included). They're also a real conversation starter as others have noted, and an awesome way to feel some serious skier-camaraderie when you encounter another pair in the lift line or on the chair. Definitely glad I invested in these vs. another pair of aluminum poles.
Soul Poles Original Soul Pole
These poles are super light and they look great. Can't wait to ski with them. Good thing there is a 5 year warranty on them.

just got a pair. But i am having issues getting the baskets on, does anyone have any ideas? they are cut way to small to fit over the tips.
Useful in summer while hiking on the mountain trails, but they really shine when on the slopes. So beautiful, they're totally a conversation starter- "Is that bamboo?"
The Soul Poles guys tell me that their '11-'12 lineup is now 'old technology'. They told me that they addressed the breaking issue and assured me the '12-'13 models have been HYDRATED to deter splitting.
Just bought mine in Jan (got the new model straight from the bamboo factory in Park City), all props, not problems- ppl lov my Soul Poles!
Now all you guys at SP have to do is start making skis ;)
Handmade in Park City, UT
Check out a short video by local Photographer/Videographer Mike Schirf on Soul Poles. It really shows the in depth process of working with bamboo and how hands on it needs to be!