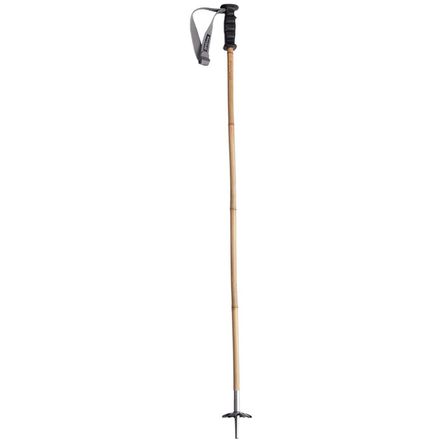 Colors

Detail Images

Community Images
Description
A vision for the future.
Designed and tested in the heart of Utah's Wasatch Mountains, Soul Poles' Original Soul Pole is a testament to the unrelenting strength, lightweight performance, and sustainability of bamboo ski poles. In fact, these beautiful bamboo poles are a claimed 25% stronger than traditional aluminum poles.
Nearly every aspect of these poles reduces the ecological footprint of manufacturing, from the beautiful aesthetic and robust performance of unfinished bamboo shafts, to the ergonomically designed recycled rubber grips, PET plastic yarns used in the wrist straps, and recycled plastic all-mountain baskets. Throw in rugged steel tips for stability and grip in widely variable winter conditions, as well as the laser-etched Soul Pole logo for head-turning appeal.

Handmade in Park City, Utah
Unfinished bamboo shaft
Recycled rubber grip
Recycled PET plastic yarn strap
Recycled plastic all-mountain basket (75mm)
Steel tip
Unanswered Question
The tip looks flat and smooth in the photos. Can anybody relate personal experiences with the pole on icy surfaces? I am concerned it will simply skip off instead of bite.
Look good feel good wheel good
Familiarity:

I've put it through the wringer
Killer boo poles, Look like a boss and perform even better. These poles are badass. Taken some hard spills and these things have never broke on me, they have tons of flex and are a lot more solid then aluminum or fiberglass.
Stellar Bamboo
Familiarity:

I've put it through the wringer
After only one season with these bad larry's in my hands, I must say that I have been thoroughly impressed. Quality construction + perfect swing weight + tough as nails + environmentally friendly + totally customizable + damn cool looking = a no brainer... get your paws on a pair of Soul Poles!
My Favorite Poles
Familiarity:

I've put it through the wringer
These are my favorite poles. Not only do they look good, but they have stayed strong through all my traveling, skiing, and hitchhiking. Soul Poles is also working to spread awareness and influence climate change. With their use of renewable bamboo, recycled plastics, and post-consumer alloys, they are breaking the trend of the mass-producing, soul-less, globalization of materialism. Instead, with Soul Poles, you know the source of every piece that YOU get to put together to make your poles individual. Giving them soul.
High Quality Shafts
Familiarity:

I've put it through the wringer
Have had these poles for several years and they've been through almost everything, from whacking trees to taking a few really good diggers and have come through it all with not a blemish in them.
Being completely eco-friendly these poles make you feel good about your purchase all while you get looks from those who are envying how good your shafts look.
All Around Awesome
Familiarity:

I've put it through the wringer
I am absolutely in love with Soul Poles! They are incredibly durable, and never get bent and dinged like those pesky aluminum poles. The fact that they are Eco friendly, is a huge added bonus, as you can get the best pole on the market and feel good about doing something for the environment at the same time. 11/10.
Plant Your Soul
Familiarity:

I've put it through the wringer
Soul Poles are by far the best ski poles I've used. They are incredibly durable. Much more so then aluminum. They are also eco-friendly, made from very fast growing natural resource, bamboo. Along with recycled rubber and plastic. Soul Poles supports the local community by providing local employment. They are also great conversation starters on the chair lift.
These poles will never let me down!
Familiarity:

I've put it through the wringer
If you are looking for a stylish, customizable, durable ski pole then these are for you. Not only will these poles never let you down, you are supporting an American company that is protecting the environment. These poles can hold 309 psi. when aluminum poles can only hold 115. You will never need to buy another pair of poles again. I am a competitive big mountain skier and I can always trust these poles while in the start gate.
-Turner Petersen
Last Pair of Poles You Will Ever Buy!
Familiarity:

I've put it through the wringer
Soul Poles are indestructible. They are the only piece of gear that have withstood the past three years of competitive big mountain skiing. Whether you are tomahawking down a face or ripping the bunny hill, do yourself a favor and give yourself one less thing to worry about.
YOU NEED SOUL POLES
Familiarity:

I've put it through the wringer
Planting my Soul every turn wouldn't be possible without my trusty Soul Poles! Over the past 3 years I have put my soul poles through just about everything possible. Whether it may be a conversation starter with the cute girl on the chair, pushing up that last step to summit the peak, or finally getting that "soul selfie" shot you have been wanting to get, my soul poles have always been there to get the job done! Trust me, these things are RAD!! It will be the last and only pair of poles you will ever want!
Soul Poles in Haines, Alaska
This is a picture taken by pro skier and guide Reggie Crist in Haines, Alaska. After a handful of down days we finally saw blue skies and b-lined it for this zone called Caffeine ridge. Pro skiers Todd Ligare and Tanner Hall opened up the zone earlier in the morning and we cleaned up the "scraps."
An inside look at Soul Poles
Meet the founder of Soul Poles, Bryon Friedman, and get a tour of the Soul Shop where Soul Poles are handmade.
A note from the Founder of Soul Poles
Familiarity:

I've put it through the wringer
Hey all!

Obviously this review is going to be biased but I wanted to share my thoughts on the Original Soul. I've been using my Original Soul Poles for over 2 years and they are still going strong! I use them for all conditions whether it's cruising groomers, touring the Wasatch backcounry, or dropping big lines in Haines, Alaska. My poles have never let me down and I've taken a few big crashes over the years.

Strength:
The biggest question we get is how strong is bamboo vs. other poles? We finally put it to the test last year through a 3rd party lab in Salt Lake City. The lab tested the strength of our bamboo vs. a variety of aluminum poles and the results were favorable. Our bamboo held an average of 300 + lbs of pressure vs. aluminum which failed at 150 lbs.. Needless to say we were stoked with the results and if you want to check it out we uploaded a short 15 sec. video from the test below.

Guarantee:
The next question we get a lot is do we guarantee our poles? The answer is yes, we guarantee the Original Soul for 2 years. If you break it, we'll replace the bamboo shaft and re-use the original parts. All you have to do is ship them back to Soul Poles headquarters in Park City, UT and we will replace them within 2 years of the date of purchase.

Handmade:
All of our poles are handmade in Park City, Utah by us. We make most of our parts in or near Salt Lake City and North Carolina. Last the bamboo is hand picked for it's strength and durability by a small family farm in China we have developed a relationship with. They are absolutely amazing and understand the importance of the quality we need to hold up in the most extreme winter conditions.

Our goal is to provide quality products that inspire momentous living and the protection of the playgrounds we love!

Hope this helps!

Bryon Friedman
Founder | Soul Poles