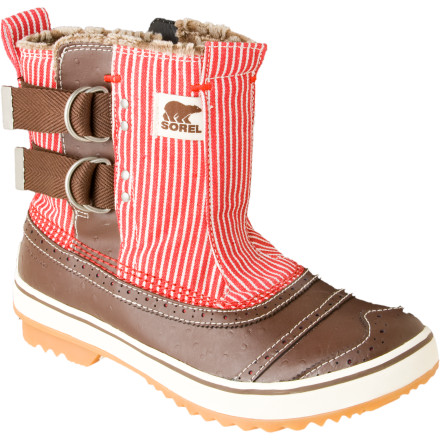 Detail Images
Don't worry, we despise laces too. There's nothing worse than having to untie cold, soggy laces after trudging through the slush. Thankfully the Sorel Women's Tivoli Slip Boot is here to rescue you. Sporting a pair of slick side buckles, these slip-on boots slide on easily to protect your feet from winter. A combination rubber shells and waterproof uppers shrug off slush while warm, cozy linings fight off the cold. Sorel finished these sassy little boots off with a vibrant striped print so you can cruise town looking like a million bucks, even in the deep of winter.
The molded rubber outsoles provide ample protection from slushy puddles and plenty of grip on slippery steps
Full-length fleece linings create additional warmth and add comfort to this rugged little number
Removable footbeds allow you to add your own footbeds or helps these boots dry out should you get into snow over your head
Firstly I have to say - very impressed with how quickly these got here! For an international order thats so great.

I had read the reviews and was going to order half a size up based on what everyone says (6.5). But at the last minute someone else bought the last 6.5 pair in the colour I wanted...so I took the chance and ordered 7s. Best decision ever. I have quite wide feet and a high arch so if you're like me go a full size up. Definitely gives that bit of extra room for thick socks and for getting them on.

These are going to be perfect for my winter in the snow!
the boots fit fabulously and are quite comfy...i have narrow feet, so flinstone feet may not feel as good in them. true to size too.
These Sorel boots are adorable. I get compliments on them all of the time. They are not as warm as I was expecting (which is why I gave them 4 stars). I have North Face and Keen's that are warmer and more comfy, these are definitely a good, solid, waterproof boot.
I like them! I live in Jackson Hole so I have a pair of really heavy duty snow boots that keep me waarm and my pants snow free. I love these boots though for when its barely freezing and maybe a little slushy outside. I wear them anyday the weather is 10F or more., and not snowing too much. I would definately recomend them to others.
Silly Girls, Uggs aren't snow-boots ... THESE ARE!
I have been looking for a stylish/bad ass/legit snow boot for quite awhile. My requirements were: an actual snow boot (not uggs), good reviews, and of course to not look like they came from my grandma's closet. I typically wear skinny jeans and just tuck my jeans into my boots and off I go. They're easy and fast to slip on before trudging out into the snow. I've gotten so many compliments on them and they have kept my toes nice and toasty warm! I might even go as far as saying it's my best purchase of the year! I would hardcore recommend them!
how true to size do they feel? they don't...
how true to size do they feel? they don't have my size i want to know if i should go a half size up or half size down...
They tend to run larger because they are a loose fitting boot. If you are planning to wear thick socks I would go with your true size. If you are not planning on wearing a thick sock you might go a half size down. I usually wear a size 6.5 and I got a 6 and they are perfect with not super thick socks
I was browsing the site for some winter boots and came across these. I usually try to be responsible and think about a purchase when it costs this much, but I bought them in 2 seconds and I'm so glad I did! They are SO cute, and I like how different they are from any other winter boot out here. I didn't find that they fit my foot strangely like some of the reviews said. I have pretty flat feet and I usually need wide shoes. Everybody's feet are different I guess. I wear them with an average weight wool sock. They do get a little tight if you're wearing them with any sock that's super heavy. But lucky for me, these are my walk to school boots, not boots for tramping around the woods so regular wool socks are fine. Love how easy they slip on and off too.
The colour of this boot Is described as...
The colour of this boot Is described as Macadam - is that black or blue?
It's a blue, sort of like a dark wash denim color.
These boots are true to size, a little snug when I first started wearing them. But I'm glad they are cause the boots don't slip on my heal when I'm trudging through Michigan and Ohio's deep snow. My roomates love them and I get compliments, it seems, every time I wear them. They are are really warm and durable--AND they are super cute with straight legs/tights/and even with bootleg jeans cause you still see the detailed lace leather on the front end of the boots. You can't go wrong.
Sorels you can never go wrong - I use these as my work boots in the French Alps. Keep my feet super dry, look cool (no-one around here has them) and easy to get on and off.
Just got these new Sorel Tivoli slips. Really comfy and had a hard time deciding which color to get. Settled on the tobacco/intense red. Can wear with pants tucked, rolled, or over the boot, depending on how your day is going. I recommend getting 1/2 size up from your regular foot size if you plan to wear winter socks. The extra 1/2 size (for me) seems to open up the forefoot area for maximum comfort.
I wished these boots came in black!
I wished these short boots came in black! Because I would have purchased a pair.
These shoes are awesome! I think they are pretty true to size, I am normaly a 7.5 and thats what I got in these shoes and they fit great!
I could not get my foot into this boot. I don`t have overly wide feet, nor are my ankles huge, yet I could not 'slip', push, cram or wedge my foot into this boot. Even after opening the buckle straps, which in my opinion defeats the purpose of a SLIP ON boot. Wasted money on shipping.
Look better than they feel
Great looking boots, but they are super tight on the top of my feet. The first time I ordered my true size, 6.5. I had to return them because of the tightness around the top of my feet. Just got my size 7 in the mail and I have the same problem. Then length of the shoe is fine,.. it's just the top of them that is so tight/snug that my circulation is cutting off. This has never happened with any other shoes I've owned,.. so I am thinking it's a product defect of some sort.
Wear three out of four seasons,
Love a good cold weather boot that's still super stylish and funky! I'll wear it three out of four seasons for sure.
This is the cutest slip on boot ever! I have been wearing them with boyfiend jeans and skinnys. Can't wait for the snow to start falling so I can get them out in the elements! BWT, they do run alittle small.. order a 1/2 size up! ENJOY
This boot is so freaking cute! Great with skinny jeans or legging with a cute short skirt! It is just so out there that everyone asks me what they are... SOREL! Now I just need more colors of these
What is the weather rating on this boot? good...
What is the weather rating on this boot?
good till ____ 'C?
Only has 100 grams of insulation you would need to be active if it was much colder than 10 degrees outside.