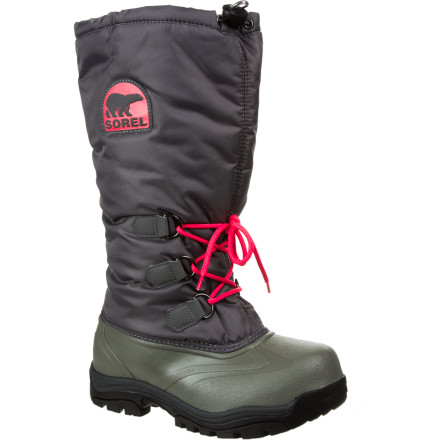 Detail Images

Community Images
The over-the-calf, water- and wind-resistant nylon uppers on the Sorel Women's Snowlion Boots aren't kidding around when it comes to deep snow. After a particularly long dogsled ride, driveway shovel session, or snowy walk with your pup, you can remove the felt inner boots and throw them in the wash. Pull the drawstring at the top of these tall boots tight and use the barrel lock closure to keep cold air out. Sorel rated these technical, lightweight winter boots down to -40 degrees Fahrenheit.
The shaft height is 14 inches.
I ordered this boots about a week ago when they were about $ 56. On the picture they look nice, but actually very cheap made, heavy and when you take foot out, the "felt inner boots" comes out with the foot. I would describe this boots us "modern Russian valenki". I would not recommend this boots, not for this price at least !!!
I ordered the white Snowlion boots as they had been highly recommended. They were beautifully warm but on first wearing the lower part of the back seam split on one boot and the other one split on day two. Fabric just pulled away from the stitching. Looks to me like there was not enough fabric 'inside' the seam. I notice most other boots either have strengthening tape sewn over the back seam, or that part of the boot fabric is cut without the need for a seam there.
I wear a 10 and ordered a 10. When I stand or walk it feels as though my toes are near the end (not the top) but my heel slips and the liner comes off when I take them off. They just feel big all over so I guess I should have gotten a 9 but thought they'd be small, don't think they had 1/2 sizes. Now they're out and I'm stuck with the 10's. Maybe some insole and heel pads from the Dr. Scholl's racks and thicker socks will help. I don't know why some people say they run big, some small and others true. At least for me they were big, a 1/2 or whole size I'm not sure. Otherwise love them.
Sorel uses superior materials for their mens boots. I have these boots and the material wicks moisture so it is hard to keep the top of your knees dry. My spouse has a pair of the mens boots and the materials used including the lace loops and stitching is simply superior. In hind site I would have purchased the mens boots. These boots should cost half the price since the quality is half of the mens quality. I suppose Sorel did not expect women to leave the trail!
What replacement liner would work best...
What replacement liner would work best with the Women's Sorel Snowlion Boots
Best Answer
Sorel sells the replacement liners. Here's the link:

http://www.sorel.com/womens-snowlion-innerboot-liner-NL8030.html?dwvar_NL8030_variationColor=070&cgid=women-liners#start=2
Unanswered Question
do these run a size large? thanks! am...
do these run a size large?

thanks!

amanda
since these arent available in half sizes,...
since these arent available in half sizes, should i order up or down?
Hey There,

Size down for sure.
I wear a size 8.5 in shoes and have a size 7 in the Snowlion boot. As well, before I bought the size 7, I tried on the size 6 as well. They were as good as the 7's, but my right toe was touching the end of the boot.
i would have to agree with polly.they do run smaller. i wear a size 8. i'm glad i tried these on at a store first and the size 8 was to tight with average thinner wool ski socks. so i ordered a size 9. now i can wear a thicker sock, and i added a insole for more insulation from the ground.they are very warm, they fit perfect and i love the height and lightness of them.i live where we have below 0 weather and lots of snow and they were great. now i don't have to wear gaitors anymore. great fast service from backcountry.
thank you, am very happy with my purchase
julie
I responded to Katie's "too big" comment below. I'm posting that review here also. I am an experienced outdoors girl, runner, and avid skier. I have always worn a 7 and a 7.5. My feet are not wide and they are not super narrow, although my achilles heel area would be more narrower. So I basically have your average neutral foot (no pronation problems). However, with any athletic shoe I always wear a 7.5. I have NEVER worn an 8. Okay then. Since Sorel was originally started and developed in Canada I am very familiar with their boots. For the Snowlion boot (which I own) I have an 8. My Sorel Caribou boots are a 7 and plenty big (the insert packs in with wear). However I went with the 8 for the Snowlion because they fit snugger. All winter boots fit differently; if a boot fits but it also feels snug (i.e. your toe touches the end, even if comfortably) you should go to the NEXT size. Arch issues, of which I have none, are NOT an issue with this kind of footwear. Bottom line: a winter boot must be generous inside versus a regular shoe because it will keep your feet warmer. If you go smaller or snugger with WINTER boots your feet will be colder. Also if you receive your boots and you try them on and think they are too big, I recommend going for a full day on your feet THEN come home and retry them on when your feet are fully swollen. I've written alot because I wanted to be specific.
I received the boots for Christmas and I absolutely love them! They keep my feet very warm and comfy! Wouldn't own any other brand!!
just wanted to ask .Are the boots water...
just wanted to ask .Are the boots water proof
Wind and water Resisitant, not PROOF.
Not at all, very cheap material
Not at all, very cheap material
but these boys were way to big; had to send them back. Order processing was easy and delivery was quick.....good company to deal with.
How much do these boots weigh?
How much do these boots weigh?
, ☃bcs_badge_alumni_label☃
Best Answer
weight: 4.2lbs [pair]
these boots are awesome! so warm and hard core! no gaiters needed obviously, major plus. order a full size down though, these babies are monsters.
Hi,I need a pair of white Snowlions in a...
Hi,I need a pair of white Snowlions in a woman's size 9. Do you have anything, can you point me in another directon? Anything?Janel
, ☃bcs_badge_alumni_label☃
The "select options" drop down is a real time description of what is in our warehouse...Sorry, the size 9s are out of stock.I'd suggest contacting Sorel directly through: http://www.sorel.com/