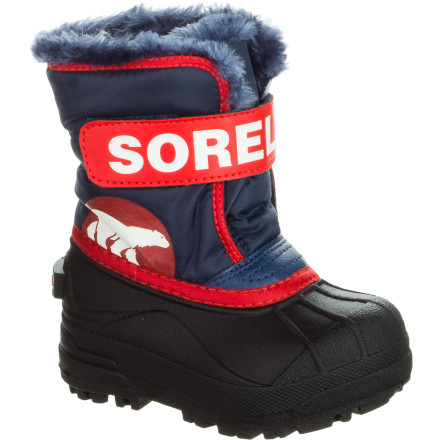 Description
Sorel now has your toddler's feet covered this winter, too.
Your little boy doesn't have to be timid about tromping through the snow. The Sorel Snow Commander Boots ensure your toddler's feet stay dry and warm while he kicks snow drifts, attempts throwing a snowball, or climbs the sledding hill with Dad. The multi-lug outsoles keep him stable when he waddles across ice or hardpack.
Sorel has always been one of my favorites for boots. The kids boots are just as terrific. Theses are super easy to get on which is a MUST for anyone with little kids. They keep my son's feet dry and warm and soles keep him from falling. What more could you want.
Great fit and ease of entry!
Familiarity:

I've used it several times

Fit:

True to size
Cold feet and hands are the concern of any parent. What if our little one does not let me know they are cold?? The quality construction here eases any concern. I researched reviews online and checked out the Sorel website. Awesome boot... The simple strap makes entry and exit quick and easy. This is paramount when wrestling a squirming little one. The fit is great too. We went a size bigger to allow growth and use thick socks to compensate. They are true to size and the width is great for pudgy toddler feet.
Warm, Dry, Good Looks
Gender:

Female

Familiarity:

I've used it several times
Bought for my 18 month old daughter. While it stops her from running, it doesn't slow her down much else. Kept her feet warm and dry during a snow day. She hates wearing anything on her feet, but when we ask if she wants to go for a walk, she knows to go find these.
Perfect Boots for a Toddler
Gender:

Male

Familiarity:

I've used it several times
My 3 year old son loves these boots. He wears them on many days that he's not even playing in the snow. However, on snow days these are great. Easy to put on, water repellant, warm, and most importantly stays on tight. Size seems to be pretty true. He wears an 8 and I bought an 8.
These boots are so nice! My son takes a 9.5 shoe and I ordered a size 11, but I didn't need to get such a big size. If I ordered a size 10, I would have kept them! I have purchased from Backcountry in the past and I would do it again.
These boots are so easy to get on my 3 year old, but unlike other snow boots we've had in the past, they STAY on while playing in the snow. A great toddler boot. Plus he thinks they look really cool!
My youngster loves these boots for winter - quick on and off with the velcro system makes life a breeze for him.
My daughter loves these. Easy to get on and off. She is 2 yrs old and we just got first snow this morning in Salt Lake. Keeps her feet warm and dry
My son's feet stay warm and dry in these boots, they are fairly easy to put on and he treks through the snow without any trouble.
These things are awesome for a number of reasons.

1. My 20 mon old doesn't 'love' the snow yet, but these have helped improve her experiences of snow by keeping it out. The ankle strap on these things keep it out.

2. Some kids snow boots fall off way to easily... talk about the perfect way to ruin an afternoon in the snow for a kid. These boots have gotten loose and fallen off a couple of times when I was carrying her. Its a concern, but she is 20mon old and all shoes somehow separate themselves from her feet. No surprises there I guess...

3. No blistering or discomfort from these things after spending hours in them.

4. These have awesome tread and she hasn't had any spills in these things.

5. Fit is true to size.

6. These things are warm! We have been out playing in zero degrees F and there was no complaining from her... I was a different story.

Overall, I recommend these. I am a new fan of Sorels. My daughter has the flurry TP's and those are bombproof. Good stuff!