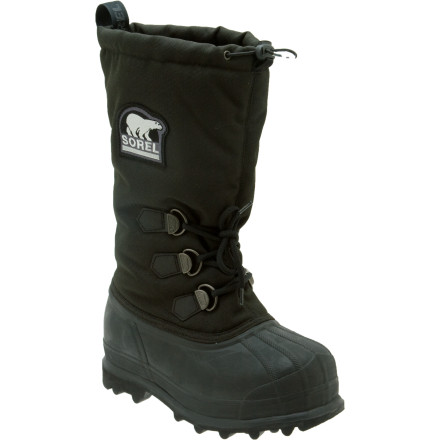 Detail Images

Videos
Sorel created the Women's Glacier Boot for ladies who aren't afraid to play in deep drifted snow, start up the snow blower, or slog a few miles into the backcountry for a bit of mid-winter camping. A super-tough PU textile upper covers your entire calf to keep the snow out, and a fully rubber foot adds additional waterproof protection. A thick ThermoPlus felt inner boot fits inside the outer gaiter and insulates your feet against the cold. And AeroTrac outsoles prevent ice buildup under your shoes and maintain solid traction.
I need these in a size 8.5. Any possible chance you have it available?
Hi there,

Unfortunately we do not have an 8.5, only sizes 6 and 7. Sorry about that!
Sorel Glacier Boot - Women's
Available in half sizes? If not should I...
Available in half sizes? If not should I go higher (buy an 8 if I am a 7.5) or lower?
I am a 7 1/2 and I'm glad I got an 8. They fit well but there's still room for thick socks.
Good low/mod-activity boots
Familiarity:

I've put it through the wringer
I wore these for a month of field work in Antarctica (~ -10-35C, 24/7). They generally kept my feet comfortably warm when I was working, but could get cold when I was just sitting in the tent. Also had to start using toe warmers later in the season as it got colder. There was a BIG gap between the top of my foot and the liner but otherwise they fit snug. They're a bit heavy and clunky - fine for walking around, but a little awkward on boulders and steep rock faces. If it was warm enough I used normal hiking boots when I needed to be steady on my feet.
Yep - you can remove the liners in these to dry them out if they get wet or replace them in the future.
Unanswered Question
how tall is the heel on these boots
how tall is the heel on these boots
Sorel Glacier Boots - Park City, Utah
Gender:

Female

Familiarity:

I've used it several times
This is a great snow boot. I wear a size 8 and I bought a size 8. Fits well with my thick ski socks. Keeps snow out when trenching through deep snow. If I am happy that means my dogs are happy.
Great winter boots
Gender:

Male

Familiarity:

I've put it through the wringer
These are good boots to wear when it gets seriously cold. They will keep your feet comfortable to -40 if you wear a pair of thick socks with them and walk around occasionally. My wife and I have owned several pair over the years. We are very active in the outdoors and live where the temperature is colder than -50 annually.

You will need firmer footwear to go snowshoeing but these are great for walking in bitter cold.
Oh....Mah....Gawd....
Gender:

Female

Familiarity:

I've used it once or twice and have initial impressions
I got these boots last week in anticipation of many days outside and very cold temps coming. I put them to the test yesterday and was VERY pleased! I have always had an almost imposible time keeping my feet warm in the winter here in Northern Maine. Once me feet go, I'm done for the day and as a hunting guide I dont really dont have that option. We headed out on a hare hunt yesterday morning and walked into 3 degree temps and about four feet of snow. My feet stayed toasty and warm ALL day!!!! Yahoo!!!!! I have finally found a boot that worked! I did snowshoe in them and they fit great in the bindings that I have, not sure about other binding styles. They are a bit heavy but I looked at it like I was one of those eighty's power walkers with the velcro weights on my ankles. Just enhanced my work out while on a guided hunt. One word of caution though, when I reefed on the top lace to tighten the top of the boot the elastic cord snapped rendering that gater useless. I wil not be returning them as I really need them now but it is something to be aware of.
Great for very cold temps!
After researching many boots and trying on a few different pairs, I ultimately chose these boots. They ended up keeping me warm in -20F weather while I stood outside for a couple hours. The only time I felt the cold was during a long dog sledding trip in the early morning and as long as I kept my toes moving, they pretty much kept warm enough. But I opted to go with smaller boots when snowshoeing because I felt these would be too clunky, heavy, and probably too warm for strenuous activity.
Can you wear snowshoes with these boots?
Can you wear snowshoes with these boots?
The answer is yes, generally. More specifically it depends on the snowshoe (most will accommodate it but some won't).
How heavy are these? Can I walk fairly...
How heavy are these? Can I walk fairly long distances in them without them weighing me down?
According the manufacturer, they weigh 51oz, just over 3 pounds
Best Boots for Antarctic Conditions
These boots truly are the best. I have worn them everyday for the last nine months at the South Pole. They are tough, warm, and stable. Most boots you find down here at the end of the world (bunny boots, FDX boots) are ankle-breakers and lack traction. My Sorels are a cut above. They have kept me warm through our frigid temps (-10F to -100F) without issues. On the coldest days when I'm planning on standing around outside I add foot warmers, but otherwise they are great. After 9 months of solid use well below freezing, the rubber uppers of the boots have cracked, but they are still as warm as the first day I used them. I'm planning on buying another pair once I'm off the Ice and headed to the Arctic. They are a little bulky and heavy if you're not out in the elements, but you won't find a better boot.
Hi, what's the difference between the Sorel...
Hi, what's the difference between the Sorel Glacier and the Sorel Snowlion boot? Thanks!
I don't think the Snowlion are waterproof.
Sure they are warm - but too much for me
I have no doubt that I would be warm wearning these in -35 degrees - but I live in MA and was looking for something warm but not as thick and heavy. They are huge. Again, they sure seem like they'd be the right thing if I headed out into the snow in negative temperatures, but I didn't need something that extreme. Much too bulky for daily wear (where I live at least).
Unanswered Question
what's the difference between water resistant...
what's the difference between water resistant and water proof? Are these boots water proof or water resistant?
I love these boots! They kept me toasty warm and dry all winter! Even when I went out snowmbiling all day! Just what I was looking for!
I purchased this boot for northern Adirondack winters and it's everything I expected. With temps dropping to -35F these boots keep my feet extremely warm (I sometimes don't even need to wear socks) whether I'm standing on a frozen lake, snow mobiling, or just walking my dog. Definitely waterproof - I cross creeks and walk in knee-deep snow often and my feet/calves stay dry. Boot runs LARGE. I'm normally a 7 1/2 - 8 and even with double layer socks they were slipping off. I exchanged for a size 7 and they fit perfectly. Backcountry staff were very accommodating and prompt with my return. Thank you.
How do the sizes run on these boots?
How do the sizes run on these boots?
Runs large. I'm normally an 7 1/2 - 8 so I ordered an 8 only to have them slip off with each step. I exchanged for a 7 and they fit perfectly. Hope that helps.
I don't really agree. I usually wear a 6 1/2-7. I ordered a size 6 and they were TOO PERFECT to the point that when I wore a pair of wool socks with them they actually hurt. I had to return for a size 7 and much better.
Bought them for my wife for Christmas. When I got them I was worried they were too big and/or that she would not like them because they looked huge. she is a size 7 but they looked very big when I got them. Well, my wife loved them. I had ordered her exact size, I did not bump it up or down when ordering; glad i did so, they fit her well and she loves them. These are serious snowstorm boots and may be one of the best pairs on the market. They wear high up, over her calf, just to the bottom of her knee. They are snug and very warm. These are not the kind of boots you would wear casually around town in the winter however; they look to me to be strictly snowstorm boots. Good to have in the house for the really bad weather but they should not be your only pair of winter boots. I think everyone in tough winter climate areas needs a pair of heavy duty boots like this pair.