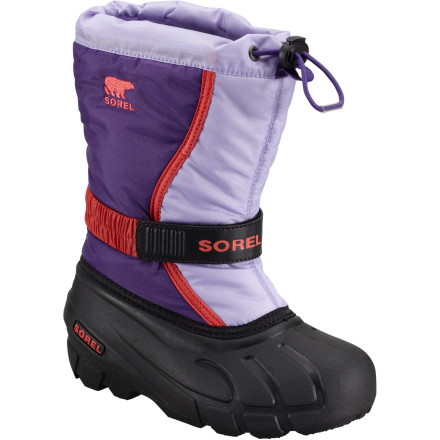 Detail Images

Community Images
perfection
Familiarity:

I gave it as a gift but have feedback to share
i got these for my daughter, and I could not be happier.
They keep her feet warm and dry when shes playing out in the snow.
Great for cold snowy walks to school too.
I would like to get these boots for my...
I would like to get these boots for my daughters. They wear a size 1.5 and 2.5 respectively (and have just moved up to these sizes.) Should I go for sizes 2 and 3 or will they be swimming in them? I guess I could always get thicker socks until they grow a bit. Thoughts?
Hi, thank you for your question!

I would recommend trying them out with a thicker sock- that way they do have a little room to grow, and you can keep their toes toasty! If you receive them and they're just way too big, you may absolutely return them for a refund, or an exchange.
As you can see, these run a bit large
I wrote a review on these a bit ago, but recently had the opportunity to try them out myself. I bought these in a size 3 (youth size) for my daughter, along with a pair of tofinos. She wore the tofinos almost every day even though I thought she would wear these because they don't have laces to bother with. Fast forward to last week:

I was going snowshoeing, but the weather was relatively warm and I didn't want to wear my Joan of Arctics becasue they are pretty burly. I saw these sitting there on the shelf looking lonely and thought I would try them on. It's a good thing I tried! They fit my carny-sized feet almost perfectly! I wear a 5.5 in women's shoes depending on the heel height. Well, I wore these up to doughnut falls, trapsed through the running water and tested the waterproof claims of these out, and I can say that they kept me warm, dry, and happy! Best. Boots. Ever.
Warm, dry, happy boots for happy kids.
The description doesn't lie; my daughter hardly ever comes in for a warm-up/dry-off break! The boots are easy on/off, too, which is a nice bonus when she eventually does come in to 'de-layer'. They are really cute while being very utilitarian at the same time. At the end of the day, my daughter loves them and they are comfortable and functional, so 5 stars right there .
Sorel pretty much wraps it up. They are the warmest, driest, most durable boot I've ever seen. They will last for Years!
my daughter is 4 years old and wears a...
my daughter is 4 years old and wears a size 10. I cant find this size. is it built for toddlers or ?
Hi Billy, the sizes they have listed/available are girls not toddlers sizing...
got these for my daughter and she loves them!! no more "my feet are freezing mommy!" (when she had her walmart boots) thank you and i love your site!