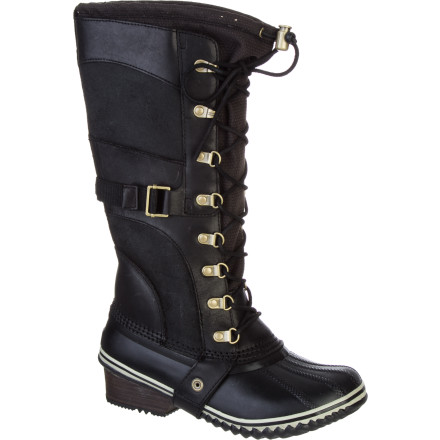 Detail Images

Community Images
While Sorel's iconic Conquest Boot inspired the Conquest Carly Boot, the tall Carly has a more sophisticated look that speaks directly to fashion-oriented women. A tall shaft allows you to conquer deep snow, insulation keeps your toes warm, and the waterproof rubber shell shrugs off chilling, slushy puddles. Go for the Conquest Carly Boot and you'll never go back to your ankle-high winter footwear.
Full-grain leather upper offers durable protection from the elements, the leather breaks in comfortably, and the blended nylon provides a smooth feel inside
Gusseted upper construction allows the tall upper to close securely and comfortably around your ankle and leg
Rubber shell keeps your toes dry as you walk through slushy puddles and wet weather
Insulation inside the rubber shell fends off the chill
Tall shaft keeps snow out of your boots even if you're faced with deep snowbanks
Worth the money!
Familiarity:

I've used it several times

Fit:

Runs small
I received my Carly boots in camo just over a week ago and have already had the opportunity to test them out in sun, rain and freezing weather. While they obviously aren't as warm as lined Sorels I found them plenty warm with just a pair of wool socks on cold days or regular socks on the sunny days. I always wear a nine in shoes, including Sorels, however bought these in a 9.5 and they fit perfectly. These boots are really cute and stylish! I've received compliments every time I've worn them. The camo color is very versatile!
Sorel Conquest Carly Boots are my GO TO boot in the winter. Stylish, easy, and functional. Can't go wrong with Sorels.
Feminine bombproof boots!
Familiarity:

I've used it several times

Fit:

Runs small
I probably have a Sorel obsession, as these might be pair 3 (or 4, but who's counting). These boots are very flattering and keep my digits toasty and dry! I love having a boot that can be worn on a night out in town or outside shoveling snow. These are comfortable enough to wear all day long and break-in within the first few wears. Highly recommended, but i might note that this pair in particular did fit a little bit smaller than some other Sorel's I've purchased. I would suggest going a half size up.
Awesome
Familiarity:

I've put it through the wringer

Fit:

Runs small
I bought a pair of these for my wife... She wore them to a family outing and got a ton of compliments. At the next family outing, the following weekend, there were three pairs of these in the room. That's how much everybody loved their look.




Not for cold weather, not convenient
Familiarity:

I've used it once or twice and have initial impressions

Fit:

True to size
I agree with the previous reviewer on almost every point.

The look of the boot is nice enough. It isn't clunky and the rubber involved is about as aesthetic as it can be.

The design beyond that is deeply flawed, however. It isn't possible to get on and off quickly because of the way the laces are designed, as well as the part where the rubber boot stops and the fabric begins. There is a "shelf" in the back that requires maneuvering. That doesn't bother me, but that plus the time-consuming lace tightening and loosening makes it untenable.

Additionally, that transition shelf rubs into my heel/lower leg when I walk because my foot lifts up off the sole with every step. The boot isn't too big; my toes are at the end. Another reviewer said that the upward motion occurs because there is no sole support - I don't know about sole support but it is a plausible explanation.

I returned them after a few basic tests (walking slowly, quickly, putting on and taking off as easily as possible), so I did not try to submerge the boot. Apparently they leak at the seam between the rubber and synthetic upper. I can see exactly how that might be the case and I have to say if I had kept them long enough to discover the leak I would be pretty upset. The only reason I gave these a try is because of the waterproof guarantee.

That brings me to my next point: the Sorel website claims "100g insulation" but I can't tell where that insulation might be on the boot. I can tell you that in the short time I tried them out my toes were cold, and I wasn't doing any hiking or even snow walking. The upper wasn't very warm, either. To be fair, Sorel recommends these for "rain" and "casual" so I guess they don't intend them to be warm anyway - backcountry should stop saying they are for snow.

I don't typically have problems with footwear. I don't get blisters or foot pain, and I prefer little to no support. So I have to say that if I'm having problems in just a few hours I definitely can't recommend this boot.




I would prefer to give 0 stars
Familiarity:

I've put it through the wringer

Fit:

Runs small
I purchased these boots for my December/January trip to Europe, knowing that they would be needed for wet and cold conditions.

First off, as stated on the Sorel website, these boots fit slightly small. I ordered a size up and they fit perfectly. Also, as stated on the website, my feet stayed warm, at least in dry conditions.

The boots have virtually no support in the sole, so no matter what type of socks, I found my feet slipping to the very front – very painful for the toes, not to mention that the rubber material around the toes is starting to wear down. At this price, I didn't think it would be necessary to purchase an insole.

The boots have leather laces that are to be threaded through eyelets. A better design would have been hooks, making it easier to loosen the laces and remove the boots. The leather laces wore down from the constant loosening and tightening, and finally tore after only 1 week of wear.

Also, after about a week, the boots softened and started to wear in, thereby creating an inverted fold which pressed painfully on my ankle. I would have to double fold the top of my sock to even manage to wear the boot somewhat. Unfortunately the Carly was intended to be my main bad weather boot for Germany, so I had no choice but to wear it. Finally the only way to deal with the pain issue was to not tie the boot, but even then, the fold caused pressure on the ankle.

In addition to all of this, the boot is not waterproof. Even in slightly wet conditions my socks would be wet in the area of the seam, which connects upper material and sole.


Casual/ Rain/ Light Snow
Familiarity:

I've put it through the wringer

Fit:

True to size
These are a great urban boot to give you some coverage with the wet conditions. Allowing you to do without the heavy duty boots or ruining your nice leather ones. I see a lot of people disappointed in the heel. I have not had any problems with this and believe this is from the older manufactured model. I have taken these up in the mountains and walked around for hours downtown with not a scratch. I'm not a clutz but also don't treat these like rugged terrain boots. The sole isn't very aggressive because this is designed for light snow, casual wear or rain. Not snow or mud trekking, necessarily. Please keep this in mind when in other conditions. I went in dry knee deep snow with these knowingly and had no issue and was still dry. The stirrup is also a good design with durability. They have changed specs on these boots from the past to make sure they are what you expect from Sorel.



Being a merchandiser here at BC I see a lot of options when it comes to urban style boots. These were just more functional and versatile for wet conditions. I have had nothing but good things to say about these boots. They don't need to be worn in and are ready to wear wherever out of the package. The color camo brown/pebble goes with everything. I wear a lot of black but didn't want to limited to. The brown is more versatile in this case. Sorel is having fun with urban and city lifestyle boots, booties and shoes and they are on spot.



I would DEFINITELY recommend these. If you want a good looking boot that you can dress up with a nice Christmas sweater or a even a casual long sleeve and hoodie, these are it. I haven't worn any other size in any shoe since the early 2000's. These run true and I purchased my true size. Trying them on locally before to test them out. Also remember they offer a drawcord secure and release option around your upper calf area so don't worry about this being an issue or them being too small in this area.
Wife loves them
Familiarity:

I've put it through the wringer

Fit:

True to size
I bought these for my wife for Christmas and she loves them. They are warm and very stylish. She gets compliments all the time. Not to mention these are the boots worn by Jennifer Lawrence in Catching Fire! The only thing we noticed was that there was a mizuno foot insert in one of the boots, which makes me thing that someone returned these. There were no other signs of usage, so it was not an issue. My mother in law is going to buy the same pair as she loves them as well. Highly recommended!
The Conquest Continues...
Gender:

Female

Familiarity:

I've used it several times

Fit:

True to size
Thanks to Spencer at Backcountry, in co-operation with Sorel, he was able to get me a replacement for the pair(s) that 'fell apart' on the previous two I bought. How great is that!!!



I wanted to take some time to trial these fairly...haven't had a chance to wear these as much as I had hoped, (I will up-date after I've had some real wear in them)...but I can give a general review after 6 weeks:



Pretty much the same fit and performance as the previous years' models. The laces are even a bit shorter in length (you can expect to have to change these out for synthetic laces, for durability, and for ease of use...the raw hide is stiff and makes getting in/out of these boots a bit of a pain).



Still expect to wear good wool socks. That's pretty much the case with any rubber-foot bed. I recommend a winter sole liner, as well: the cold radiates right through the bottoms.



I still say these are great-looking "city boots"...



No problems with the veneer peeling off the heels...yet (will certainly up-date should that happen, again!).



For tough, warm, water proof winter boots, I still like my N.F. McMurdos!



And a big THANKS again to Spencer at Backcountry!
Conquest Indeed
Familiarity:

I've used it several times

Fit:

True to size
I have taken these on ice (obviously not running or speed walking) and they held up really well, I took them in the snow and they still held up well. My heels are still happy and not having any issues like the pictures depicted below.



They do not have a liner with them, which results in them requiring a little extra sock action, but as long as you are prepared for that, I say purchase.

These boots make me happy and I dig the style.
Great purchase!
Familiarity:

I've used it several times

Fit:

True to size
I was a little nervous about ordering these boots after reading the reviews on this and a few other websites about the quality of the shoe, but I have worn them 5/7 days for the last few weeks and I think they're great! No problems with the heels or anything like that. The shoelaces do come untied a couple of times a day, but seem to be a good quality and have not broken or anything like that. I definitely recommend these.

Bear in mind that I am not hiking or trudging through snow here in Atlanta, but we have our fair share of cold wet weather this time a year and I'm SO glad I have these shoes to wear those days. Also, I get compliments on them ALL. THE. TIME.
super cute
Familiarity:

I've used it several times

Fit:

True to size
These boots have received so many compliments. Other than the fact they are adorable, they don't keep your feet all that warm when in the snow. They are a perfect boot for running around town, but would recommend them for wearing out in the snow all day.
Did any one find these to be incredibly...
Did any one find these to be incredibly slick indoors? I almost fell like 5 times the other day. Granted it was snowing out so they were wet.
Thanks Wayne, but they actually do fine out in the snow. It's INDOORS that I feel like I'm on an ice rink.


A snowy winter day in Park City, detailed shot of the lacing and boot construction, and much like the tech specs call out, these are an excellent everyday winter style.
Waterproof Fashion Boot
Gender:

Female

Familiarity:

I've put it through the wringer

Fit:

Runs small
I have had these boots for about a year now and have worn them at least twenty times. I was just reading through these negative reviews and had to add my positive one! I haven't had any issues with these boots. I think that some reviewer's issues may be coming from wearing these like a Joan of Arctic or a Cate the Great, boots that are meant to be actual snowboots. Although these boots are waterproof and have a non-slip sole, they are definitely a fashion boot and should be worn as you would a Frye or similar leather boot. They do make a good boot for dog-walking in snow or rain, but keep in mind that they do not have a warm, heavy lining so you will need to wear warm socks. One benefit, however, of the lack of a heavy lining is that these are not big and clunky at all. They are not as cushy and comfortable as the rest of the Sorel line-up, but they are still durable, comfortable and very, very cute! In my experience they run about a half size small.



As you can see from my photo, these boots have definitely been worn but with no damage.
These are my PERFECT boot!
Familiarity:

I've put it through the wringer

Fit:

True to size
I just read these reviews below and I am totally confused by there. I have have these boots in the all black and I have never had any issues. I am back buying the brown ones now because they are my go to boot all fall. I won't wear these in tons of snow because they are not totally insulated but all fall and low snow days for sure. I have worn my boots for about 2 months and have not had anything wear weird or break! Not sure what some of these other reviewers are doing in fashion boots to have such issues. Hands down my Perfect Boot is here! I would attach pictures of mine but they look just like they did when I pulled them out of the box... Love SOREL!


I was so happy to get these boots. They fit perfectly and I can wear them with everything. I have recommended them to all my friends.
Par for the Course...the tread on these boots are more for looks, than any traction...I didn't buy these expecting them to be heavy duty, but this is ridiculous!

(please excuse the little bit of mud on them, just went for a walk to see the fall leaves in the park...see the other photo to see the results of that dreadful feat!).



Buyers beware!