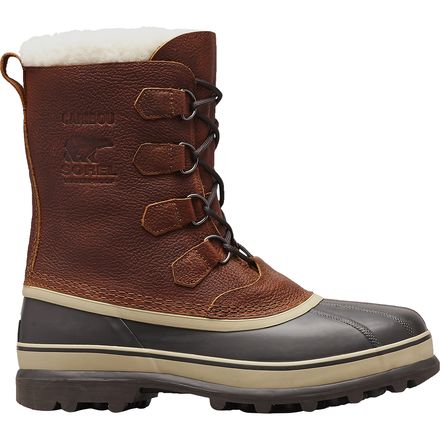 Detail Images

Videos
Description
Serious protection from the elements.
The Sorel Men's Caribou Wool Boot uses a knit wool inner boot to protect your feet from the cold for hours in below-zero conditions. A seam-sealed waterproof leather and rubber outer keeps snow and ice out, rustproof hardware stands up to wear and tear, and rubber soles with snow-shedding AeroTrac grips help you keep your footing. Trusted by ski lift operators, outdoor workers, and winter hiking aficionados everywhere, this is the boot to pull on when Mother Nature means business… and you do too.
Share your thoughts
What do you think of the
Sorel
Caribou Wool Boot - Men's
? Share a...
Get these and call it a winter.
Familiarity:

I've put it through the wringer

Fit:

True to size
Sorel is known for quality and comfort. These don't disappoint. These should last 10 years or more. They look nice. A bit balky but that's the price you pay to be warm and dry on the gnarliest of days.
love these
Familiarity:

I've used it several times

Fit:

True to size
I would definitely go with the wool liner. They are much warmer than the synthetics and better wet. These have kept me warm in Greenland down below -40 and -58 C with windchill.
I really want to purchase these in a 12 but almost every size is sold out. When is additional stock coming in?! They are available on the Sorel company website.
djobrien,

We do have an order of Tobacco size 12 coming in. I would expect to see them soon so keep checking this page.
Unanswered Question
Stretch
Changed my life
Familiarity:

I've put it through the wringer

Fit:

True to size
Love wearing these boots. Slip them on when driving to the mountain, after shredding, or when filming street snowboarding in the cold. Super comfortable and stylish. True-to-size fit. I wear size nine in skate shoes Vans, Nike ect and went size nine in Sorels and they fit perfect. Would recommend.
Worth the extra cost for the wool liner
Familiarity:

I've put it through the wringer
I've been wearing a pair of these for winter dog walks, shoveling, and apres-ski parking lots for several years now. They're awesome. IMHO, the wool-liner version has a higher build quality, and the liners stink less.
I think Columbia sticks the Caribou label on a bunch of different Sorel boots from different sources, I've seen pretty wide price and quality discrepancies on store shelves over the years. Be safe, stick to the higher price models, get the model that lasts years and is really warm and waterproof.

I wear a 10.5 sneaker and bought the size 11 so it's nice and roomy after a day in ski boots. Can also fit 2 pairs of socks in there if I want. The fit is a little sloppy, but then I never want to walk all that fast in these heavy beasts.
Sorel Caribou Wool Boot - Men's
Amazingly happy feet!
Familiarity:

I've put it through the wringer

Fit:

True to size
For one of my jobs, I work outside 8 to 12 hours a day in the snow. These boots have become CRUCIAL to the survival of my toes. Other boots I've tried have claimed to be waterproof, but after the first 5 hours have allowed a little wetness into the boot. These have kept my feet extremely dry all the live long day. Paired with some wool compression socks to wick away seat and keep the blood flowing, I can easily get through even the coldest shifts while trudging through powder or slush. This is probably the third year going into the fourth winter that I've been using these. Great product. Pretty heavy, but I'll take it for how waterproof they are.
Feet are warm and toasty!
Great boots! If ya live in snow, then these are the boots ya want!
So far, so good
Familiarity:

I've used it several times
I've used these boots for the last 2 winters and have been pleased with them. Super warm, good grip and easy to slip on without tying. Only complaint is that one of the inserts doesn't want to stay in the boot when I take it off. Other than that, pretty solid.
Classic.
Gender:

Male

Familiarity:

I've used it several times
Classic fit and style, slightly bulky! Very warm.
Same as it ever was
Gender:

Male

Familiarity:

I've put it through the wringer
The most classic of boots, the Caribou is made for winter. Waterproof, and super warm. Yeah, a bit clunky, but soo comfortable. These replace my old pair after more than a decade.
I just got these in the mail today. Size...
I just got these in the mail today. Size 10 and my toe is at the end, so the 11's would be too big. Will these stretch at all?
Hi rpep, do you think you could do me a huge favor and measure your foot with a ruler or tape measure, and tell me your size in mm from heel to tip of longest toe?

And to answer your question, the fleece might give a slight bit, but the rubber of the boot will not. So if the fleece is in the boot snugly, then you're SOL, and should return them for a bigger size.
i ended up sending them back and getting the 11's.

Glad the 11s fit. Would you mind letting me know how big your feet are in mm when you have the chance, it would really help me out. Like actual measurement of your foot. Thanks!
Hi Adam-
It's about 11.25" or 285.75mm
I am a woman and normally have to get men's shoes, so I opted for a pair of these in a size 10. I usually wear women's 11 or men's 9.5. I figured that I'd be wearing big wool socks so it's better to error on the larger side than the smaller side.
The boots a super sturdy and they fit great. A little loose in the toe, but perfect for cold winter days. They are very heavy and clunky.
Solid, heavy, winter boot
Classic boot. It's kept me very warm for my first winter in Utah. They've stood up well to deep snow and some spring mud. It's too soon to tell if there will be durability issues down the road, but for now I love them. One thing that comes with the territory – they are very heavy. I'm fine with this, but you can definitely notice it as you wear them around.
What is the diff of sorel caribou wool...
What is the diff of sorel caribou wool boot and sorel caribou is it the same leather
Scott, I believe the leather is the same and the only difference is the wool insert in this boot.
the difference is the insulation, natural or synthetic. I recommend the natural wool.
All men need a pair of these bad boi's
If your sick and tired of having wet/cold feet in the winter OR use the excuse "I don't have the proper footwear" when your girlfriend asks you to go on a walk in the freezing cold, YOU NEED THESE BOOTS! They will save your feet and your relationship! Get em! Boom.
Disappointing - Poor Quality
I walk all the time, hike on most weekends, and am pretty hard on shoes and boots. I've got no problem spending top dollar and paying retail prices for a quality product that is built well and is going to last. These boots are neither well built nor a good value.

This said, they are not terrible. I live in Boston, which has seen its share of snow this winter. While trudging through a lot of this snow, my feet stayed warm and comfortable. I've walked up to four miles in these boots and, as long as the weather wasn't wet, I found them to hold up. If snow did not melt, I would keep these boots.

Unfortunately, snow does melt and keeping dry in all conditions is the real reason I decided to pay $150 for these boots. Snow in Boston stays dry and cold for about two days but quickly thereafter turns to black slush and partially frozen mud puddles. I was also hoping to stay wet and dry as the city started to thaw. This was not the case.

I tried to jump over one of these partially frozen mud puddles while walking my dog on a Sunday morning. I didn't quite clear it and my heel slipped into the puddle. Because of the waterproof claims made by Sorel, I figured this wouldn't be a problem. A couple of steps later though, I noticed that my heel was a little soggy. When I got home from the walk I took out the boot liners to inspect the damage. I needed to use paper towels to dry out the insides of the shoes. Another time, while walking home from work, my toe slipped into a puddle - same thing.

Ideally I would not need to take the liners out of the boots as often as I do, but leaking requires me to remove the liners in order to preserve the wool I splurged for. Leaks aren't the only thing ruining the liners though. As if the leaks weren't bad enough, the stitching and material on the back of the liner is starting to wear. Inside of the boot, the plastic is very poorly stitched to the leather upper. This leaves the plastic kind of jutting out - which you can see (on the right of the inside of the boot) in the attached picture. So much for built to last a long time.

I hate to return products to backcountry.com. I appreciate their generous return policy and really try not to take advantage. Unfortunately, after about 1 month of use, I know these boots aren't going to cut it. I'd prefer to reinvest in a better product - but am not sure what to try. Sorel has an amazing reputation, perhaps my problems with these boots are anomalous. Based on other reviews though, I don't think this is the case. I know Columbia bought Sorel. Columbia makes nice jackets, maybe they should stick to outerwear...
my husband LOVES his new boots! they keep his feet nice and warm on his walks to work, and the heavy treads keep him from slipping on the ice and snow. the only complaint that he has is that its hard to keep the laces tight enough around his ankle to keep his heels from sliding, but its worth it to keep his feet protected during the long chicago winter. overall, he is very pleased with his boots, and i like knowing that i got him a gift he will use year after year (sorels last FOREVER). also, they cost almost $20 less than the same pair at the #1 huge website for shoes, so we are both very happy about that as well :)
I have a pair of Sorel's (Caribou I think)...
I have a pair of Sorel's (Caribou I think) which have dark brown, open-grained leather uppers, like a suedy feel, with brown rubber bottoms and the standard felt liner that has the elastic strap across the front. But this boot also has small lace grommets in place of the big D-rings. Any ideas which model these are. I purchased in the early 90s in Meredith NH. Are they perhaps a Canadian model?
Best Answer
Answering my own question here...Sorel (Kaufman) CRUSADERS, made in Canada. Nappy brown leather uppers with the first (bottom) 3 eyelets being the usual type of eyelet, small and round and punced into the leather, and the remainder being a smaller d-ring. Anyway...awesome boots...wouldn't trade them for the world.