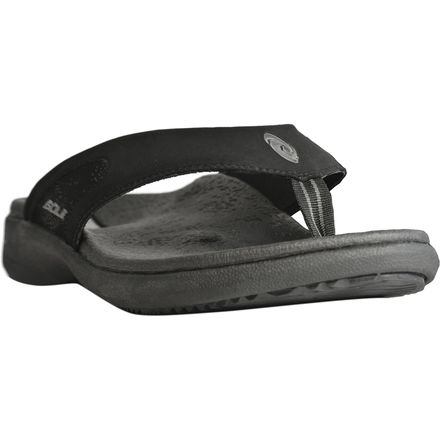 Videos
Description
Casual-looking flips with major support.
Wish you could put a supportive footbed in your flip-flops? That's the idea behind the Sole Men's Sport Sandal. The arch and moldable footbed mold to your foot and add support and a deep heel-cup absorbs shock and helps with joint alignment. The metatarsal support pad lifts and supports the ball of your foot while the man-specific ergonomic strap wraps around your foot. It's basically an orthodic wonder in the shape of a casual flip.
Ordering My Third Pair Since 2009
Familiarity:

I've put it through the wringer

Fit:

True to size
First pair lasted from 2009 to 2011 and one strap finally pulled loose on the side of one foot. Ordered another pair immediately in 2011 and they are still intact now (2015). I originally tried these because I had plantar fasciitis from wearing sandals but didn't want to give up wearing them if I could avoid it. I was pleasantly surprised that my foot pain went away shortly after starting to wear these and I have been a believer ever since. Ordering my third pair today because my feet have started to hurt again. I think they have loosened up over the 4 years I have worn them and maybe the arch support has worn lower and is not giving me the support I need. These flip flops do fit a little tight out of the box. Both pairs did. What I did each time was dip in a swimming pool while my foot was inside and walk around in them for about 30 minutes. Then repeated that again. After that hour, they fit like a glove. Not too tight but not at all loose. Just perfect. Worth every penny in my opinion, if you need a lot of arch support.
Good looking but not my favorites
Familiarity:

I've put it through the wringer

Fit:

True to size
I got these to be a more supportive, firmer flip (compared to olukais). While the sole's are indeed firmer, I have 2 gripes

1) the straps are snug. Like real snug. I had to break them in by squashing a tennis ball in there for a couple of days. That worked pretty well but I still can't just slide my foot it. I need to do some serious wiggling

2) while supportive, they are no birks. My flat planks will slowly spill over the sides (grotesque, I know). And the bed of these is not as comfy as the cork version of the soles (which, again, are not birks).

Bottom line: pretty good, definitely better for long ambles than regular flips but I think they'd be better for a narrower and less voluminous foot.
Someone referenced their Reefs and I have to agree. The Sole sandals are good, but the straps are so wide that if one has feet that are even a bit wider than normal they won't be comfortable.

Now, they do start to feel a bit better with wear, but nothing like my reef that were comfortable right out of the box.
Sole Sport Sandal - Men's
Great flip flop at a cool price!
Not my Reefs, but not bad
I love reef sandals and have worn them religiously for years. But they turn my feet black and don't have any support, but I love the soft cushy foamy foot bed. While these don't have that soft cushy foamy foot bed I have come to love, they are still very comfortable and with the support they give my foot, I can walk further with them on before my feet start to ache.
Purchased the "new" 2011 versions and had to return them due to the strap being made a little wider which dug into the top of my foot causing a big ol hurty. Fortunately Backcountry had the previous version still (strap slightly more narrow) and they are footastically comfortable. Helps maintain proper posture while wearing a flip flop. Could walk great distances in these badboys compared to regular beach flips. My wife has a few pair and all have held up great and she wears hers daily for hours. Get yourself a pair and try them out!
Great sandal, but they fell apart
From the moment I first put these sandals on my feet, I thought that I had finally found the perfect sandals. They are definitely the most comfortable sandals I have ever owned, which was a bonus given my extremely flat feet.

Unfortunately, I've only had them for 3.5 weeks and they have already begun to fall apart. The seam that attaches the sole to the footbed on the left sandal has come undone and the 'Sole' logo on the right sandal has popped off.

I've only worn these sandals 3-4 hours per day, about 3-4 days per week so I was quite surprised at this instant wear and tear. I'll be returning my sandals and am not sure if I will ask for my money back or for an exchange.
My feet suck. I thought that meant I had to forever forgo wearing flip flops as I rely pretty heavily on the extra support from specialty insoles. With these I can wear sandals again. They provide a lot more stability than I thought I could get from a sandal and they are well worth the price.
The most comfortable sandals I have ever worn. Excellent support and comfort. Have tried other brands and they just do not compare in terms of all day comfort.
for men's sole flip flops - fo rhalf size,...
for men's sole flip flops - fo rhalf size, order up or down (10.5 - order 10 or 11)
Best Answer
If you're a half size I recommend going up to the next full size for the Sole flip flops.
I normally wear 10.5, and 11 turned out to be too big. They seem to be out of stock on 10 so I can't tell if that will be too small.

I can say that I normally take size 11 in the Sole insoles, which I like a lot. But the sandals seem a bit bigger than the insoles.
These are great. Never had sandals with this much support before. Keep my feet relaxed after runs or bike rides. I'm a 10.0 and bought the same size. Fit is great because they mold while you wear them and they have a metatarsal support pad, deep heel and lots of arch support. Haven't found another sandal with the met pad and it's my favorite feature. Keeps your toes from gripping the sandal and slipping when you walk. No more flip flop sound. These aren't cheapo casual flips. You get the same support as a footbed and the comfort of a sandal. Awesome product.