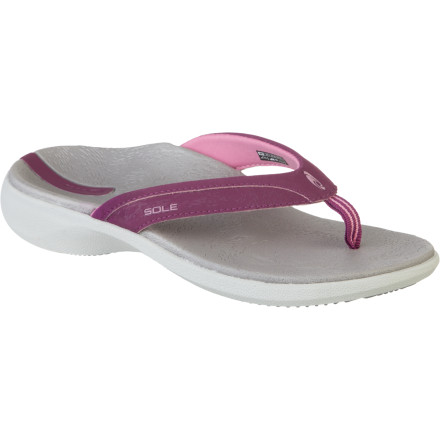 Detail Images
Description
We know you noticed the sandal's sporty look first, but it's not just another pretty flip-flop.
Give your feet a break in the Sole Women's Sport Sandal. Sole designs performance-enhancing footbeds, and the Women's Sport Sandal is essentially one of these footbeds, built into a female-specific sandal. Structurally supportive EVA midsoles and ergonomic straps position your feet for optimal comfort and posture.
rough break in - but worth it
Familiarity:

I've put it through the wringer

Fit:

True to size
I bought my first pair of Soles at least 5 years ago. They are my favorite flip flops, and they've held up beautifully. The metatarsal bump thing is amazing, and they have great arch support. I bought two new pairs when I found them on sale just because I love them... my old ones are still going strong. HOWEVER... I have bony, medium width feet (bunions and all sorts of gross stuff) and the strap is a bit tight. I forgot about the break in process with my last pair... the top of my foot would get really sore. I wouldn't size up, since the next size foot bed would be too big. So I'm working in my new pair with my old pair until the strap stretches. Still five stars because the pain of breaking them in pales in comparison to the comfort once you do.
Best flip flop out there
Gender:

Female

Familiarity:

I've put it through the wringer

Fit:

True to size
I just bought my fifth pair. I have 2 of the sport flip, 2 of the cork flip and one of the sport slide. If they are a bit uncomfortable when you first wear them, just try an hour per day for 2 or 3 days. They form to your feet and then are super comfortable. I have worn these hiking, in the water, in the rain, you name it. I bought the first two pair over a year ago and still wear them, I am just adding new colors. If you buy the cork flips and need to clean the foot bed, I use a bit of oxyclean, hot water and a gentle brush, they come out looking like new. I have a WIDE size 6 foot and the size 6 fits perfectly.
comfortable and nice looking
Another reviewer said these sandals were comfortable even with plantar fasciitis and I agree. They are great around the house, in town or at the pool.
Looks good and are very confortable, wear small
Very nice sandals, my wife loves them. Just one warning: they wear a bit small so I recommend order them one size larger than your usual size
Wore first pair nearly every day for two years
The most durable and comfortable flip flop I've ever worn. Had the black for a few years and wanted a new color. Chose the white. Bad idea. Still a great shoe but now they are grayish brownish white! Only flip I will ever buy again. I have high arches and the support is great.
It is hard for me to wear flips because my arch can't go without support.
These make it so I can wear flips again! Wooo Hooo!
They are very comfortable and not bad looking.
If you have a bad back and are looking for a flip flop for support...this is for you! I so love them!
Great post-run sandal. Very lightweight, supportive.
Great for after a race when your feet need to be pampered. Pretty nice looking, very lightweight, with surprising support for a flip.
Looks good for narrow feet
First of all, I'm always impressed by the quality of the merchandise that Backcountry carries. I had been wanting to replace a pair of flip flops with arch support. The Sole came highly recommended on several websites so I thought I'd give them a try.

They are constructed well and look comfortable, but are very narrow at the top of the foot (I must have a wider toe box) but I always wear the same size shoe but a medium width. These tend to run narrow.

Unfortunately the Sole won't work for me; I have to return them and will try something else. The gear experts know just how to handle this problem which I appreciate. So 4 stars for the gear guru's and 2 stars for the Sole's.
Write your question here... I wear 6.5,...
Write your question here... I wear 6.5, should I order a 7 or do these run big?
I would suggest trying the size 6. I am a 8.5 shoe size and the 8's are perfect.
I really like how rich the black of these sandals are in addition to the fit. I have extremely bad heel spurs and was looking for a pair of sandals to wear daily...these are comfortable but definately take some getting used to. The arch is much higher then any other sandal I own which took some adjustment. The more I wear them, the more I like them. I ordered an 8, which is always my size, and they fit great! These sandals were introduced to me on the top 10 sandals list by the American Podriatric Association and I am satisfied.
Very comfortable foot bed for a flip-style sandal
I usually don't wear flip-flop style sandals as I prefer some support in my shoes and I don't find the piece that sits between the toes to be comfortable. These sandals are great as far as the support goes - very comfortable. The between-the-toes piece is still not my favorite, but this is by far the best pair of this type that I've found, and I'd recommend them to anyone who doesn't mind the between-the-toes style of sandal.
I have been searching something that would help with my plantar fasciitis. In searching the Web, I did find some reviews from people who have purchased the Sole Sports flipflop, and have attested to its effectiveness. So, I decided to give them a try. To my surprise, they were correct! I have purchased four of them to use them around the house, as well as outside. They support high arches very much (which I do have) and the heel beds are soft and conform to the feet. I just wish that Sole would produce more different types of shoes (e.g., tennis shoes and slides) because I would certainly purchase them!
Excellent for plantar fasciitis
I have plantar fasciitis and I can comfortably wear only these sandals. I experience intense pain wearing regular flip flops and can't even walk in them. The Sole sandals have excellent arch support & I never experience plantar fasciitis pain while wearing them & I even can take a walk in them. Since the first time I put them on my feet - I Loved them! Now I will not wear any other sandal!

Try them you'll love them!