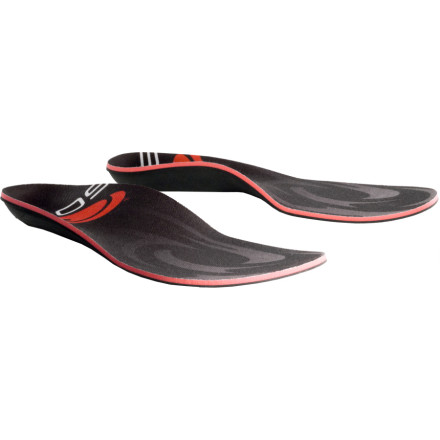 Description
No more sore feet when you use the Softec Ultra Footbed.
Because most shoes don't provide the proper support for your particular foot type, we offer the Sole Softec Ultra Footbed. Pull the factory footbed out of your new or old shoe or boot, slip this heat-moldable, ultra-soft supporter in and you'll feel the difference instantly. The deep heel cup holds your foot in place during high-output activities and the moisture-wicking top helps draw sweat away from your foot; everything on this footbed works to create more comfort through enhanced support.
Share your thoughts
What do you think of the
Sole
Softec Ultra Footbed - Men's
? Share a...
Posted on
I've slightly differet size feet and this...
I've slightly differet size feet and this footbed seems perfect to fill the slight extra volume in my left backpacking boot. I've heard you can sand the bottom of the front of the footbed if it makes my right boot slightly tight. Any feedback on that? Thanks, RC
Responded on
Hey RC,

I've heard of people sanding down the arches in their insoles to fit, and that's pretty much the same thing. My only advice would be to sand as little as possible, and check the fit regularly as you do so. A little should go a very long ways.
Posted on
SOLE - Orthotics Segment (2 Minute Short
Posted on
How many millimeters of cushioning do these...
How many millimeters of cushioning do these insoles provide? I know the Viesturs edition Sole product offers 3.2 mm. Does this insole bridge the gap between the Viesturs and Karnazes models?
Responded on
It looks like the Softec Ultras are almost identical to the Viestrus insoles (non-perforated base vs. perforated).

http://www.yoursole.com/products/footbeds/compare-all-footbeds/
Responded on
These have the same amount of cushioning as the Viesturs edition footbed, 3.2 mm.