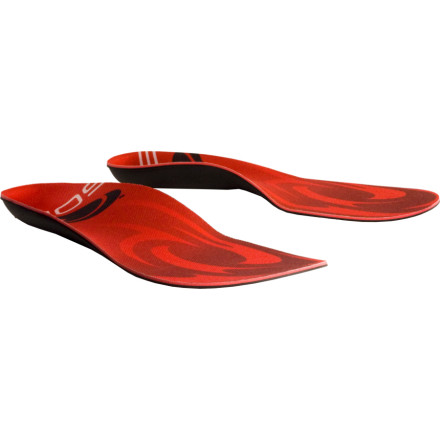 Colors
Description
Take care of your feet.
Your lower body takes abuse for the greater good when running, hiking, or even during the daily routine. Remedy sore feet, legs, and lower back with the Sole Softec Response Footbeds. True to the name, the Response Footbeds provide the rebound and absorb shock in your low- to medium-volume workout and casual shoes. Heat up the footbeds, slip them into shoes, and lace-up—the Softec Footbeds mold the shape of your feet in about two minutes.
SOLE - Orthotics Segment (2 Minute Short
in all my running shoes
Familiarity:

I've put it through the wringer
these go in all my running shoes, and keep injuries away! They aren't overly supportive, they are just right!
I've been using these for about 1 year now and I love them! Every time I buy a new pair of shoes I buy a new pair of insoles for them! They help with my over pronated ankles.
The Sole are way better than Superfeet, if you need more arch support. You can't tell from Backcountry's material information but they have a rigid arch that does not flex so it supports as it should. Also the Sole does NOT squeak after months of use like the Superfeet do. This is a plus if you are using them in your "public" shoes like for job or grocery shopping (Superfeet squeak so loud people stop and look). I have a second pair of Sole that my orthopedic surgeon altered with a heel and forefoot wedge to correct a biomechanical problem now I run pain free, daily, and the Sole have lasted a year of running in them, about 1000 miles so far, with no loss of comfort.
I was having problems with shin splints and these were suggested by my orthopedic specialist. (Their office makes also custom orthotics). It was explained to me these correct cases of arch collapse but not much with heel movement. With a combination of leg strengthening exercises and icing these pretty much fixed my shin splints. After wearing them for a while in my running shoes as well as my work shoes, I started to miss them when I wasn't wearing them.

The "molding" really only mildly dents the top layer of foam, I don't know how much different this is than just wearing them and letting them mold to your foot like any other footbed.

If you are on your feet all day in work boots, etc. you might want to look at their thicker insoles, as these are not the softest things out there. Just so you understand what these are, they are a layer of hardish plastic with a high arch, covered in a thin (1.6mm) layer moldable of foam.

These definitely require a high volume shoe/boot.
Best fitting foot-beds out there
Bought a pair of these about a month ago to use in some trail running shoes. They broke in relatively quickly, only ~10 miles or so. They are incredibly comfortable and help with my supination. Two points of advice:

1) They are relatively high volume, so make sure you have room in the shoes you plan to use.
2) Don't overuse them while breaking them in. They caused quite a bit of pain after i used them for a five mile run the first time out.
I put these in my Burton SLX's and my feet could not be happier. The softecs provide plenty of support and comfort for my feel all day. Stock insoles just don't cut it buy these you will be stoked.
I've got a pair of these (Sole Softec Response) and a pair of Sole's Ed Viesturs Signature Edition.

Both are great (comfortable, well-fitting, etc.), but I noticed a large discrepancy in the sizing between the two styles

The men's size 11 (W13) in the softec was a full size larger than the M11/W13 in the Viesturs (see attached photo).

I was able to trim them to fit, but it's something to keep in mind.

The Viesturs insoles fit perfectly out of the box; so trimming the Softecs allowed them to fit, but if I'd needed to trim the Viesturs then the softecs might have simply been too big, despite being the same 'size'.
How to mold the Sole Custom Footbed