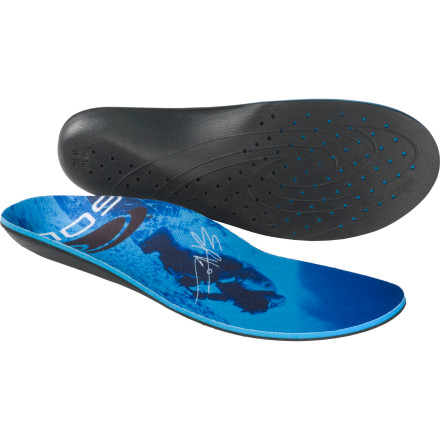 Colors
Description
Summiting peaks one step at a time.
Looking for footbeds that'll work for your mountaineering expeditions? How about Ed Viesturs' footbeds? Since Viesturs' actual footbeds are pretty used (climbing the world's 14 tallest peaks without bottled oxygen'll do that), we offer the Sole Ed Viesturs Signature Edition Footbed. You can count on the heat-moldable orthopedic base layer to support your unique foot shape, which in turn improves the alignment of your ankles, knees, hips, and back. And that reduces risk of injury. A perforated, wicking top reduces weight and moisture build-up.
I was on the fence
Familiarity:

I've put it through the wringer

Fit:

True to size
Well I was not sure about these. I had never had much luck with insoles before. I bought these in hopes to take the shock out of my step. After about 15mile my feet would always start to hurt really bad. I use these and the changed everything. I would totally put any of my friends in these soles!!!

Best thing you can buy for your feet
Familiarity:

I've put it through the wringer
I have a pair of La Sportiva Pamir boots, they are an all leather stiff backpacking boot with a paper thin insole that offers no support. I used to wear custom orthotics, but they didn't hold my foot in place very well. The result was pretty severe blisters on the back of my heels. I switched to these and havent looked back. I haven't had a blister since putting these bad boys in my boots and end up wearing them way more often than i used to. My foot no longer slides around in there and I feel like I have the perfect amount of arch support.



I recommend getting these immediately when buying a new pair of boots. Trimming them can be a little difficult if you don't have a very sharp pair of scissors or a razor blade.
Great Sole!
Familiarity:

I've put it through the wringer

Fit:

True to size
This was the perfect replacement for my standard soles. Evens out your foot and gives you all day comfort no matter the conditions.
Very Comfy!
Familiarity:

I've put it through the wringer

Fit:

True to size
I bought these and a pair of new snowboard boots and these made a huge difference. My feet never hurt or cramped on the slopes. They are plenty padded to help with landings and vibrations. I really like these. I used them almost every weekend last season.
Custom insoles without the price tag.
My better half loves these insoles. He's a runner. Over a decade ago, he had some knee issues. The PT gave him custom insoles - which were great but outrageously expensive. He picked these up, and has been running issue-free ever since.
I use these in my mountaineering boots as well as my hiking boots and what a difference it makes. The little extra cushion goes a long ways when you have a high volume boot with a stiff sole. i wouldn't use these in any footwear with a soft sole or low volume, but thats not what Sole intended these for in the first place.
I've been using these for about 1 year now and I love them! Every time I buy a new pair of shoes I buy a new pair of insoles for them! They help with my over pronated ankles.
I always thought that it was just a given that my feet would be blistered, sore, and miserable by the end of a backpacking trip. But these wonderful insoles changed all that. They are incredibly comfortable and really keep your feet in place, which keeps them from getting so blistered and beat up. Also great for people like me with high arches. They do take up quite a bit of room so be aware of that and make sure you have room in your hiking boots/shoes for them. But even if these ones won't work, you can just buy a thinner pair of sole insoles!

I would recommend this product to anyone and everyone.
I already came back and purchased another set. I am recommending them to my family and friends.
My feet have thanked me for using these on long hikes, and have been great for running too.
Hi... I have a kid carrier (Deuter Kid...
Hi... I have a kid carrier (Deuter Kid Comfort III) that I have bought here on backcountry.com. It's really great and I can carry around my kid without pain to the shoulders, back, or legs; anyway, the feet take the toll. I have to wear big boots (I have the Asolo 200GV) that give me good support for the extra weight, but when I arrive back at the car the pain to the feet can be great. Do you think soles like these could help me? A problem I have is that I tend to develop blisters on the heels and at minimum I do not want to make this issue even more problematic...
I use these in my tele boots. They help with support and keeping my feet from shifting while turning. You may see similar benefits in your boots, however, I don't think they will prevent heel blisters. While a footbed may prevent rubbing, I wouldn't rely on it to fix a poorly fitting boot.
If you have low volume feet... buy these... now.
I'll preface this review with my cut and paste statement that I work as a backcountry backpacking guide in Yosemite National Park. Nearly all of the products I take the time to review have seen at least a half a season, if not more, of use... and I'm committed to not bothering to write a review until I feel like I've really gotten to know a product. I never thought I'd bother to write reviews, but I've recently decided that since I've spent so much time over these last many years reading reviews, and finding a tremendous amount of value in articulate and well-informed opinions, that I wanted to give back to the community. So, with that being said, here we go...

I wear Zamberlan Steep GT boots for backpacking. I was initially shocked that I liked the Zamberlans, because they've always made boots that feel huge on me. My feet always swam in them. However, the Steeps were close to feeling great. When I mentioned my notoriously narrow, low volume feet to a friend... they mentioned these. They're pricey, so I was a bit skeptical about throwing that much cash at some insoles. Oh man, if I had known then what I know now... I wouldn't have been the least bit worried.

I've put a ton of use on these, and they are easily, far and away, the best insoles I've ever used. I normally like blue Superfeet, but those will ruin a GoreTex liner.

These insoles are not only incredibly comfortable, absorbing a ton of the methodical beating that one deals with when backpacking over long distances, but they are absolutely fantastic for people who struggle with low volume feet that simply won't fill all the space in a boot that could properly fit them otherwise.

If you backpack, even if you don't, and you have low volume feet... get these... now. You will not regret it. And, if for some reason they don't work for you (which is highly unlikely) then just take advantage of Backcountry's awesome return policy.

Also, a quick footnote. Don't bother putting them in the oven to take advantage of the thermoform feature. Just wear them for several days, put some miles on them, and they're good to go. I never bothered with the process of forming them in the oven because I read reviews where some folks screwed them up and didn't properly set them while they were hot out of the oven and easily formed.
I endured too many hikes with the stock insoles for my boots. I had tried a few different pairs including Superfeet and Dr. Scholls. Neither was very good for me. They just seemed to poke my feet and feel awkward in my boots. I got a pair of these and was instantly happy. I tried them without molding at first, but that had too much arch support even for me. I went ahead and molded them and they are perfect now. The balls of my feet are feeling great now. I will never even try on a pair of boots with the stock insole ever again. These are the only insoles that exist as far as I am concerned.
Cured my plantar fasciitis
I had a mild form of plantar fasciitis which was negatively affecting my hiking and was trying different shoes and insoles (including superfeet) to alleviate the pain. I'm really glad I came across these. I moved the same sole from work to hiking shoes such that I wore them most of the time and in two months of wearing my pain has disappeared. Caveat, these only worked with shoes that had extra room, for me these were Merrells hiking and work shoes. So try them in what you have and try on new shoes in the store.
Can you use the perforated models as an...
Can you use the perforated models as an emergency coffee filter?
Best Answer
Personally, I find that these footbeds don't provide enough arch support to brew a cup with a sufficiently heavy mouthfeel or complex and spicy bouquet for my liking. I have also tried Dr. Scholls Sport insoles, and although the resulting joe came out smooth, the gel heel cup imparted a surprisingly bright acidity that i found unbalanced. In my experience, the only way to assure that your coffee will consistently satisfy your unique tastes is to use custom orthotics. Expensive, I know, but worth it.

Also, make sure to use a coarse grind.
I have been a fan of Sole for a few years. I have tried the Thin Sport, Response and Ultras in a variety of shoes from Montrail to Inov-8 and they work great for training and endurance races. Most recently, I picked up a pair of Garmont Voodoo Tele boots at a great price and a half size large, especially after packing out. The addition of the EV has made a perfect fitting boot that is far more comfortable than my "true-size."
Has anyone ever tried these in running...
Has anyone ever tried these in running shoes? I'm not sure if there is enough room to accommodate the thicker insert. I'm current using the Dean Karnazes foot bed but thinking the Ed V's will give me more cushioning.
Bingo. I've ben using these in some Brooks trance running shoes for the past 3-4 years, Cushion and support are a tag team that's hard to beat with these. After you fit/mold them in the oven to fit your feet, fit them too your shoes by slipping them in and just wearing them around to see if you need to trim them up at all. Other piece of advice, fit the shoes you are going to put them in a little big, I wear an 11.5 street shoes and 12 running shoes, part of that is probably just sizing between different shoe brands, but make sure that your feet aren't cramped.
After taking them on a 30k trail run with major downhills and having no heel slippage, I knew that this was the solution to my footwear woes, hope it works for you too.
Absolutely! I was preparing for my first marathon in Nike Vomero 5's and was having terrible foot pain after my long runs. I went to my local running store and they recommended footbeds to support my feet. I realized that I already had Viesturs Sole Footbeds in my hiking boots so I pulled them out and put them into my Nike's and had a great run at the St George Marathon. I highly recommend them.
i did the same, slid them in my La Sportiva Raptors and WOW...what a different shoe...like it was tailored for my foot!
I purchased these footbeds a couple days ago for a new pair of Lowa Rangers. The footbeds that actually came stock with the Rangers weren't that bad, compared to most, but I decided to spend a little money this time and attempt to construct the perfect fitting boot. I molded them today, and took a two mile long walk with the dog wearing the Lowa's with the Sole's inside. No hot spots, no pain and most importantly, they felt very good. I will be using both products in the field in the next coming week on a backpacking / peak bagging trip, and will advise how they do under stress. At this point, I would recommend these for any large volume foot / boot.
A great addition to your favorite pair of snowboard boots!!!
How to mold the Sole Custom Footbed