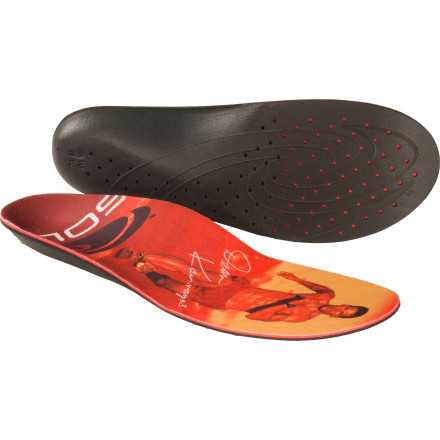 Colors
Description
Reduce or end foot pain and improve performance.
The SOLE Dean Karnazes Signature Edition Footbeds promise not to run off in the middle of the night. They also promise to absorb shock, support your arches, and improve your alignment so you too can run 350 miles in 81 hours, tackle 50 marathons in 50 days, or finish a 199-mile relay race by yourself. These lightweight, heat-moldable insoles conform to your unique feet and feature 1.6 millimeters of SOLE's Softec cushioning for comfort. One dollar for each pair sold goes to Karnazes' charity of choice, Karnokids.org. *Ideal for medium-volume shoes such as running shoes and cross-trainers.
great alternative to big $ ortho's
Familiarity:

I've put it through the wringer
I have used these myself and recommended them to a few friends now who have been really happy with them. They are easy to use and really do work. I know a couple athletic trainers that now carry these in their office instead of the expensive custom orthotics. They helped out my flat arch ankle roll substantially.
Awesome insoles
Familiarity:

I've put it through the wringer

Fit:

True to size
I have some very expensive custom orthotics and feel like these are just as good. Excellent thickness- just enough to be comfortable and great arch support. I've tried superfeet and these offer much better arch support for those that need it.
I have 2 pair of Soles and really like them. These go in my hiking boots. Just enough Cush and not too thick. I tried a pair of Thermomoldable ones and even with my low Volume foot, they were too thick.
Sole insoles work well for me. I use these in running shoes to help decrease plantar fasciitis irritation. They seem to work, and keep me running!
These are great. I like them because they have some flexibility but are supportive. They don't feel like a hard piece of plastic jamming up at my aches. I have a bad arch on my left foot, lower than my right, and these feel a lot better than some insoles I have tried. Also these have some cushion on the ball of my feet and are not hard. I wear these in my shoes at work were I stand most of the day and so far they are pretty comfortable. I just put them in my shoes and tried them out with out heat molding. Bought the size for a 9 shoe and these fit prefect.
Comfortable out of the box
Even more comfortable when molded. 'Nough said.
Bought a pair for some drew's fire boots to fill a half inch-ish discrepancy. Really happy with them, didn't go the therm-o fit route, just broke my feet into them. Absolutely worth the money.
I can't buy a new pair of shoes w/o buying a set of these insoles, too. I put them in everything -- light running shoes, trail running shoes, golf shoes -- you name it. I have a super-high arch and this keeps my feet from collapsing inward. After just a few days they feel akin to custom orthotics. Beautiful! Also, FYI, the Backcountry sizing chart is spot-on right.
I bought these for my husband after he got plantar fasciitis. He loves running and couldn't give it up, and these help a ton. Fit true to size
Unlike the flimsy cardboard or foam insoles (footbeds) that come as standard equipment with most running shoes, the SOLE Dean Karnazes Signature Edition footbeds are built to go the distance. They feature a moldable base layer, softec cushioning, a moisture-wicking top sheet, adjustable arch support and a deep heel cup.

By heating the footbeds in the oven, inserting them into your shoes, and standing in them for a few minutes you can create a custom insert molded specifically to your unique foot shape. These inserts provide much greater comfort and support than your standard insert and will last three to four times longer. The deep heel cup prevents movement than can cause friction and eventually blisters.

I have been using the SOLE footbeds since developing plantar fasciitis in both feet two years ago. It's the only thing that's been keeping me running relatively pain free. The custom orthotics I had made at the podiatrists office were bulky, uncomfortable, useless and expensive I might add. Even if you're not currently suffering with any foot issues you can still benefit from this great product.
Are they good for use in alpine ski boots?...
Are they good for use in alpine ski boots? Can anyone please let me know..
These are not great for Ski Boots. Conformable or a Instaprint would be better options for your ski boots. They're more expensive but a solid ski specific custom foot bed will make your skiing experience so much better.
Sole is about to release the new Chris Davenport signature footbed and it will be just the ticket for ski boots. Look for them in Fall 2012.
I use these in my trail running shoes and love them. I have low volume feet so the extra space they take up isn't an issue. The extra cushion is nice too.
How to mold the Sole Custom Footbed
These make good fitting shoes and boots fit even better.

After being disappointed by my pair of SuperFeet insoles, my Foot Doc highly recommended these. I'm glad I listened.

While not super pillowy, they have just the right mix of flex, support and cushioning.

They are super easy to mold, and provide an excellent final tweak to keep your dogs happy over the long haul.
excellent, for many reasons
i really love these insoles. i hike for 5-7 hours at a time, quite frequently, and couldn't be happier. they have so many positive attributes: no abrasion against my foot soles (i've found that superfeet have this problem), just enough cushion to them (they have an amazing balance of support and just a bit of give/cushion), they have a nice wide platform (many insoles aren't wide enough, especially those provided with shoes), they don't get sweat-logged, they dry out quickly, and they are very resilient. after hundreds of miles, my two pairs (i alternate) don't show many signs of deterioration. maybe this is because i alternate them, giving each some time to dry out. whatever the case, they seem to be lasting quite well.
So much better than Superfeet
heat moldable, more comfortable foam, and more breathable than Superfeet with similar support; what more do you need?
these are the best...my shoes just work better when I have them and my feet are much happier. You can heat mold them to your feet!
These insoles turned a pair of good fitting 8 mile hiking sneakers into perfect fitting unlimited mile hikers. I've ordered two more pairs!
These insoles have been miraculous for me. Last year, through training for a half marathon and upping my mileage for a full marathon, I developed severe Plantar Fasciitis in my left heal. I tried pretty much every color of Superfeet and several motion control shoes...all to no avail. Every time I would get it in control and then go for a run it would flair up and I could barely walk the next day. I took a couple months off and really missed running. I picked it back up in February and the faciitis returned quickly. I decided to try the SOLE footbeds out of frustration. I went in with low expectations, but man have I been shocked and awed. I won't say my plantar faciitis is completely gone, but running with these insoles has had a very therapeutic effect and I no longer wake up to my first step out of bed feeling like I stepped on a tent stake. Combined with a moderate motion control shoe, I've been gradually adding more miles each weak with no signs of the severe heal pain. I'm very pleased so far and am very excited to be able to enjoy running again.