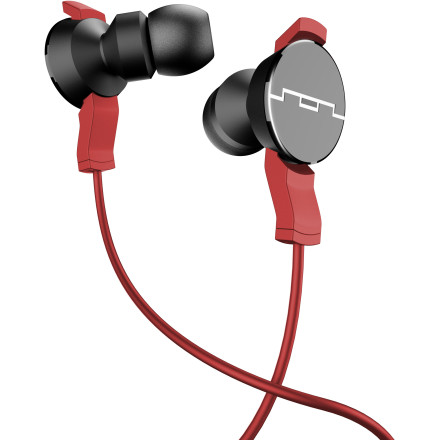 Detail Images

Community Images
Who knew such big sound could come in such a small package? The Sol Republic Amps In-Ear Headphones feature i4 Sound Engines for high clarity and deep bass, and its StayFit design is ergonomic so it comfortably stays in your ear without falling out.
i4 Sound Engines deliver rich sound and booming bass
StayFit design angles the earbuds perfectly so they don't fall out
Four sizes of ear tips lets you find the size that works for your ear
In-line microphone allows you to make and answer calls and control your tracks
Sol Republic will send you ear tips for life if you ever lose them
Unanswered Question
Most people who buy earbuds are not looking for drowning bass because those guys will usually have that in their car...lol I am 40 but i do like the bass "effect" and the ones i just brought just didnt do it. Now i want to be sure before i buy since i cant listen but i need a stereo guy who is on the same level. My 68yr old dad thought the ones i brought were fine but this is the same guy that listen to 8tracks and thought they sounded good..lol I am looking for good bass "effect" which is the kind u get when the bud is fitted and sealed properly in the ear. The cheaper ones tend to not create that seal so the bass "effect" is loss. Remember its Bass "effect" most younger guys like me are looking for because i use earbuds to workout and drown out the gym's music they have playing. I brought a pair of panisonic for $15 and believe it or not but they sounded better than the skull candy i just brought and i am back to using them untill i find another replacement. I dont want to pay over $40 either because i am hard on mines and i also might get them stolen.
Great for the office
Familiarity:

I've put it through the wringer
After buying eye glasses I needed some ear buds that didn't pinch the frame and cause a headache. SOL Republic is now my go to company for headphones. These are comfortable if you are just sitting around and do not have a need for super loud tunes. I would imagine if you did crank the volume up on these you would hear some distortion. But for the price point they are a great buy. The multi control and microphone are great features if you will be using this will your smart phone.
Does not work well at the gym
Gender:

Male

Familiarity:

I've used it several times
Got these earbuds for the gym since I lost my SkullCandy earbuds. For me, the ear buds do not stay in my ears and I've used different sizes for the buds -- just doesn't seem to stay in. I am constantly adjusting them to make sure they stay in. I am not able to get one set in without having one of them fall out. Also, my ears hurt after having them in for an hour or so.
Great sound, bunk controls
Familiarity:

I've used it once or twice and have initial impressions
I bought this to wear while I snowboard, they sound excellent and fit comfortably under my helmet. However, the 3 button control does not work with Spotify and my Galaxy Nexus and the design does not include a manual override. So I had to download this app https://play.google.com/store/apps/details?id=com.yifandroid.wizdroids to prevent my tunes from cutting in and out all run.
Stellar sound
Familiarity:

I've used it several times
Just picked up a pair of these a couple weeks ago. The sound quality is great and the fit is phenomenal. I go trail running with these and they stay put. My only complaint is the mic. It's great for hands free talking, however it pics up a lot of ambient sounds so whomever your speaking to on the phone can hear everything going on around you.
really comfortable
Familiarity:

I've used it once or twice and have initial impressions
most comfortable earbuds I've ever worn. I tried using these to workout but I found that the cord wasn't long enough and it keep pulling my iphone or the earbuds. good sound quality but just didn't work for what I planned on using them for. Would be fine if you weren't planning on being active with them, at least for me.
Balanced buds
Familiarity:

I've put it through the wringer
First things first, if you are the type of chap that enjoys power bass that drowns out the mids and highs don't get these headphones. These are for people who enjoy a balance between the highs, mids, and lows. This is not to say they lack any power, with these puppies you can rock out till you develop tinnitus. However, if you don't push the limits of these buds you can find a clarity that is arguably unmatched in any of it's competitors we carry.
Most Badass Earbuds Ever!
Familiarity:

I've put it through the wringer
I wrote a review previously - gave it a 5 star for sound (awesome!), three for functionality( kind of heavy for running, volume control/mike, caused the earbuds to pop out a lot), four overall. Now there's a new category. Ultimate durability. I use these in the gym. Went home with my ipod shuffle and Sol earbuds in my pocket. Put them all in the washer (by accident). After a full, heavy duty cycle with Arm& Hammer detergent, I found the ipod and earbuds in a tangled mess in the bottom of the washer. Well hell! But after drying out, both the ipod shuffle(good promo for apple here) and the earbuds worked perfectly. There's some circuitry in the earbuds that give them great sound. The fact that they still have great sound after a full cycle washing is unbelievable to me. I don't care if they are a bit heavy. That gives them five stars in my book. Unbelievable! So now I am a Sol republic fan for life. So how about making a pair with "over ear" attachments so I can run in them?These have been through the wringer - literally.
I was VERY impressed with the sounds from these ear-buds. Excellent for the price. The only issue I have is that, for me, they are not great for running. The buds are a little heavier than most (possibly due to extra circuitry to get the high quality sound?). You can see this in the pictures. The sound control also adds some weight. When running the inertia of the weight of the earbuds causes them to come out so they require a lot of attention. 5 stars for quality and price, 4 stars for range of application. But still quite happy with the sound quality - I just don't wear them running.
SOL REPUBLIC: Amps and Amps HD Video
SOL REPUBLIC: Amps and Amps HD.
SOL REPUBLIC: Amps and Amps HD
Tips for life? What!!
I did not realize until after I bought these and lost an ear tip that these guys give free replacements tips for life. I emailed them and got them a few days later.
Sol Republic ear buds
Gender:

Male

Familiarity:

I've put it through the wringer
Awesome buds at a great price
I love the ergo fit these have as well as the amazing sound for such a great price. They also come with a 3 button remote that works great with the iPhone 4 and 5. (volume up, down, answer a call, drop a call, fast forward, and rewind) they ship with 4 sizes of ear tips and Sol republic offers "ear tips for life" if you lose or need new ear tips they send them to you for the life of the product at no charge- Great product, great sound!
Buds
Gender:

Male

Familiarity:

I've put it through the wringer
I like the ergo fit as well as how good they sound for the price. They also work great with my iPhone 4 and now upgraded 5! great sound for buck!