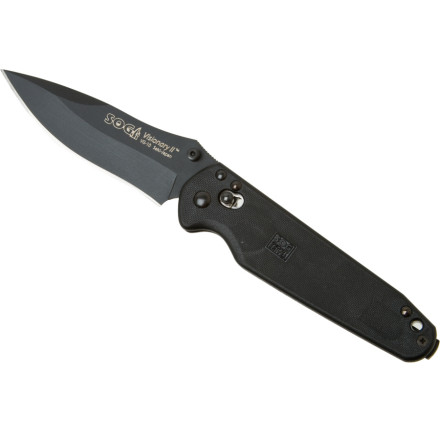 Detail Images
Tactical and stylish, the SOG Visionary 2 Knife features the same blade design of the Spec Elite series but with a black powder coat for durability and low reflectivity. The glass--reinforced Zytel handle is super lightweight and comfortable to hold and carry. For fast-access and full lockup, the Visionary 2 features SOG's Arc-Lock™, this also allows for lightning-quick, one-handed opening and closing. A reversible clip allows both righties and lefties to carry the Visionary 2 conveniently in pocket, on vest, belt, or jacket.
Handle will tear up your pants
I was really hoping to like this knife the most out of the 8 different knives I tried out. I loved that it was all black and had the Arc-Lock and it fully hides out of site in your pocket. I ended up returning it because the blade didn't open and close as easily as I would like (I'm sure it would loosen up over time), and because the handle feels like sandpaper against you pocket. It is so grippy to the material of your pants that you can just feel you pants getting eaten every time you put your knife away or take it out, but strangely isn't as grippy in your hand.



Pros:

- All Black everything!

- Arc-Lock

- Clip allows knife to be out of site in you pocket.

- Knife feels quality/solid, handle doesn't feel cheap and plasticy.



Cons:

- Handle texture will eat up your pants and isn't as grippy in your hand.

- Is hard to get out of your pocket.

- Blade needs to be broken in so it will open and close easier.



I would recommend this to someone who only takes his knife out on rare occasions or doesn't mind wearing a hole in his pocket. The SOG Spec Elite 1 is very similar but without the pants destroying handle and without the awesome black clip that fully hides the knife.
Super light weight knife. All of the weight is in the blade. The handle is rugged but light weight. It sits deep in your pocket so that it is not obvious that you are carrying a knife. The weight makes it very good for hiking. My only complaint is that I wish it came with a serrated blade which would make cutting rope much easier.
its good but not that good
This is a good knife, but not a great knife. It has a great blade, but the handle feels like it was neglectied during design (feels light and cheap). It is very easy to open , but does lack the "snap!" of spring assitance.

For this kind of cash i say got with the Benchmade Barrage. The Barrage has a great spring assitance system, and just feels better in you're hands. I own both and have been very happy with the Benchmades preformance
Great knife. If you think you want it, buy it...
The Arc Lock is an interesting feature, and works excellently. Very easy to open and close even off-handed with just a little practice (like twice). And it was a couple grams lighter than the listed weight. Bonus.
This is a really good knife. The VG-10 steel is a very quality steel that holds an edge very well. I also have a SOG Flash knife and the construction of the Visionary seems to be all-around better. Although the black powder-coating is meant to keep light from reflecting off of the blade, it also acts as a good non-stick coating when cutting meat or other foods. I also think that the Arc-Lock is just as fast to open and actually faster to close, than the assisted open knives. I really like this folding knife and will probably carry it for many years to come.