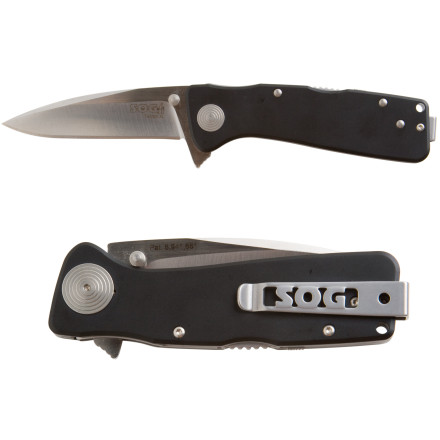 Detail Images
very good with a couple of major drawbacks
initially I liked this knife a lot. I got it to replace a CRKT I lost and liked that it had the heel-flip open. the spring was quick and solid and and the action smooth. blade was wicked sharp, and I liked the reversed clip that made it a little bit easier to pull from your pocket. overall I was really impressed.

then the belt clip broke off, after maybe owning this knife for about 3 weeks. it always felt a little tight so maybe it was too much stress to have it pulled on all the time. I'll be sending this one back. also i really did not like the lock release on the back of the knife. It made it basically impossible to close with one hand which is a huge drawback. if you don't mind that, and yours doesn't break, it'll probably be a great knife.
From cutting rope to minor surgery..
I have used this knife for everything. including the remove of embedded object in my feet and on a finger.

It has stayed razor sharp and still has a great spring action.

I did have to exchange the first one as there was a defect in the blade. I only opened boxes (cut tape) and used it to cook a few times and the blade was noticeably dull.

The new one I was sent has made me truly love this knife.
I have several other SOG Knives including the Twitch II, smaller version of the Twitch XL. Being the bigger brother to the Twitch II this knife has the blade to handle everyday chores on the trail, at work, or in close combat should the situation arise. High quality components and workmanship make this knife a must have for the trail. The patented S.A.T. spring assist technology makes for fast one handed deployment in any situation while the safety features assure against unintended opening. Overall you can't go wrong with this knife, on the job, on the trail, or in combat think S.O.G.
I really like this knife. My only other assisted opening knife is a Kershaw Ken Onion design, and the Twitch is definitely slower and a little harder to open, but this is not necessarily a bad thing. The knife itself is well designed. It feels solid without being too heavy, and while it is not a light knife, I like the heftier feel. I have been carrying it around for several days and have not noticed it in my pocket, but I am used to carrying a knife.

When the knife is open your hand does not slide forward on the blade and it fits well in my palm. It seems thinner than most other lockback knives I have, and I think this is what helps me hold it better. I don't mind the lockbar style, as opposed to a linerlock, but that is because I like to close knives with two hands anyway, so I don't mind not being able to use only one.

The only thing I would change is the locking mechanism. There is not a very big difference between "on" and "off." Also, the button itself is very small. However, I have been taking it in an out of my pocket and have not had it accidently open, so this is not really a major issue.
I enjoy this knife a lot. I have had it for several days and have been carrying it around everywhere I go. I have a bunch of other knives, but the only other assisted opener is a Kershaw Ken Onion design.

It is a solid knife, and while I would not call it heavy, it is not a light knife either. It feels solid, which is the best way to describe it. I like that the handle is thin and wide, because it fits into my palm very well. Also, I have not had any problems with my hand slipping up on the blade because of the pass through bar, although I have not used it when it was wet. This is kinda weird to say, but I really like the pocket clip on it. It is easy to clip onto my pocket and comes off easy. The blade came VERY SHARP, which was a big plus.

I don't mind the lockback style as opposed to the linerlock style that many people are used to. I usually close knives with two hands anyway, but I can see how it would effect one handed operation. The only thing I would change about it is the locking mechanism. The button is very small and there is not a lot of difference between "on" and "off." With this said, the knife has never opened accidently, and I don't see this being a huge issue.

I have one other minor quirk, which prevented me from giving it five stars, although in truth I would like to give it 4.5 stars. It is a little stiff to open, at least stiffer than the Kershaw. This is not really a bad thing though, especially if you are worried about setting it off accidently.

Overall, it is a good knife, and I would buy it again if I had the chance. Especially since it was on steepandcheap.
This knife is so sick sometimes I throw up in my mouth a little just thinking about it. This is the easiest knife I have ever opened, for all intents and purposes it's a push button action blade. If you look at the bottom pic, that little nob on the very bottom is what you push to spring the blade open. The safety lock that locks the blade both open and closed also is easy to use. Hands down this is the best deigned knife I've ever touched. Oh ya and the blade is really really sharp. This knife feels like it will last forever with very few sharpenings. As a minimalist camper this is the knife I would want if my life ever depended on it. Bomber.
this is a very (too) heavy, all metal knife. also, it is a lock back knife, not a liner lock, which is unusual for a assisted open knife, and awkward. lastly, it is sluggish to open. i actually returned this knife.
Nice knife. Thin profile. Sharp blade.

Sort of heavy compared to similar SOG's.
being a long user of CRKT knives, i was hesitant to buy this knife because of the large price difference between manufacturers.
i'm very happy i bought this because it has very quickly become my favorite knife.
scalpel sharp blade that hasn't lost it's edge in 6 months. amazingly smooth action with a crisp lock that will have you flicking it in your spare time. simple and very effective locking mechanism that lets you lock it open or closed. great feel and balance. it has abit of a heft to it but feels like it'd last a life time. very fast and easy one handed operation.
i guess the only complaints i'd have about this blade is price and weight.
but as with most things in life, you get what you pay for and a good knife is worth it's weight in gold.