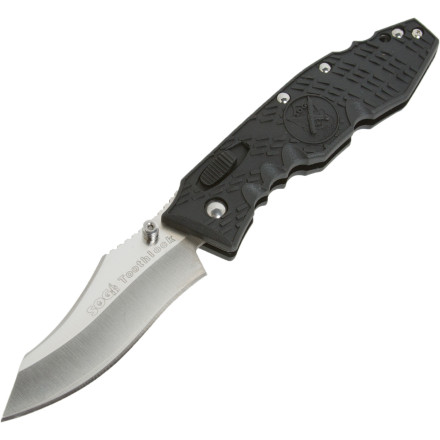 Detail Images
Designed with SOG Knives' high-performance piston lock and featuring added tech that lets you nudge the blade out of the handle for easy opening, the Toothlock Knife is a worthy companion for your next fishing, hunting, or camping trip. An easy-to-grip handle makes for a secure feel, and the reinforced blade tip provides plenty of durability for the long haul.
What do you think about this product?
Have questions about this product?
Very sharp, easy to open, fairly comfortable in my hand. This has quickly become my go to knife.
Hated it. Opened the knife, played with it for five minutes, put it back in the box, mailed it back.

The ergonomics of this knife are designed for someone who wears gloves or has slippery hands. I found the knife far too painful on bare skin, as the contact points would dig into the hand in a variety of grips. This included the thumbstuds, the hilt, and the slide lock button.

I let a couple of friends with knives (fwk) play with it and they all thought it was very uncomfortable as well.

I thought the opening system was a gimmick. If you held the slide lock open then flicked your wrist, the blade would open. Which is no big deal as several of my other knives you can just flick your wrist and the blade opens.

Really wanted to like this knife, with the Sai-Mai steel.