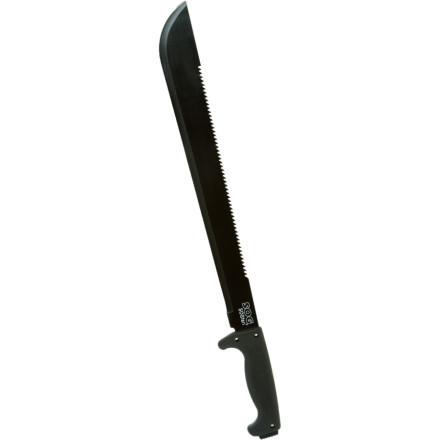 Detail Images

Community Images
The Sogfari Machete slices through jungle vines on silent missions, cuts firewood at the campsite, and clears dense undergrowth when you find yourself lost in Appalachia. The working saw opposite the tooth edge works when branches get too thick to chop through, and holes in the machete's handle make it easy to attach a lanyard. An included nylon sheath means you can slip the Sogfari into your backpack without shredding the rest of your gear.
Share your thoughts
What do you think of the
SOG Knives
Sogfari Machete
? Share a...
not a good tool
Gender:

Male

Familiarity:

I've used it several times
I wouldn't recommend buying anything from SOG thats under 40 bucks, the stainless steel this machete is made out of didn't even hold up to 3-4 inch branches, the blade rolled and twisted and it looks just like mvyrmnd picture down below, it was made for looks not use, unless you plan on using it as a bushwacker. I did get a fasthawk from SOG and it has proved to be an awesome tool/weapon that has not showed any type of flaws since I got it nearly two years ago. SOG has high quality products and some very low quality produces that shouldn't be used for anything more than showing off. this machete was a waste of money for me because I actually use the weapons I buy, in 10 minutes the blade had rolled, good thing it was only 20 bucks, I didn't expect much out of it but I also didn't expect it to break on my first field test of it! I have a gerber gator pro machete that performs amazing and it was only 50 bucks and came with a pretty hefty pocket knife. I love SOG but they should warn people about products that can't hold up to their name, I was really disappointed in this purchase and will not be buying anything from them that doesn't cost over 60 dollars, remember quality cost.

Go with Gerber
Familiarity:

I've used it several times
This machete didn't make it very far. It seems like the edge is too soft. Regular expected use resulted in a damaged edge.
no problems so far
Familiarity:

I've used it several times
I've had the Machete for about a year and I haven't had any problems yet. I use it mainly when car camping to clear smaller branches and prep wood for c camp fire. The build quality of the machete and the sheath seem to be high quality...but again I haven't tried to hack through anything 4" or thicker like other reviewers.
I have purchased two of these machetes unfortunately. They're very thin, weak and prone to breaking. I would agree with most of the posts in saying that it is just very poorly manufactured. Apparently the makers don't realize that people actually swing machetes, we don't just let them hang on a wall and look pretty.
Worst machete I've ever used. Handle is OK, and that's the only good thing I can say about it. Shattered like glass (and sounded like glass) after about 5 swings on a ~4 inch branch. I have 2 other machetes that have taken worse treatment for years with no problems. DON'T use this on anything other than lettuce, it isn't safe. The shards of metal sent flying when this thing breaks could easily hurt someone.
Depends On how you use it
Had mine for well over two months, used it to cut down very thick tree branches with the saw edge, used the bladed edge to trim down vine, weeds and other various bushes.

I cut out a full dead rose bush last night, my blade is still intact.

If this ever comes back into stock, dont hesitate buying it, just dont expect to chop down 4x4's and tree logs with it.
Bought this off The Clymb on their SOG sale. Came in the mail... the sheath immediately broke. The strap that keeps the blade from coming out tore off.
After a few days of use, chunks of the blade started coming off. It doesn't feel too sturdy either... holding it in your hand and shaking it it feels like there is a break in the middle of the handle. Shortly after the chunks came out the blade snapped in half (I was chopping a three inch branch to use in a fire). The whole thing was a massive waste of money and extreme disappointment. I won't be buying SOG again.
Wish I could give it no stars. Worst product I've purchased in quite some time, I have other SOG products and they work great, in fact the SOG name is why I decided to purchase. Used this thing one time and it was missing chunks like in the other guys' picture. I was flagging singletrack and simply chopping branches that would otherwise poke me in the eyes.....Don't Buy This!
Eh, lightweight and works good on brush, primarily pricker bushes for me. However, if you hit anything, the metal is very brittle and will break off instead of bend. If you're careful, it can last while I'm sure, but it's a machete.....

Update:
Only used this once a year for two year to cut down brush and such, recently hacking some tree growth, 1" limbs, the thing snapped in 3 pieces and I narrowly missed being sliced open as it hit my face and chest. What a flimsy piece of crap! dangerous and should be taken off the market
Looks great, feels great.... breaks. Don't buy.
We have a lot of acreage and a lot of dirt bike/quad trails which need maintenance and a machete is quick and easy for the majority of the work that doesn't need a chainsaw. I also use them for camping, firewood while camping, fire pokers and other random tasks. I've used machetes for the last 15+ years, primarily a basic one from Wal-Mart that's nothing special but with nothing other than slight modification to the handle and occasional sharpening has served well for years.

I bought this on SAC and initially I was excited about it. The handle feels great, design and weighting is nice, sawblade has offset teeth which are more effective, finish seems nice enough, I like the sheath well and it did come sharp from the factory. It worked wonderfully for maybe two minutes of cutting small brush and then I looked down at it to find a bunch of sizeable chunks (1-2 inch long sections about 1/4-1/3 inch into the blade itself) missing out of the blade.

(I've uploaded pictures, see for yourself... literally... 5 minutes of small brush and branches on the SOG and 10+ years of abuse on the $7 Wal-Mart one.)

While I've seen machetes bend a little or get a chink in them if you caught a rock etc.(which I certainly did not here) I've never seen anything do this. I'm honestly amazed that SOG would put their name on this. Hopefully mine was a more defective piece than their normal product as this was absolutely unusable and dangerous.

Luckily, Backcountry/SAC were amazing as usual and after chatting with them they did provide a full refund with no return shipping cost incurred by me! THANK YOU BACKCOUNTRY/S&C!!!

Overall, if you're looking for something to cut tall grass or something with the consistency of... corn stalks?... this will work perfectly. If you're looking for a moderately tough or durable machete DO NOT buy this.
Got this on SAC, and wasn't even worth that low price. A truly awful product, definitely the worst thing I've ever got from BC/SAC. Let me count the ways:

1. Blade damaged beyond use in just 5 minutes of testing on misc. creeper vine, finger-thickness Russian olive branches, and a fence top bar. Wavy, chipped, edge rolled...pretty much everything you'd expect out of WEAK MILD STEEL that hasn't been heat-treated in any way. Contrast to my 10+ year old Ontario machete that's dull as a butter knife but I used on Saturday to make the 2 yard-waste bin sized pile of cuttings that I was testing this one with....without any blade damage.

2. Too thin of a blade for effective chopping, and the blade grind makes it lodge in thicker pieces (wrist-thick creeper) on deep cuts that fail to completely sever the material. Initially quite sharp, however...the sole plus.

3. Saw teeth are also pretty soft; can't see them holding up...though tooth design is better than most.

4. Protruding metal on pommel is a danger to the user, clothing, and gear, but no valid use for anything except perhaps zombie head-smashing.

5. The combination of 1 with the presence of the saw teeth makes one wonder what would happen should the blade break during chopping.

6. The sheath is designed in such a way that withdrawing the blade will at some point slice the retention strap. Note that the sheath is only useful for this type of machete with a handguard...it will not retain the standard type.

All in all, EPIC FAIL, and a deathblow to SOG's already shaky (with me) reputation. Do not buy this if you actually plan to use it as a tool. Perhaps a good Halloween accessory though.