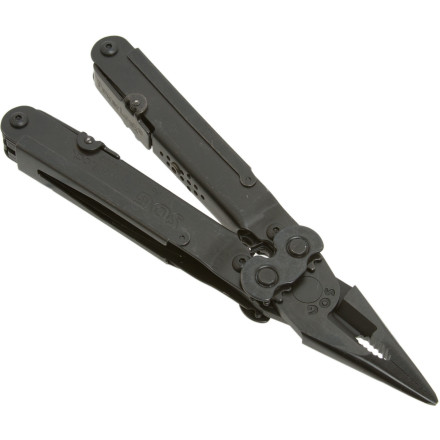 Detail Images

Community Images
The SOG Knives Powerlock Multi-Tool's unique pivoting system provides a mechanical advantage for better grip on the pliers and opens with a one-handed wrist flick. This stainless-steel, ultra-durable SOG multi-tool includes backcountry repair necessities like a 3-inch knife, several screwdrivers, a file, and a wood saw. Of course, no multi-tool should be without a bottle opener, so SOG included one of these as well. Never be caught without the appropriate tool for the job. Be prepared with the Powerlock Multi-Tool.
V-Cutter option does not include scissors
Never leave home without one
Familiarity:

I've put it through the wringer
The versatility of a multitool is unmatched. On the trail or in the garage, these tools can get most jobs done. I've got the SS version. These are great multitools that you can find priced better than most Leathermans. Also, being able to customize is a huge plus.
Hefty and Helpful
Gender:

Male

Familiarity:

I've used it several times
Have not yet encountered a situation in which I absolutely needed this, but the times in which I've had it handy have undoubtedly been less frustrating and accomplished unequivocally quicker than if I had not had it. The pliers allow for (relatively) fine tweaks and use in smaller spaces, and the plethora of attached tools all feel like they are built for a post-Armageddon landscape.

No, I have not dropped it off an 80 foot cliff or had it run over by cars or boulders, but SOG is a more-than-reputable company which delivers durable merchandise, and I had no qualm deciding on this brand of multi-tool. After careful deliberation and comparison, I think you might agree with me.


Is this the best multi tool on the planet? Not likely. Is this the best tool for $50? You should be nodding your head and adding to your cart.

To other negative reviewers: Yes the metal guards are kind of a joke. They fall off sometimes, but they do offer a bit more grip for precision tasks. Yes, the power lock is poorly placed but with use I'm sure your monkey face can figure it out; I did. Yes the gears kind of dig into my palm when I'm really trying to drive that screw in, but I should be using a screwdriver.

To be completely honest, this thing has worked a treat whenever i've needed it. I've put it through salt and freshwater, sand, dirt, ice, mud, snow. It still has a silky smooth motion in the pivots and only shows a touch of rust on the plier jaws when its been put away wet, and that wipes off.

It's heavy, though likely indestructible.

The gears seriously offer so much leverage that this tool matches my vicegrips.

The suite of tools is pretty solid - the can opener has saved me more than once, the file is great, the saw is razor sharp and the knife gets it done - though the v-cutter is a strange lovechild between an exacto and some scissors. It does ok for certain things, I don't use it much.

It opens quick and easy if you do it like a butterfly knife.

Bottom line: It's a bargain, it's burly, definitely gets the job done and comes with me everywhere except the airport. It's a staple on any trip I take whether backcountry or car camping. I'd buy another if I lost this one.
High Quality tool, rough around the edges. I actually had to file a burrs off of the metal tool covers. I was more impressed by my friends Leatherman Charge.
Also, it has a really awful nylon case
Just got this multi-tool yesterday after ordering it on S&C for about $40. It seems absolutely awesome so far. I can almost open it like a butterfly blade the action is so smooth, and the mechanics of the pliers are fantastic. One of the other things I enjoy is that I can order additional tools (e.g., saw, scissors, etc...) off of their website for only $10 each, on average. The only downside I have noticed is the weight. This is obviously heavier than other options, but you won't find the same quality anywhere.
This is one solid multi-tool. Every function of the PowerLock works phenomenally. I'm especially impressed with the saw and the needle nose pliers with their compound leverage. I've beat the piss out of mine, and only managed to knock off a piece of the 1/4 drive.
No doubt on the quality. I like SOG products. I did snap a plier head, but I sent it back to SOG and they replaced it for free. I don't like how heavy it is, or the crappy leather sheath it comes with. I think I'll keep it for a while.
This is one of the best Multi-Tools that you will find. I trust SOG quality and most of my knifes are also this brand. This tool has your basic items but what makes it special is the pliers, they actually work and have some guts to them.

The downside to this tool is the weight. It is kind of heavy for everyday use.
As others have already stated, this is a great multi-tool, certainly the best available option at this weight. The pliers have unbelievable torque and the other available tools are nice. It'll undoubtadely last me forever.

The only downside is the accompanying weight - I sometimes like to bring a multi-tool backpacking and this is a bit heavy for that.
Anyone get this on S&C it has been popping...
Anyone get this on S&C it has been popping up like every other day and I wanna get it if i can confirm the S&C one is the scissors or V-cutter model. Thanks everyone!
Best Answer
Mine was the scissors or standard model. The description should be able to help you.
I got the multi with the v-cutter on Geartrade.com for about $40. Backcountry sells their returned merchandise there.
I got this tool for a pretty good deal on SAC, I needed it because my leatherman got swiped out of my apartment! Anyway I am unimpressed with this tool, first off the gears for more torque with the pliers is a fun idea but it is wholly unnecessary and it limits how far the pliers can be opened while in your hand. Secondly the springs in the "powerlock" mechanism are a joke, I'll be using the screwdriver, my thumb will brush upon the release button and whoops, there goes my screwdriver. Thirdly, the metal coverings that close over the knife and screwdrivers and things, are also a joke. They are held in by measly metal indentations. The first time they came out of place, I spent five minutes trying to figure out why my tool wouldn't close, I finally realized that the silly metal plate was out of place and getting in the way of the plier, I couldn't believe it. I have one last complaint about this tool, the size. I used to have the leatherman Wave, if you look at the specs the wave is a smaller tool with a larger knife (and it costs less) to me this just speaks volumes.

Bottom Line: Get serious, get a leatherman
SOG makes excellent knives & tools
I have been using this multi-tool for the past 16 months. I have the V-Cutter model and was fortunate enough to pick it up from SAC for a steal. The components of the tool are very useful, the V-Cutter is great for cutting paracord, plastic and webbing. The steel has held up very well, even in the damp forests of the Northwest where I primarily adventure. The tool can be dis-assembled for cleaning with a 1/4 inch driver and I utilize this to clean out sand and gunk before applying oil or lube. I own several SOG knives and have always been impressed. I never leave for the trails or backcountry without this tool.
SOG.. never leaves you SOL.
I have owned quite a succession of multitools over the years. Back when I was a communicator in the Marine Corps, I have had innumerable occasions to use them, and they generally outdo themselves in utility. As a general rule, I carried two, one of which was a widemouth ViceGrips multitool made by Schrade, and the other was continually rotating. I still carry the ViceGrip in my Jeep. The ¼" drive/bits in the handle have proved so exceptionally useful over the years, I required another tool, (the ViceGrips had only two blades and the ¼" drive) that had the same functionality. Well, initially, at least, that tool was not the tool I'm reviewing. As it currently sits closed and freshly cleaned in my work daypack, it is now.


The beauty of Steep and Cheap is that good gear gets on there often. The ugly is my empty wallet. Nevertheless, I had to get the SOG Powerlock when it came up at a screaming deal. It was something of an impulse buy, but as I came to use it, I was impressed. You can find the tool list anywhere on the web… or can you? The coolest part of the SOG tools is that the blades are interchangeable, within reason. The limiting part is width, and the necessity of the plier blades closing into the handle. But, with a little ingenuity and patience, I created my ideal multitool. SOG sells replacement blades on their website. Included among this is a ¼" drive bit and a wire stripper unit. On to blade/bit replacement! Now, here is where the patience comes in. It isn't simply a plug and chug swap. You have to continually assemble and reassemble, to ensure that everything fits, and sometimes sacrificing certain blades within the tool. I think I chucked my serrated blade, since the main blade is half serrate anyway, and I never carry a multitool for the knife blade, since I always have another knife. Also required is the sanding down of the plastic spacer blocks, once you do get everything aligned. A little Loctite on the threads, and it's done. By the end of the operation, you have a multitool whose functions are uniquely yours, and can be changed to suit different tasks if you find something lacking. User customization: huuuuuge selling point.
Since this is the first Multi-Tool I've ever owned, I cannot tell you how this product compares to the next. However, when I'm on the trail I use my equipment just as hard as the next person, and I can say this tool has stood up to everything I've used it for. It has a lot of features, a few more than what I probably need, but, if I do ever need them I won't be complaining. The weight makes working with this tool a bit tough in unusually small spaces. The sheath is great for keeping the tool in good working shape, however I had trouble attaching it to my pack without it bouncing all its steel around. Overall the SOG PowerLock Multi Tool is highly recommended and is a great purchase on SAC for 40-50 dollars.
I love this thing. I have used many of the attachments, and all are solid. I carved my kid's walking stick with it, from a tree branch using the saw, knife, file and pliers. I use it for cooking and cleaning fish. Very sturdy, and does not feel flimsy or weak. Made of steel, and comes in a nice little belt clip. SOG knows how to make a useful tool.
After much research and use with various multitools hands down this one takes the cake. The hinge system for the pliers is amazing. It generates more power and torque than any other multitool. The build quality is superb. The V cutter is actually more useful than I ever thought. It tears right through those plastic wrapped packages without any resistance. The additional features are fantastic depending on what application you need. The only minor issue is the weight, it is very heavy, due to its quality build, worth it in my opinion. Overall this is great best of the best hands down.
I have owned a SOG multitool for about 10 years. When I saw this one come up on SAC for 40 dollars I had to pick it up. My older SOG is still going strong but is really beat up. This new one works perfectly for fishing. Buy one it will last forever!