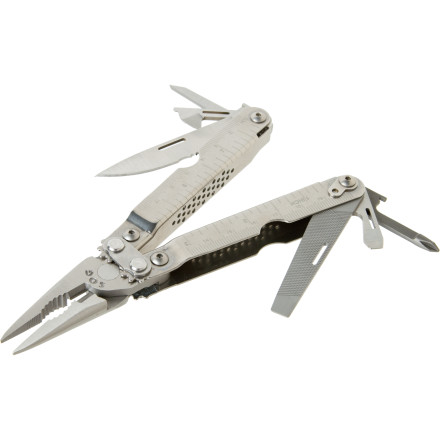 Detail Images
I received the blunt nose version of this tool in black from a friend a few years back, and it's still going strong. The tools are plentiful and have met every need I've had for the tool that my EDC blade can't handle. The only downside I see to this model is its weight. It's a bit heavy for not having any locking feature.
The case I received was not leather, just polyester, albeit tough ripstop polyester or nylon or something. The tool itself is great, has everything I need out camping...like pulling the nails off a bear with the pliers, shaving down an eagle's beak with the file, or sneaking into Old Man Sampson's mash stash with the wire cutter. I bought two, and will continue to be a SOG customer.
Blade holds pretty well. Tools do not lock but i find that convenient at times. Definitely well designed. Solid buy.
I have the powerLock version of this multi-tool and I ordered one of these babies as a gift for a friend. Now I think I want to trade him. The PowerLock version is much heavier (9.6 oz.), this pocket version is indeed surprisingly light at 5.5 oz. While the powerlock is kinda cool and that version does have some extra tools, the pocket version has all the essentials and the weight makes a difference to me. One thing both versions have going for them is they are made in the good old US of A.
The gear system on the pliers really makes a difference, it is not only far more powerful, it is more nimble. I find that (and the one-handed operation) extremely useful when im fishing. It is surprisingly light, and very durable (I hammer stuff with it).