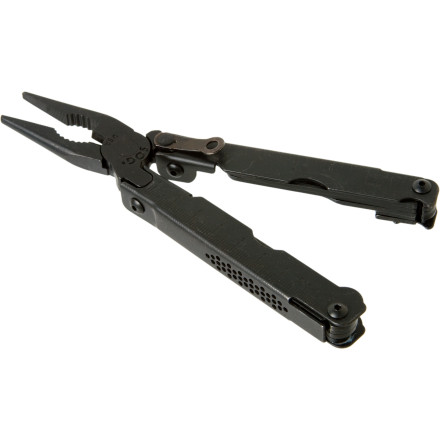 Detail Images
Real nice tool. Nice set of implements. Very sharp knife. A bit heavy but that works in your favor come time to use the tool.
I was just wondering what the serrated...
I was just wondering what the serrated blade on this tool is for. Does it work as a saw?
It's a very sharp blade that cuts through nylon rope & webbing, seat belts, etc. with ease. It's not that great on wood due to the serrations are more rounded than pointed.
hard to open the pliers, cant deal with it one handed. everything else is dope, super sharp. gett'm on sale its a good deal.
Aside from the novel opening geometry, what makes this tool stand out in a sea of gadgetry is its relative simplicity. Great pliers, solid wire cutter, smooth handles that don't hurt when squeezed, two useful blades, and just enough peripheral implements make this slim, light-weight multi-tool a pleasure to carry. Add to this that the tools can be user-selected, customized, and the tightness adjusted with basic bike shop tools and you have one impressive USA made hunk of stainless steel. The only reason I deducted a star was for a broken clip on the pouch the first time I caught my belt on my car seat. To their credit, SOG offered to replace it with the leather style for free and I have been using a TT Malice Clip in the interim.