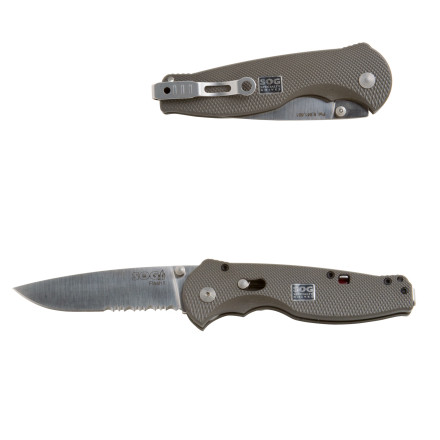 Detail Images

Community Images
Solid Knife, Great Value
Familiarity:

I've put it through the wringer
there are some whiny reviews here, so let me be clear: i'm not giving this 5 stars compared to every knife ever made, i'm giving it 5 stars compared to other knives designed for the same purpose and at a reasonable price point. yes, if you spend more, you'll probably have a higher quality knife: kind of like every other product ever.



this is an excellent everyday, workhorse knife. it fits in my pocket fine because i don't wear skinny jeans. it holds its edge very well (don't sharpen it to 17 degrees, that's not what it's made for) and the blade has a thick spine to give it some burl. the handle is fine. it's got decent grip and doesn't feel flimsy. some reviewers pointed out it's not made of the highest quality materials, so don't pound nails with it. i will say i dropped it from 120 feet up, and it doesn't even have a scratch.



the assisted open is great and locks every time. i forgot it in my pocket bouldering once and it did open after falling. now i lock it, but that's kind of an extreme case. i'm right handed and one handed operation is easy, probably hard for leftys though.
Alright, I actually give this knife 2 stars, but I wish there was a "Zero Stars" option just to balance out all of these 5-star reviews. Apparently this is the first knife some of these people have ever held.



In the open/locked position, the blade is loose. Right out of the box! It's not huge but it is noticable, and on a knife as bulky and heavy as this monster I expect better. Speaking of bulkiness, it's too big to be my daily carry, and I wear loose clothing with big pockets. They could have slimmed down the handle significantly; it's not like the thing is flimsy. (Although the nylon handle is not very grippy. This makes it easier to slide in and out of your pocket, but I would not want to use this knife with wet/oily/greasy hands.)



The advantages of this knife are durability and ease of use (unless you're a lefty). The blade seems to hold an edge well and it is pretty thick -- no risk of bending or breaking it. The SAT technology is great; it opens the blade quickly and it ALWAYS engages the lock. No funny business. Also it has not yet opened when I DIDN'T want it to open (in a pocket, for example). The safety lock is a nice feature but I doubt I'll ever need it.



My only beef with the mechanical operation is the lock release knob. In the closed position it roams freely througout the slot, and when the blade is locked open it still has significant play. This doesn't really have any negative effects on the usability, it just seems sloppy. Also, the knob is only on one side, so left-handed knife users will not get the intended ergonomic ease of operation.



In summary: not worth the $75 MSRP, you can def get a better knife for that kind of money. I scored it on SAC for $30, so I'm happy to leave it in my car's emergency kit because (1) weight and space aren't at a premium and (2) I think it will be dependable even after years of rumbling around in there.
I got this for my boyfriend and he uses it for EVERYTHING. its so awesome i want one for myself:)
Sam
Gender:

Male

Familiarity:

I've used it once or twice and have initial impressions
Just got this knife a few weeks ago. Initial impressions were that it felt light for the size, mostly due to the plastic grip. The plastic has a cheap-feeling texture, but still feels comfortable & very durable. The blade comes plenty sharp out of the box, though a few passes on a sharpening stone doesn't hurt. The only real test I've put this knife to was sawing a few small (~1/2") branches off a fallen pine tree blocking a trail, which this knife did with absolute ease. It's not the nicest knife in the world & you won't impress many friends with it, but for the price it's unbeatable. I take this with me everywhere, & would recommend it to anyone.
FAST
Gender:

Male

Familiarity:

I've used it several times
They aren't kidding about how quick these things pop out. They're also nice and light, and a decent value. I certainly like mine!
Love this knife! Fit and finish is amazing and the comfort in hand is reassuring.
Bigger and better than the Flash I
I originally go the Flash I for my brother. I checked it out when I got it and it was really small and hard to operate even with my small hands. He agreed and wanted to try the Flash II knife. It is about twice as big and much easier to use. I do have 1 complaint though. The knob to assist you in opening the knife is too close to the handle end of the knife, which makes it a little harder to put your thumb or finger on to open the knife. Maybe I'm just not used to the knob being in that spot, but if it was my knife I would have returned it and tried again with a different knife.
For me personally this knife ranks as one of the most handy blades I have owned and certainly the most handy folder. I carry this daily because it light and isn't too thick for the pocket. In addition to locking open, it also locks closed which is a great feature when you have it in or around thin backpacks and tents.

I have had mine for over 5 years and it is still sharp and the assisted open is still very snappy.

If I lost mine or it was damaged (which is unlikely) I would replace it immediately.
Got this mainly for camping but could easily be used for everyday. Little too large for me to carry around everyday but for some you could. Quality product from SOG and if anything goes wrong in the future I'll post about it.
I am a huge fan of SOG knives. Let me start by saying that. I have this knife in a survival kit because it is so freaking light weight. That's the good part. The bad parts are that: Mine came with alot of play between the blade and the frame, and the blade seems really dinky. I like this knive for a backup only because I carry a Seal Pup and CRKT folding knife as "Main"/Heavy duty blades. That being said, I'm a knife fanatic who carries more shiny blades than are really necessary.
/Cheers!
I've had the flash for a couple years now and it is to this point my favorite and best knive. It is quick to open and very durable. I've had no problems and done many jobs with this knife. The only exception to this is that the clip that lets me wear the knife on the outside of my jeans broke. In my opinion this is a very good knife.
Legend... wait for it... DARY!
Recently was gifted this knife! everything I read about the kife before hand was accurate and its super awesome feels great in your hand easy to open a little stiff on closing with one had but not a big deal!

If your on the edge about buying the knife just do it the first time you open the knife it will all become clear to you that it was worth it!
I have this knife in the Aluminum and Zytel handle and both are very dependable knives. The zytel drops the weight by about 25% and make it much easier to stash in your pocket. The blades are durable and hold an edge very well. I have carried mine for several years and never had a problem with either one of them. I don't really understand the review about the "cheap plastic handle" as this thing is about as rugged as you can get. It has been dropped, bounced around a backpack and still looks new.

The supplied clip makes this knife very easy to carry and it is barely visible in your pocket.
Good Backpacking/Climbing/Mountaineering Knife for the Weight Conscious
I just replaced my old flash 2 that I lost on a backpacking trip. For the SAC price it was a no brainer. Some helpful info from the SOG website for the weight conscious backpacker: the aluminum handle model is 4.2 oz. The plastic handle is 3.1 oz. I have never used the aluminum handle model which may be a bit more solid, but I re-bought the plastic (zytel) version because although there was a little side to side blade-play, the locking mechanism is great as is the weight vs size ratio of the plastic handle model. Some say it feels cheap but regardless of that opinion, you will be very hard pressed to break the zytel material. You can tighten the handle to eliminate the small blade movement but that causes the handle to press down on the blade and restricts the assisted open design. If over time the blade loosens up too much, just tighten the one bolt down a tad to find a good balance between fast opening and small movement when locked. Overall I think this is a great knife for most situations especially because it is light for its size and how easily it opens with one hand, even with gloves on. Oh, and it is really, really fun! If you think you will be cutting cordage or ropes, get the half serrated blade.
Returned because too much blade play
The knife's blade seemed great but I returned this knife because the blade played around too much when open. It rocked back and forth maybe 1-2mm at the tip.
good solid light weight knife
Lightning fast on the open.
I was impressed with how fast and well it sharpened with only a few passes on my diamond stone.
The zytel handle is great because of the reduction in weight. I've never thought it inferior and my other knife-welding friends agree.
I had read the safety can become inadvertently locked sometimes in your pocket and yes it's happened with mine. That would be a bad thing if it was locked when you really needed it open direct from pocket pull. This is the only con I have witnessed and I may jimmy mine to disable the safety feature.