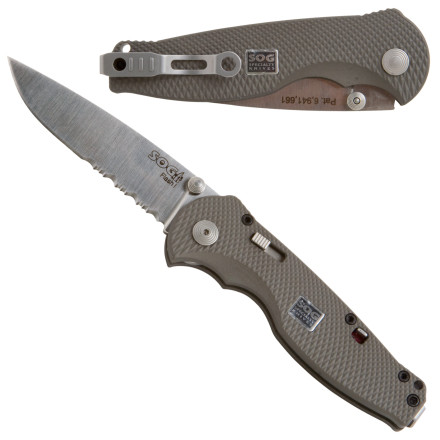 Detail Images
Barring fully-automatic knives (which are illegal for civilian use), there's no faster blade deployment mechanism on the market than the S.A.T. system in the SOG Flash I. A short movement of the thumb stud starts the show, then BANG! The S.A.T. (SOG Assisted Technology) coil spring takes over, whipping the blade fully open and locking it in place with a sliding piston. The Flash I's cryogenically-treated, titanium-nitride-coated AUS-8 steel blade takes a keen edge, and the textured, anodized aluminum handle scales are made to withstand years of hard use. SOG's reversible pocket clip allows you to carry this knife discreetly without sacrificing easy access.
Too Small
Gender:

Male

Familiarity:

I returned this product before using it
First off let me say I love SOG knives. I opened this up, put it in my hand and was instantly dissatisfied. I for a 6ft man have very small hands (same size as my moms (5'6")) and this knife is still too small for me. I dont feel like I have an adequate grip on the knife when deploying the blade which makes me feel slightly unsafe. Its also a little too wide -bulky- for how small it is. Other than that it is an awesome knife, the S.A.T. was fantastic, arc lock fantastic and I didnt test the blade cause I returned it but I have full trust in SOG blades. I also buy for "value" and this was not a value item in my opinion; if it fits your hand like a glove, by all means $60 is well worth this knife, but not for something you would have to get used to or 'deal with' on a daily basis. Other than the size and "value," this knife is a home run. I would recommend this knife, only to someone with tiny hands though.


Alright
Gender:

Male

Familiarity:

I've put it through the wringer
So I got this purdy little knife for 70 bucks a few months ago and have been carrying it daily since. I was really drawn to it because of the aluminum scales and the size. I love the size, its small and light, works perfect for small tasks like cutting a lime, opening letters, and other small daily tasks. The quality is decent, but it is NO Benchmade. The action just isnt as smooth, even when well lubricated. If forced to pay the $108 msrp, i would have purchased a mini-griptialian.



My biggest 2 dislikes...

1) as a climber, sometimes I have some super sensitive finger tips after a day on the rocks...the lock mechanism is very sharp...not sure why they thought a harsh square edge was a good idea.

2) Closing the blade is jerky, seems the cam could have been better designed.



I am still a Benchmade guy, but this SOG has done well for me. It's not perfect, but for a super small EDC blade, I am pretty happy with it.



I would like to add, the clip is terrible...It has a very nice ride, low in your pocket, but I seem to catch it on everything and its beginning to fatigue....did not have this issue with my Benchmade...


I really like this knife but it is really small. I ended up returning it and getting the Flash 2 which is much bigger. This knife is amazing though. Only bad thing is the size.
I have small hands and this knife is hard to operate for me! It is a lot smaller than it looks in the picture, and because it is so small it is hard to open and close easily with 1 hand. I will be returning this knife and trying out the Flash II.
Use it for opening everything, bit smaller than i thought when i bought it. But no problem, sharp and good quality.
opens lightning fast. got it off SAC for dirt cheap. smaller than i thought it would have been, but the stability of the blade makes up for that. pocket clip is sturdy too. pretty sharp straight form the factory too. like it so much i am gonna get the flash 2 as well (as soon as i see it on SAC).
Smaller knife than I'm generally a fan of carrying and I purchased the razor edge rather than a combo (bigger fan of combo's), but this thing packs quite a punch... From it's light weight, to the FAST deployment of it's razor sharp edge, I have yet to find something that doesn't make this knife deserving of 5 stars.

You may, however, have some issues if you're one of those people that needs a constant reminder that your gear is there... IT IS small and light weight- to the point of where you don't even know it's there. Like I said, this knife is small (literally the size of my thumb when closed) so if you need something larger, get it's bigger brother- the "Flash II"- considerably larger to the point of where it seems like they should have made a "Flash 1.5" to fill the gap between "I" and "II" models.

I will be buying a few more of these for gifts, stabbing bums and crackheads on the mean streets of Las Vegas, around the house, in the cars, etc. When I can stop playing with it and widdling mesquite branches from my front yard into walking sticks, I'll take some pics and maybe go as far as to attach a youtube review/walk-through.
I was lucky enough not to purchase this personally but camped with a friend on his first time using this particular knife. I had my CRKT Ultima and he had the sog flash I. This knife dulled quickly and the very tip actually broke off while using it for a menial task. I didn't know that happend unless you were stabbing bricks or something. if you are wanting to drop this much on a knife, go for a CRKT.
Mine is black with a black blade and is one of the sexiest knives to slip into my pocket. Takes up roughly the same size as a chapstick. Feels great in my hand, and has a nice edge from the factory. The handle is not anodized aluminum, but a composite. Blade assist is wicked fast. Careful when playing around with the knife at first! An extra this knife features is a locking mechanism to keep it shut.

This knife is usually on my body while hiking, and often in my coat pocket when I am off the trail. I bought mine when SOG wasn't that known, and the price of this knife was much much more. I have seen the Flash II selling for forty bucks at generic stores(I own a Flash II as well).

I am truly impressed by this knife. I own three other SOG knives because of this knife and my family has many more. I strongly suggest buying this knife, you will find a a reason to use it.
I carry this knife most of the time because it is so versatile. The assisted blade opens lighning fast and the thumb point on the blade is in the perfect position for my hand. The blade is typical SOG quality is sharp from the factory. Includes pocket clip.
I love this knife. It's PERFECT for everyday use. SOG has won me over! Will buy more of this brand in the future. One word = Awesome!
The assisted opening of this blade is fast. A buddy of mine had this at the trailhead one weekend, and by sunday, it was no longer in his possession. The blade comes out like nothing, and cuts nice with the factory edge. Trail food prep and whittling are easy, and the in hand ergonomics are great. Super low weight for what you get.
this is a very lightweight knife, the handle is completely made out of plastic. but it is not "cheap". it has a very nice assisted opening, as good as an auto. once you are used to the unlock mechanism, it works great, feels good, and is a tough, handy knife
HOW LONG CAN THE KNIVE BLADE BE LEGAL IT...
HOW LONG CAN THE KNIVE BLADE BE LEGAL IT TX
Best Answer
The Texas Penal Code Title 10, Chapter 46, Section 46.01(6)(A) defines an illegal knife as a knife witha blade over five and one half inches.
if you can't properly ask a question then maybe you shouldn't be asking such questions to begin with. Nimrod.