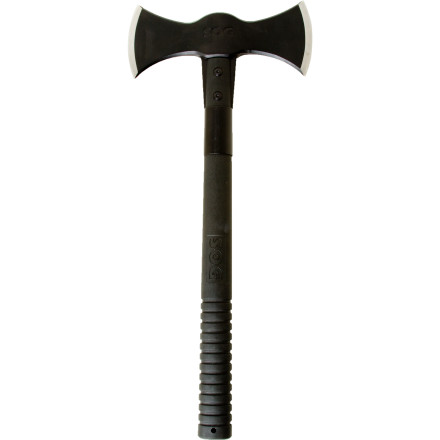 Detail Images

Community Images
Developed by Thag the Conquerer in 406 B.C., the SOG Double Headed Axe is one of the oldest items that has been in continuous production. (Yes, beer is older.) But, according to Thag, the Double Headed Axe would never even have been invented if it weren't for beer. Thag also maintains, 'UNGH,' and 'AWGH,' and a few other guttural sounds that we didn't know how to spell. What he's trying to say is that the Double Headed Axe is based on the construction and durability of the Tomahawk. It can shape and split wood if you're out camping or sculpting those ridiculous bear-shaped front-door decoration things. It can also be used during military operations for breaching or extraction. The stainless steel head is mounted to a ballistic polymer handle with heavy-duty bolts and a steel ferrule to stand up to any punishment that you can dish out, whether you're chopping wood or lopping off zombie heads.
Share your thoughts
What do you think of the
SOG Knives
Double Headed Axe w/Nylon Sheath
? Share a...
pure unadulterated slaying! perfect length for one handed carnage however you can totally get both paws on the ridged handle to crush your foes with the double bladed head. throws like Thors hammer and with a polished head splitter on both sides your almost guaranteed to sink some cold 420 stainless steel in the coward that turned heals in the heat of battle. think nothing of it if you time your throw wrong for you'll land the Ballistic polymer handle in the small of there back which will leave them withering on the ground while the elastic cord tied from your wrist to your weapon of death returns it to your hand with ease only so you can split more noggins. acquire the ax. be the man. slay the enemy.
simple, strong, and well-made.
Let's be honest-- This is by far, the most badass thing on the site.
At the risk of sounding redundant, there is no better tool for lopping the heads off the undead. I actually bought two and my most effective technique has been to put one in each hand, arms outstretched, and spin like Taz. Those zombies never stood a chance - like shooting unholy fish in a barrel.
ridiculous: yes.
necessary: absolutely not.
awesome: completely.
worth it: do you need to ask?
ZombieApocalypse: already mentioned.

there's not much more to say. you undergo a He-Man like transformation as the blade comes ringing out of the very practical nylon sheath. you become bold. strong. willing to face anything. i chase raccoons out of my yard while swinging it above my head and yelling like a banshee.

enough said.
So much fun...i mean useful. I haven't actually gotten to throw this at very many things yet. Turns out that when living in an urban area people frown upon walking around throwing axes at things. However I did use this for some vigilante pruning the other night and it worked wonders. it's a bit too heavy if i were taking it backpacking but this is definitely a must for all other camping/outdoor adventures. i also feel more secure having this around for when the Zombocalypse occurs.
I love my duel headed ax, it's practical and chops really well, but let's be honest here, its best feature is the fact that it's a fun little ax that's great to throw at trees and logs.

If you are looking for a light weight hatchet to take backpacking, don't get this ax. If you are looking for something to whip out at your next car camping trip to throw at a tree and wow your friends, I highly recommend this.

Due to it's small size I wouldn't classify this as an ax, but it's also a little bigger and heavier than your standard hatchet.