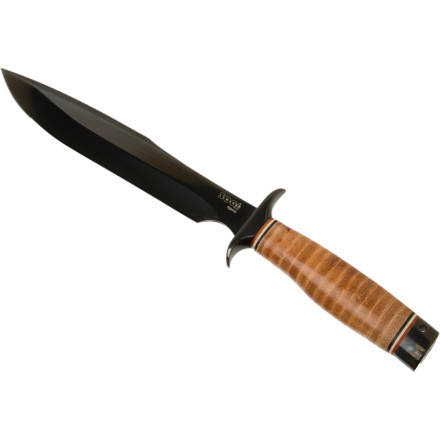 Detail Images
Craftsmanship and tradition are the focus of the fixed-blade SOG Agency Knife. Originally crafted for CIA operatives hidden deep in the Vietnamese jungle (which cannot be confirmed or denied) this replica features modern materials and more advanced manufacturing techniques. Epoxy-filled leather washers vastly improve durability, even with prolonged use in all climates and conditions. The durable leather sheath even comes with a sharpening stone to keep the blade in razor-sharp condition at all times. So whether you display the Agency knife in a glass case to show off the beautiful lines and classic design or use it for hunting, camping, or wilderness survival, you (and other knife-lovers) will appreciate both the looks and function.
What do you think about this product?
Have questions about this product?
WOW REALLY, when first unsheathed it garners such praise as "holy Shib that is one real frggin blade, Now Thats a Knife, and ive played knifey spooney before, but dammmmmmmmmm" so without hesitation may i utter the words "if its gonna be that kinda party im gonna stick my agencey in the mash potatoes" cuz dam it feels so good.