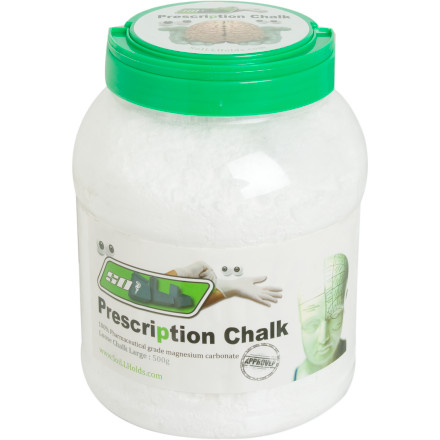 Dry those paws off and quit swearing at your problem. So Ill Chunky Chalk helps ensure that the next time you spit profanity at a pumpy sequence, it's from above the topout.
Decent chalk
Familiarity:

I've put it through the wringer
It gets the job done! The tub it comes in is pretty cool and you get a ton of chalk for the price! I don't think it works as good as Metolius super chalk but you can't argue with this price!!
Greta chalk for the price
Familiarity:

I've put it through the wringer
So Ill holds is an awesome company and this chalk is no exception! I love the chalk itself for the most part and truly love the amount of chalk I can buy all at once. It comes as powder with a good number of chunks as well. Overall, it dries your hands out very well, perhaps a little too much sometimes, which would be my only complaint about the chalk. Outside of that, it stays on your hands very well and gets the job done. Plus the tub that it comes in is very nice compared to the paper/plastic wraps that many other companies use. Worth every penny!
Cheap chalk is good chalk
Familiarity:

I've put it through the wringer
This much chalk at this cheap is anyone's dream. The big tub of this stuff will last you quite awhile even if your hands sweat profusely. Whether you like loose powder, big chunks or you spend the time to refill a chalk sock (that probably should have been thrown out a long time ago) like I do, this moisture-absorbing gold will satisfy you. It has a good assortment of block sizes as well as powder.

The tub itself is much nicer than a bag or that thin papery "wrap" some brands use. If you like all powder, you can just kick the tub around a bit and voila! The lid does take quite a few turns to open, but that just means the chalk shouldn't leak as much.
Raw and Uncut... Great Product...
Gender:

Male

Familiarity:

I've put it through the wringer
This chalk is great for all indoor and outdoor use. When I'm not using Metolius Super Chalk, I'm using So Ill Chunky Chalk... The packaging is great for travel and what I really like is that it comes in big chunks of chalk, so you won't end up spilling a lot if your bag falls or tips over. Highly Recommended...
Good Stuff
Familiarity:

I've used it several times
Good amount of chalk for not alot of $$'s. This chalk is chunky and powdery mixed together. Chunks are great for bouldering and the powder is good for routes. The container is not super quality and the lid takes quite a few turns to get off but, all in all, it gets the job done just as good as the expensive stuff.
been using 1 tub for a year.
Familiarity:

I've put it through the wringer
I have been using this for over a year now and I love it, for the price it can't be beat. When I first picked up a large tub for under 10 bucks I thought it must have been on sale, lol nope. Just pure chalk like the BD stuff w/o the outrageous brand name price gouging.



I still buy super chalk and occasionally mix it with this, but hey I have super moist hands. .
when they say chunky they mean it
Excellent deal for the price! I did have some chalk seem to 'leak' out of the lid but as long as you're not tossing it around thats fine. The container is nice so you don't have trouble storing for later use as opposed to the bags which are unorganized and have a large hole in it after first use. The chalk itself isn't anything special.
Be careful about securing the lid. Apparently, if you twist it shut it doesn't completely stop as it tightens up and will continue until becomes loose again. Just be mindful of your grip on the container while twisting it shut and carrying it by the lid's handle.
For the price you get a lot of chalk. 500g for the large will last me a long time. Its nice to have the container to keep it in. All of the other bags that chalk comes in normally ends up ripping on me. I like that there is a nice mix of powder and big chalk chunks.
this chalk works just fine. i just finished my home wall and figured i should get a big thing of chalk. for some reason this chalk is a good bit less expensive than any other kind i could find out there. keeps my hands dry and doesn't break the bank
Chalk is chalk and there is nothing special about it except that it keeps your hands dry so you can hang onto the wall without slipping off. This one is super nice though because the chalk comes in a container that is easy to close unlike the plastic zip-lock type bags that other brands sell.
So how many grams in the small vs. the...
So how many grams in the small vs. the large??
Best Answer
250g for the medium, 500g for the large.