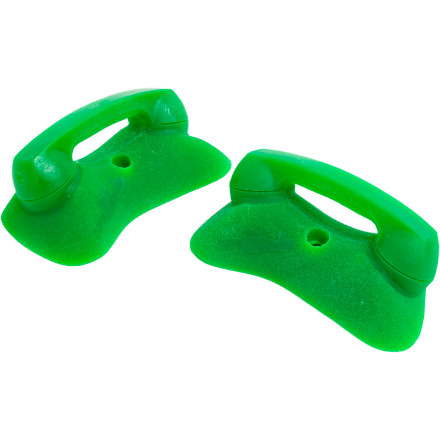 Detail Images
Add a set of 2 So Ill Holds On Call Climbing Grips to your garage wall and give your buddies a deceptively nice handle to top out on. This handlebar comes with a surprise slick texture that won't shred your hands but might peel your climbing partner off the wall when he's not ready for it.
What do you think about this product?
Have questions about this product?
when you're just starting out or just need some solids holds for your roof on your woodie at home, this is a good place to start. The base of the hold is textured but the phones are kind of a sharper glossed over plastic, so not the best for feet/heelhooking/ toe-hooking. Just hand, preferably on the roof/really overhung. They also get people attention and get them excited if you work for a climbing gym you know what i'm talking about.
Solid holds for the roof. I would buy this 2-pack over the full set from soill anyday since these are the two best holds. Would not want to use on anything less then a roof. My only complaint is that if you have wide knuckles you can actually get your hand stuck in them which is kinda scary but rare and completely avoidable.

They also look really cool in person and are some of the best beginner roof jugs I have seen.
This hold is alright. You'll never come off it--it's so bomber you may as well bolt your hand to the wall. However, it's surprisingly uncomfortable to hang on, and you really have to focus when using it as a foot; the phone itself is very slick.