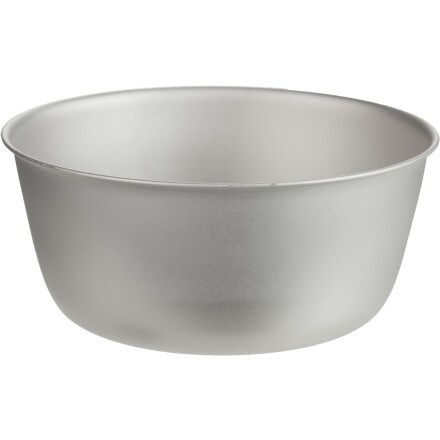 Description
It's still OK for adults to lick the bowl clean.
Pretending to be civilized by eating out of something other than a dried gourd when you're backpacking for two weeks in the Sierras isn't difficult when you're carrying a Snow Peak Trek Titanium Bowl. It doesn't cost that much extra weight, either. This uber-sturdy bowl keeps your pack light and gives you both cooking and eating options. It's crazy but true: you can boil water in this bowl and eat out of it.

Titanium
5.5-inch diameter
20-ounce capacity
Share your thoughts
What do you think of the
Snow Peak
Trek Titanium Bowl
? Share a...
(spork not included).
(spork not included).
Posted on
It's a Titanium Bowl
It is a bowl. Kinda hard to screw that up.

What is awesome about the bowl beyond the fact it is really light and not really that expensive is the fact you can use it as a double boiler in the snow peak 1400 pot set.

I like to fondue when we go snowshoeing or during lunch when we go skiing. I haven't been able to find a small compact double boiler and saw a video of someone showing how the bowl will sit in the 1400 that I already had. I had to get one. Well, I actually got two. One for the cheese fondue and one for the chocolate fondue. I am so stocked to Fondue again. It is so easy to pack in a backpack and so easy to set up. Pre cut salami or pre cooked steak into cubes along with baguette bread and try some apple slices too. You can pre make the cheese sauce at home and reheat it on the hill. Chocolate and just a bit of cream to make your chocolate sauce. Then dipping marshmallows, strawberries and I also get shortbread cookies to dip. Get some cheap disposable bamboo skewers or regular wood skewers for dipping your goodies in the cheese and chocolate.

A glass or two of wine and you have a gourmet meal for two.