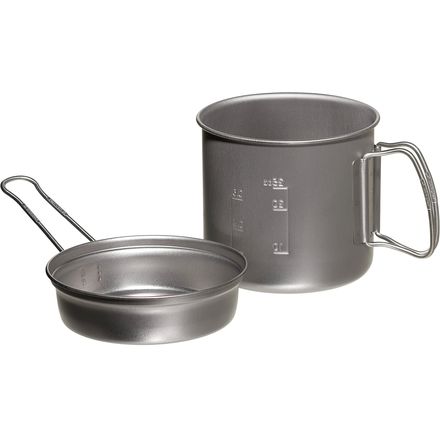 Community Images
Description
This compact titanium set is the way to go for ultralight backpackers.
The Snowpeak Trek 900 Titanium Cook Set is a lightweight, two-piece cook set that includes a pot, a lid/frying pan combo and a carrying case. Corrosion-resistant titanium is super lightweight and has superior strength compared to steel. The pot holds 30 oz of fluid (approximately 1 qt) and weighs only 3.8 oz. The lid doubles as a frying pan (5" x 1 ½ ", 8 oz capacity). Each piece has a folding handle that tucks neatly away. The Snow Peak Giga Power Stove and fuel canister stow nicely inside the cookware for easy transport and storage. Snow Peak's focus on nesting cook sets makes this an exceptional build-as-you-go system for backpackers.
Very versatile
Familiarity:

I've used it several times
It's big enough for a Solo Wood Stove. It's very lightweight. It's a great gear for any type of situation. Very versatile. Never leave home without it.
Light, Good Pot
Familiarity:

I've used it once or twice and have initial impressions
This pot is good for boiling water, and not too bad for cooking a little bit of food, but like others have said, should be stirred a lot to avoid burning. Also, the lid is pretty useless when it comes to cooking in my opinion.
Snow Peak Spectacular
Familiarity:

I've put it through the wringer
I decided to purchase this after using a JetBoil Flash System with the optional 1.5L JetBoil Cookpot, but deciding ultimately that the aforementioned setup was not only excessive, but heavy for thru-hiking (it was my first thru-hike, give me a break).

Anyhow, I ultimately became infatuated with this pot after just a very short time of use. It does an excellent job of resisting buildup of food offal (burnt items in particular), and staining is no problem whatsoever. While its design does not particularly rapid cooking like the JetBoil system does, the pot does a suitable job of heating and boiling just about anything that you can throw at it. It does help to stir certain items occasionally, as the convection ability of the pot with stoves (at least with the MSR Micro Rocket, from my acquaintance) is not the greatest, but it is more than adequate for most things.

One notable qualm that I had with the set (though not enough to downrate it a whole star) was that of the lid. A good idea in theory, my participation with the lid was a singular and spectacularly disastrous occasion, something I have never since re-attempted, as the design and construction seem to be something out of the Twilight Zone. I believe that perhaps if one had oil or grease it would be possible to cook, say, an egg or two in the scrambled format, but nothing else.

All in all, this is a fantastic pot, and even when a long cook session is finished, the handles remain cool enough to hold without being too hot or too finicky to deal with. I would highly recommend this to anyone looking for a piece of cookware to essentially build and complete their backcountry kitchen set.

*Just a quick note, the SP Titanium Double Wall Cup 600 WILL fit inside this pot*
SP Trek 900 Titanium Cookset v. Nalgene bottle



The Trek 900 goes up to about the 28oz mark on the Nalgene bottle, with a diameter that is roughly 1/4 larger than that of the Nalgene, just for those who are looking for a rough mental idea of what the size of this is, if my picture doesn't adequately convey.
Great pot set
Familiarity:

I've used it once or twice and have initial impressions
I got this b/c its diameter is designed so that you can put an 8 oz. fuel cannister inside the pot and close the top. This pot set works well with the Crux folding stove. The folding stove [not the "lite" model] will fit under the gas cannister and the whole cookset is then contained in one mash bag. The handles stay pretty cool so you can take it off the Crux stove without padding. The top cup/skillet/cover also stays cool on the Crux stove so removing the top is easy. The cup/skillet handle is sturdy and latches securley.



The top can be used as a cup or a small fry pan. If the top were slightly deeper the pot set could be designed to hold the larger 16 oz. fuel cylinders. Maybe Snow Peak can re-design the top and send out a message to owners that they can buy the deeper top separately to upgrade the set to one which will accept the 126 oz fuel cylinders. I'll buy one!

Great pot set.



JB

Mt.Shasta


The pot is fantastic, no question! The major gripe I have is the idiotic lid construction. Why would you ever design a pan where you have to squeeze the handle to keep it in place?! If you ever try to cook with it, or use it as a frying pan, you WILL be sorry. Sooner or later, there will be a moment where you aren't squeezing it quite tight enough, and the hinge will collapse, leaving your food all over. All they have to do is switch this design to the most intuitive one, that every other pan uses (where you squeeze to unlock it), and this is a 5-star set.
Kinda. The pan will fit in, but not snug (handle thing gets in the way. If you really want to double cook, get the 1400 and the bowl, they fit in snug. Also, you can get fourdogstoves to make you a custom ti lid so you can have the pan (or bowl) covered while you cook.

But it's just my opinion, but the handle on the pan is not super secure (nor insulated). I'd totally use evernew, but everyone makes stoves that slide into the snowpeaks.
I'm a titanium junkie, and love the Snow Peak line. The only issue with the 900 is the lid. I also have the SP Mini-solo Combo, and love the lid from that set. I can't imagine using the 900's lid as a little pan, but I also am mostly a water boiler. In order to reduce heat transfer, I made a set of pot insulators out of Reflectix insulation. Virtually no weight, and from my one-time test, I reduced heat loss by 40%. In this picture, the 900 and 900 lid is closest, with the Mini-solo and lid in the background (the Mini-Solo nests in the 900, and the 900 nests in the windscreen). Both are in their insulators.
Does the Trek 700 fit inside the Snow Peak...
Does the Trek 700 fit inside the Snow Peak Trek 900 Titanium Cookset?
Best Answer
Yes, it does. They're made to nest together if you need them to. Diameter on 700 is 4.2" and the 900 is 5".
This may be a good buy if you are an occasional backpacker, but if you live outdoors for your job or because you can this is too narrow to cook in every night, you just have to be too careful when stirring and it is easy to burn food. Clean up is a cinch but I'll skip this for a wider pot that weights maybe an ounce heavier.
What are dimensions of this pot (height...
What are dimensions of this pot (height and diameter?)
Best Answer
The pot is 4.75" in diameter and 4.25" tall.
Awesome..on that thought, does a titanium...
Awesome..on that thought, does a titanium spork scratch the coating of the titanium pot or titanium pan at all? metal against metal.....or should then one of those poly ones be used?
Best Answer
The 900 isn't coated. It's solid titanium. Use your titanium spork to your heart's content without concern of scratching!
I concur. The beauty of Titanium is that it is intrinsically non-stick as far as foods are concerned, and you are using Titanium on Titanium, so no worries.

Dine on.
Just wondering if anyone out there just...
Just wondering if anyone out there just does not use a bowl and just eats the food straight out of the frying pan to save another thing from being packed?
Best Answer
It really comes down to what you'll be cooking. The pot on the Hybrid is pretty small @51/2x21/4", making it not much bigger than the frying pan/lid on the 900 @5x13/8". That's way too small for boiling water or cooking a respectable amount of food without having it go all over the place, in my opinion. I've got a variety of frying pans, but they seldom get out. I like my 900 better, as it's a more functional, user friendly and versatile set, that also nests my stove, 8oz canister and stand. Gardner's call is right on the money, and when cooking for two, one person can use the pan as a bowl, while the other eats right out of the 900 pot. Did you also check out the Trek 1400?