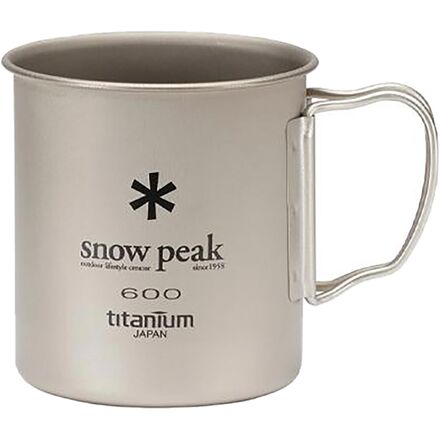 Community Images
Description
Eat, drink, and be light.
Snow Peak Titanium Single Wall Cup 600 is rust proof and tough. This ultra light weight mug weighs just 80 grams and won't taint your coffee with a metallic taste.
Will the GSI minimalist nest inside this?
Hey Paul,



The GSI Halulite Minimalist cookset will not nest inside this cup.



Let me know if you had any other questions!



Ben

brabinowitz@backcountry.com

801-746-7564
Perfect cup that will last a lifetime
Familiarity:

I've put it through the wringer
This cup is awesome (filled with a good IPA or a mountain mocha)! Super lightweight and a great size. Holds the right amount of liquid!
Versatile
Familiarity:

I've put it through the wringer
I love this cup, had a 450 but it didn't meet the requirements of coffee volume I need after a damp and cold night in a tent. Snow peak French press will nest inside this cup and is great for cooking in just grab some hot lips from backcountry.
This is the cup to get!
Familiarity:

I've used it once or twice and have initial impressions
I love snow peak's designs, and this cup is no different! It is ultra lightweight, and durable as all get out! Titanium does have a tendency to scratch up a bit, but since the finish on the cup is matte, I don't believe any dings will show up. This is a great cup.
Use this thing to cook in a lot and its perfect for that as well as a normal mug. Also extremely light and ive found it fits the small thermarest xlite almost perfectly
The one that does it all
Gender:

Male

Familiarity:

I've put it through the wringer
I recently spent 2+ weeks roadtripping across the U.S. and each morning this mug held my oatmeal. Maple Brown Sugar, Cinnamon Apple, even a combination of Strawberry and Banana! This mug held up wonderfully to all oatmeal flavors I threw at it.

Can also be used as a musical instrument.

Ben
brabinowitz@backcountry.com
801-746-7564
Will the SP 600 nest inside the SP 700? ...
Will the SP 600 nest inside the SP 700? Someone on BPL said no, but I want to double-check here as it appears some experts are responding to questions.



Also, does anyone know if the little silicon cup that comes with the SP Hybrid Cook Set will fit outside or inside the SP 700? I just ordered it separately from SP for $10 and would like to head off the order if unworkable. Measurements for backpacking items are incredibly unreliable.



(My apologies if this question posts twice.)
Best Answer
Answering my own questions for anyone else who might also be wondering:



1) SP says the 600 single-wall mug will nest tightly with the Trek 700.



2) SP says the little silicone cup will attach to the outside of the Trek 700.



Not sure I buy the second answer, but the dude had the 600 and 700 in front of him (I could hear it) and he said it fit.
What are the dimensions of this cup??...
What are the dimensions of this cup??

Thanks!


Hey Anthony and or Ashley,



The cup is 3.9 across x 4 inches tall.
The Snow Peak Titanium Single Wall Cup is a good option, and one of the cheapest for titanium on the market. The construction is great on the Snow Peak Titanium Single Wall Cup compared to the MSR and you get much more capacity for your money compared to the China made MSR cup. I like the Snow Peak Titanium Single Wall Cup, even though it is not USA made. Berz Rating: 89/100
DOES THE SNOW PEAK 600 COME WITH A STUFF...
DOES THE SNOW PEAK 600 COME WITH A STUFF SACK?
No, the single wall 600 cups don't come with stuff sacks, just the double wall 600. You can't cook in double wall cups, and sometimes it would be nice to be able to, but I have to say that, for what it's worth, I generally prefer my double wall for eating and drinking only because of the insulation and I leave my cooking to a slightly larger pot like the 700 or 900, both of which do come with sacks. BTW- the 600 mug nests beautifully into the 900 pot. Hope this helps you out.
Best Answer
My order came in the other day from Backcountry and there was a stuff sack with my Snow Peak 600 single wall mug.
Light, useful, perfect size
Absolutely top notch mug. Very, very light. Throw a small stove in (I use a LiteMax) and throw a 110g fuel can on top, grab a small stuff sack and stuff a handkerchief on top and cinch it up with a spork inside and your cookset is good to go.

Only single downside is if you dent the mug with your fuel can inside you may not get it, or your stove, out. So you do have to be a bit careful with how you place it in your pack so as to not bend or dent the mug.

Also, if you've never had a hot drink out of titanium... for the love of God, make sure you're holding the handle if you pour something hot into it. If you're holding the body of the mug you'll scream like a little schoolgirl and throw your scalding drink all over your tent, your buddy, or yourself. Titanium transfers heat almost instantaneously.

PS. Some people like using the Hot Lips silicon edge, but I don't mind sipping quickly to prevent any major pain. The Hot Lips seems like a luxurious bauble.
This is all I carry. I have an older version that they called a cooker but it's the same cup with a lid. I never use the lid. Add a spork and a plastic coffee mug / measuring cup ... and that's all folks. My Snow Peak stove fits inside of the mug. When soloing ... this is the way to go!
Snow Peak Titanium Single Wall Cup 600.
At 71, I'm working on a lighter and lighter pack. So I was pleased the cup worked very well on the MSR stove and the stove stowed nicely inside the cup with some matches and a windshield. I especially like the size which is adequate for a filling cup of soup and "two cups of coffee" in one.
Nancy
Does anyone know if this mug is big enough...
Does anyone know if this mug is big enough to fit a small canister in the inside? if not what is the difference between this and the 450 and would the 450 be able to hold the small canister??
To answer your second question first - the difference between the 600 and the 450 is volume. The 600 is a 600ml cup (about 21oz) and the 450 is a 450ml cup (about 14oz). The 450 is SMALLER than the 600 (and weighs about .5oz less).

Now for the first question - the smallest canister that I know of is the Jetboil Jetpower 100g canister. It's dimensions are 3.5" diameter by 2.5" tall. The dimensions of a 600 are 3.8" diameter by 4" tall. So YES, this canister will fit inside the 600. However it will NOT fit inside the 450, which has a diameter of only 3.4".
Best Answer
The Snow Peak 110g canister will fit @ 3.25", but here's a hitch to it, the 600 cup tapers in at the bottom, so it won't go all the way down and will be snug, so if you're also hoping to nest a small stove like the Gigapower or Litemax, the stove will have to go in first. The 3.5" Jetboil 100g canister won't fit. It gets hung up on the lip of the cup because the 3.8" diameter is measured on the outside of it.

The smaller Snow Peak diameter canisters will all fit easily into the Trek 700 pot, and if you want to use a full sized canister like an MSR, you'll need to go up to the Trek 900.
A food saver lid for the Snow Peak 600 single wall mug
I'd been looking all over for a nice tight lid I could use on my Snow Peak 600 mug. Although there are some nice aftermarket metal cooking lids, I wanted a food-saver type lid that would keep any leftovers safely inside without spills.

I went to a local store and found a lid that fits extremely well...like it was made for the mug. They're green BPA-free lids made for use on Luminarc glasses and they fit the Snow Peak 600 perfectly. They even look pretty cool with the bright green color on top of the mug. I know some have tried to cook with plastic lids, but I personally would rather not risk even BPA-free plastic in a high-heat environment.

Although I found them in a local store, a quick Googling revealed a cheap source here: http://www.villagekitchen.com/luminarc_green_lids_working_glass_576_prd1.htm

Again, these lids fit the Single Wall Snow Peak 600 mugs...probably not the double wall since they're so snug on the single wall.
First off...I ordered this on Friday afternoon and by Monday morning I had it in my hand...Backcountry.com you guys just earned another customer...You ROCK!

This is the PERFECT solo cooker / mug. It weighs nothing and is built like a brick (poop) house. I have a Trangia alcohol stove for long trips, but the 600 paired with a canister stove can't be beat for long weekend trips. I shaved a full pound off my alcohol set-up with the Snow Peak 600, used with the Pocket Rocket. Get one just because...and buy it here...it'll be in your hand before the bank processes the order.

Jon
So Cal.