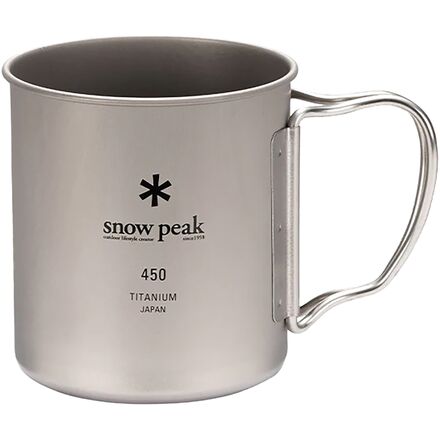 Community Images
Description
This lightweight and durable cup will become a staple in your sack.
The Snow Peak Titanium Single Wall Cup 450 is rust proof and tough. This 14 fluid oz, titanium cup/pot with an ergonomic handle weighs in at a mere 2.4 oz. Corrosion-resistant titanium is super lightweight and has superior strength compared to steel. Use it for your favorite backcountry beverages—it won't taint your coffee with the taste of the soup you had for dinner.
I guess it works?
Familiarity:

I've put it through the wringer
I got suckered into falling into this cup fad via my yuppie alpine friends.

They are pretty slick looking and are extremely light and are "so-so" in the durable department. But at this price I honestly don't get it. I suppose if you use this as your main source of boiling water on the trail then I guess it makes sense, but it's not really big enough to boil much for cooking etc.

The main downside though is how much heat it loses and how it usually dumps that heat right onto your skin since you can literally only hold this cup by it's handle. I've burnt myself countless times trying to juggle using this mug with other activities.

I still use mine though when I backpack but mostly because I spent 30 bucks on it.
Does the "450" refer to 450 milliliters of volume? If so, then why does the item description say only 14 ounces?
According to their official website, 450 stand for 450ml

https://store.snowpeak.co.jp/page/107
Drink Up!
Familiarity:

I've put it through the wringer
This cup is amazing and now I have to buy the double walled version as I am confident it is just as awesome if not more if you are not too concerned about 2oz.

I highly recommend picking up a pack of the Snow Peak HotLips as this cup transfers heat almost too well. I also find myself frequently wrapping this cup with a bandanna if I am enjoying a cup of joe without gloves on.

By far my favorite camp cup and has quickly become my go to cocktail cup around the house.
Unanswered Question
Will this nest inside a Snow Peak 700 cooker?
One mug to rule them all!
Familiarity:

I've put it through the wringer
This mug is awesome! It is the only mug that you will ever need! The Snow Peak 450 is built like a tank and can handle anything you throw at it. Mine goes with me everywhere from the my house, to the trail, and into the office!

This wonder mug can do it all. It surprisingly keeps my coffee warm for a while. The handles are great and fold out of the way and have yet to get to hot to hold. The mug itself gets warm when filled with coffee, but you can still drink out of it without fear of burning your lips. I have not found a need for the hot lips yet.

Another great thing about this mug is that you can throw it on your stove and make your oatmeal out on the trail in it, or can warm up your coffee if you let it get to cold. This is something you cannot do in the double wall version of this mug.

This is a great purchase, and is something that I will not need to buy again for a long time!
This is a great camp cup. It can be used to cook food on a camp stove if needed. Very lightweight and durable cup made to last a lifetime.
Perfect Size
Familiarity:

I've put it through the wringer
This little cup allows me to drink coffee in the mornings and therefore I love it. It is a great size and I am pretty sure it will last forever
Sweet cup
Familiarity:

I've used it several times
It is just the right size, durable as all get-out and light as a feather. It also just looks damned good with the Snow Peak logo and the distinctive titanium color. It nestles inside my Snow Peak cookset, and I use a couple packets of tea or cocoa to keep it from rattling around. An unreserved 5-stars
Light
Familiarity:

I've put it through the wringer
This is perfect for backpacking. It is super light weight so you won't feel it in your pack. It is just right for all your eating needs. you can use it as a bowl for oatmeal or your morning coffee. I love this thing.
Perfect Camping Mug
Familiarity:

I've put it through the wringer
I use this in concert with my Snow Peak 700 pot when I'm in the backcountry. It holds cider, coffee, and whatever else I feel like drinking. It's single wall, so if you're so inclinded you can toss it right on the flame and be just fine. I find it's a little small to fit on my pot stand, though, so I usually use the 700 for my water heating needs. That also keeps the cup itself cool enough to drink out of. If you need a mug, look no further!
Use it everyday
Familiarity:

I've put it through the wringer
I drag this damn thing with me all over the place. I drink my coffee or eat my oat meal out of it daily. Looks awesome all beat up, my girlfriend says its the ugliest cup she has ever seen! I forgot it at my sons house in Denver and had to cheat on it for two weeks sad times. It transfers heat very well and you have to watch out or you'll burn your lips off. Bonus: hang it on your pack with a biner and it will double as a bear bell clang clang clang down the trail it goes!
A must for my coffee and hot cocoa
Familiarity:

I've put it through the wringer
I had the Snow Peak 450 for over 6 years and been my companion for short and long trip. It is very light, strong durable and so easy to clean. My only complain is that the handle get very hot since it is titanium.
Snow Peak Titanium Cups Rock!
I have a on older version (Snow Peak MG-001) of Snow Peak's Ti Single Wall 300 Cup. Mine has fixed wire handles instead of folding wire handles. I pair my cup (1.15 oz) with a modified can coozie (0.30 oz) and a Pringles lid (0.05 oz). This setup really keeps cold morning java hot. Compare my total insulated package weight (1.50 oz) to Snow Peak's insulated Double 300 with optional lid (3.3 + 0.9 = 4.2 oz).



Photo below shows cup, coozie and coffee - sans Pringles lid - on a snowy, 11,000 ft morning in Colorado's Holy Cross Wilderness.
Really light, and works well. Ti does transfer heat amazingly well, so be forewarned. Lips and this cup don't play well with hot coffee. I use a rubber band (like one of the livestrong bands) around the top, works just as well as a hotlips accessory.
Good metal cup
Gender:

Male

Familiarity:

I've put it through the wringer
Its a cup, it works and its light. You can even use it to boil water if you want. THE downsides though? Theres just something not right about metal on the lips when drinking, just feels..odd. To top it off put any type of hot liquid in this and be prepared to have burnt lips. The only thing you can do is wait for the liquid to cool down but then, it destroys the whole purpose. Its a small thing but this cup really needs to come with a lid. If it did I might give it 5 stars who knows.
Great Option, Snow Peak Titanium Cup
The Snow Peak Titanium Single Wall Cup is a good option, and one of the cheapest for titanium on the market. The construction is great on the Snow Peak Titanium Single Wall Cup compared to the MSR and you get much more capacity for your money compared to the China made MSR cup. I like the Snow Peak Titanium Single Wall Cup, even though it is not USA made. Berz Rating: 89/100