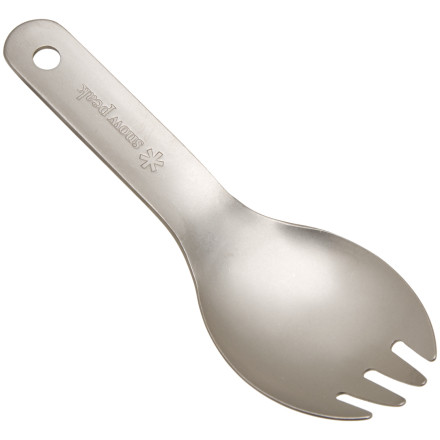 Community Images
Description
Ultralight freaks rejoice.
Grab the Snow Peak Titanium Short Spork if you're the type of person who trims map edges and snips pack straps to save weight. This compact titanium spork features a shortened handle for an even lighter utensil that functions well as either a spoon or fork. At only half an ounce, it'll probably be the lightest thing in your sub-20-pound pack.
Favorite backcountry utensil
Familiarity:

I've put it through the wringer
This little guy is awesome. Super light, fairly good sized scooping capability. My only gripe is the short handle, but that is manageable. Once I eat my dehydrated meal down a little, I cut the package in half and I can easily the rest. Be careful, though, because if you drop your spork in the meal, you will be fishing for it because the short handle allows it to slide right into the package. Small, light, easily packable, durable, doesn't change food tastes. Awesome.
Heavy duty little spork
Gender:

Female

Familiarity:

I've used it several times
Great ultralight spork but the shortness of it makes it difficult to use. It fits perfectly in the pouch with the snow peak carry on chopsticks. One tiny little addition would have made this awesome: a small tab on the back of the spork where the chopsticks or even a knife could slide in, giving it more length.
Superlight and stands up to the abuse of carrying it daily to eat lunch with.
The tines could be a bit longer, but it's great.
Length and width are omitted here, but on Snow Peak's site. Just copying for everyone (maybe it can get added to the description).

Length - 4.6in / 11.7cm
Width - 1.6in / 4.1cm
Snow Peak Titanium Short Spork
Nice little Spork, I bought 2 of them and they both fit perfectly inside my snow peak trek combo ti cook set with a fuel canister and gigapower stove with wind shield. Only downside is that it is a SHORT spork so it does have limitations. Like trying to eat out of a mountain house bag is kinda a pain without getting dirty but doable.
Best of all is that I got a stove with fuel, cookware, and utensils, all in a nice compact light package.
Can't go wrong with a spork
Unless it's spam.Light, this what I use for backcountry trips.One utensil that's all you need.
Not the easiest thing to eat with but still a great backup or lightweight choice. I got this spork to fit inside my cooking pot. I used to use a longer spork but it was akward to pack in my cookware set. This spork is light and short.
Snow Peak Titanium Short Spork
Finally my stomach bosom buddy is found.
The spork is so cute! Although it may slip into your soup, it save packing space. I plan to add a thin string to the handle that could label my spork and probably could save it from diving into hot soup. (my spork is engraved made in Japan)
Perfect for what it is made to be.
I could write Psalms and dirges about what it can be and isn't. The packaging alone tells you what it is...a spork companion to Snow Peak's chopsticks. Considering those chopsticks saw me through many a meal during my Iraq deployment and those that saw me use them were shocked that I had them despite having had them on my person all along every time they had laid eyes on me...and the spork is a hardly noticeable addition in terms of weight and profile...just turn the tines out if you're carrying it at hip level. If you're seriously considering giving this piece of kit a miss do yourself a favor. The short 20 you'll spend on this short spork will save you a lot more than if you spent it on food or drink. Bonus points if you add a chopstick stand to the set.
I love it's light weight, compact length for storage and it's wide handle makes it easy to grip while eating. My only complaint is that backcountry.com doesn't offer fishing gear to fish it out of my food once I let go of the spork and it slides into the abyss. Therefore, other than having to lick the food off your fingers, you may pick up some vit B12 along the way, sport the short spork!