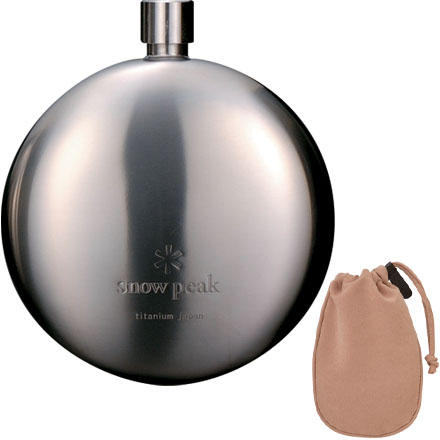 Description
Enjoy your favorite drink in the backcountry with the Snow Peak Titanium Round Flask.
Pour your favorite drink into the Snow Peak Titanium Round Flask and stuff it in your pack. You'll be a hero when you offer your camp mates a swig of bourbon after a long day on the trail. This Snow Peak flask weighs less than an ounce, so you can justify taking along a few ounces of spirits. Titanium doesn't give your drink a metal taste or absorb flavors from your drink, leaving both your drink and the flask in pristine condition.
Share your thoughts
What do you think of the
Snow Peak
Titanium Round Flask
? Share a...
Love this flask and would recommend it to anyone who is interested in getting an awesome flask that performs and looks good.
where is this flask made? Is shipping...
where is this flask made? Is shipping free?
Backcountry Lush? Thins is for you!
I've had mine for a couple of years and I love it. It's great for sneaking a little rum into the movie theater for a Cuba Libre while youe enjoy the film. After you lose the funnel, it will take a little practice to fill without spilling, but eventualy you'll get the knack.
how thin is the flask? can it be concealed...
how thin is the flask? can it be concealed in a pocket?
Best Answer
JJ,Yes, this flask is relatively thin as other flasks that you may find. Even though it looks like a sphere from the photograph above, it slips into your back pocket well. Not to mention its titanium so you don't taste metal and it's light as a feather.
I bought this as a gift for my father and, after inspecting it upon arrival, I almost took up drinking so I'd have an excuse to get one for myself. it's a beautiful flask. Even the bag that it comes with is impressive. I can't speak for it's usability, since I never used it... but it sure is pretty.
Lightweight Flask with a Flaw
This is a great Flask. Nice capacity, great shape, extremely lightweight and taste neutral. This flaws sole flaw is its cap. For a $100+ that cap should be securely attached to the main body.
I must admit I was giddy as a schoolgirl upon receiving this flask I appeared very nice. Although I was not overly impressed with the CHEAP plastic funnel, nonetheless it did appear to fit rather well. Fortunately I was thoughtful and considered the basic physics of what I was about to do before I began filling it. I would highly recommend this to anyone attempting to fill it with a high valued commodity like XO!!! The funnel fills a hundred times more rapidly than it empties! It imparted no taste whatsoever to the $65 of cognac I fill it with, even after two days; however I was unimpressed with the $15 pour of spirits I had in the catch basin/glass by the time the flask was full. All in all I don't feel that it was worth the price!
There's nothing like kicking back in camp after a long hike and pouring a nice round for everyone. This little flask weighs next to nothing, doesn't take up much space, but can pack a wallop. Yes, it's pricey, but makes a cool gift. I filled it with rum, then in camp, mixed it with some mango-flavored Tang. Sweet!