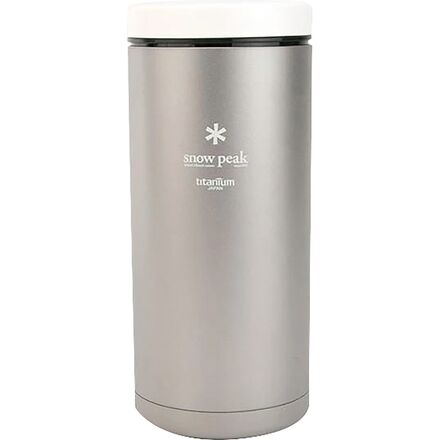 Description
The last water bottle/travel mug/mini-cooler/soup holder you'll ever need.
Enjoy everything from your morning coffee to a post-hike brewski from the Snow Peak Titanium Kanpai Bottle. This incredibly versatile, super-lightweight vacuum-sealed bottle comes with three lids that you can switch out depending on the beverage you're craving at the moment.
Tumbler lid lets you drink directly from the bottle, and includes sliding cover to prevent splashes and spills
Thermal lid prevents hot liquids from cooling off or leaking
Cooler lid contains gel that, once frozen, can keep liquids cold for six hours
Sized to accommodate 12oz can
Lightweight but expensive
I like this thermos a lot. When I first received it the screw-on lid was squeaky and seemed cheap but after a few uses it worked itself out. Durability-wise, after a few weeks of abuse there are a couple tiny scratches on the lid and the body is in perfect condition. I prefer titanium to aluminum or stainless steel because, unlike the others, it seems to impart no metallic taste.

This thermos performs well as a thermos. On a recent mountaineering trip to the Alaska Range I put hot chocolate in the thermos in the morning. About 8 hours later I opened the thermos and the hot chocolate was no longer piping hot but was definitely warm. Last weekend I used the thermos again for some lemonade with a few ice cubes. After 4 hours the ice cubes hadn't melted.

Weights by my scale: Main body: 5.7 oz, Normal Lid: 1.5 oz, Sipping Lid: 1.4 oz, cooler lid: 3.3 oz. So the standard configuration is 5.7 + 1.5 = 7.2 oz.

Overall I can say this is a great thermos but it's up to you if it's worth the extra cost.