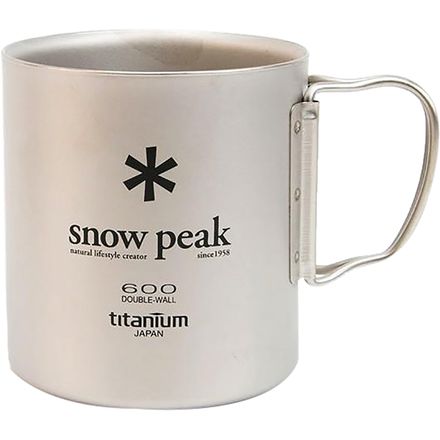 Community Images
Description
If you're camping in colder climes, take advantage of the Titanium Double Wall's insulation.
Snow Peak's Titanium Double Wall Cup 600 is the perfect mug for the techy outdoor enthusiast. It'll hold 20 oz of piping hot tea, making it big enough to wrap your hands around on super chilly nights. Double wall construction gives your hot or cold beverage superior insulation. Titanium is not only lightweight and exceedingly durable, but has a low heat transfer ratio to prevent burned lips.
Tasty
Familiarity:

I've used it several times
As soon as I got this mug it was pretty much my go to for any beverage other than water (that's nalgene). It does a good job keeping coffee warm if you are a slow drinker like myself. Also roomy enough that I use it to eat backcountry meals out of on occasion.

Still not completely convinced it was worth the price point, but other than that, it is a very solid mug with ample space for A LOT of coffee.
Unanswered Question
Will the Single Wall 450 nest inside the double wall 600, or will I need to go with an even smaller cup? I know the double wall 450 just misses fitting, but the single wall appears to be just a little smaller.
Go-to backcountry mug
Familiarity:

I've used it several times
I eat and drink everything from this when camping/backpacking, and it hasn't disappointed yet



Keeps coffee warm just long enough, holds a good-sized portion of food, easy to clean out in any body of water, super light



Is a bit spendy, but I think you're getting what you pay for here
Best Answer
Hi bob, nope, no lid on this one. We love these mugs for their weight, insulation (great hand warmers) and the volume of drinks/food they hold, but, just in case you weren't aware of it, you can't cook in any cups that are double-walled.



Stoic makes one with a lid that's on sale now (item# SCI0301), but you can't cook in that one either.



Hope this helped you out.
Big
Gender:

Male

Familiarity:

I've used it several times
This has been a welcome addition to my backpacking mess kit. The 600 is great for both hot drinks and food. Insulation works great, and you won't burn your hands.



I took off one star because of the price.
King of cups.
Familiarity:

I've put it through the wringer
This mug is great...Ive been using it for about 2 years on multiple trips. Retains heat very well. Only wish it had a lid for hydrating food in hot water. Dropped on a rock(empty) and dented corner easier than I would have expected. Still insulates in area of dent.(Ive dented double wall stainless cups before and the insulation was greatly compromised) You'll be glad you splurged.
expensive
Pricey well made like the size.
would like to know can you use this on top...
would like to know can you use this on top of the camp firer.. cook Chicken Noodle soup. I don't want to wash another item (pot)..
Best Answer
No, don't do it. Can't cook with double wall cups. Either use the Snow Peak 600 single wall or the Trek 700 pot, which has a lid.
big and keeps things warm
It took me a looooong time of self debate and agonizing to buy this cup. My other choices were the 450 double wall or 600 single wall. Both of which are lighter and much cheaper than this one. With my new 600 double wall in hand right now, I'm so glad to have bought it. The other 2 alternatives are only marginally lighter than this. The double wall 450 would have been too small to be my all-in-one cup to eat and drink out of in the backcountry. As for the 600 single wall version, while it's plenty big, it's simply going to lose too much heat too quickly when it's cold out. I thought about fashioning some sort of cozy for the single wall, but decided that the weight (probably another 1-2 oz which puts it in the neighborhood of the double wall), the money saved (at least another $10-15), and the hassle (need to find some way to go around the handles) are just simply not worth it.

As for performance, beer in the cup tastes like it should, never foams up more as another reviewer indicated; kept my ramen hot for a long time; didn't burn my lips; water tastes good. It arrived with a small ding at the bottom, but I let it be since it doesn't affect function. However, I suggest wrap your bandanna around it in the backpack to protect the cup. It's perfect for me and my other half - he can eat and drink directly out of jetboil, and I use this one.

So in short, if you are deciding among the other versions of this cup, single wall or smaller volume, get this one and you will like it.
Titanium makes for a great coffee mug, the fact this mug is insulated makes it that much better. Ti is non-reactive so it doesn't affect the taste of whatever you're drinking -- much the same as ceramic, except this mug is insulated.
Will the snow peak dbl wall 600 mug fit...
Will the snow peak dbl wall 600 mug fit into the mini soloist pot like the 450 does?
No, the 450 just fits..and by the way, the 450 has a really cool lid from Snow Peak, although I have seen 600 lids available on You Tube.
a sweet cup - super light for an insulated mug and holds heat extremely well (boiling water inside and outside is only warm to the touch). A bit pricey, but you wont regret it!
I bought this cup for ultralight camping and it's my cooking pot/ cup. I made markings at the half cup levels and it makes a great cup or pot. It is more than twice as sturdy as a single wall cup.
Snow peak 450 double wall cup can be stored...
Snow peak 450 double wall cup can be stored inside this 600 cup?
Thanks.
Best Answer
I just purchased the 600 double to replace my 450 double. I tried nesting them and it did not fit. The folding handle just kept if from nesting.
I wanted a cup that would double as a bowl but still, I was concerned the larger cup would be too big. Not so. This thing is amazing. I agonized for a long time over whether I should get it, especially after several "You're going to spend HOW much on a cup???" encounters. As other reviewers have said, it's money well spent. The initial pain is worth it because:

1.) It's lightweight (70 pound packs are so last year)
2.) It keeps things warm (you may even burn your tongue!)
3.) It's versatile (is it a cup or bowl? cup or bowl? Oh cool, I can stash stuff inside it too! Cup, bowl or suitcase??)

Basically, it's the perfect cup. I use it for tea (didn't notice any metal mouth flavor) and food.
It doesn't get much better than this!
There's nothing about this mug I don't love! I'm cranky without sufficient coffee and we all know that no one likes a cranky camper.This mug is large enough to treat me well all day. Its' insulating abilities are top notch and the Tupperware protein shaker top fits nice and snug, making it the perfect travel companion. It doesnt get much better than that!
Love the double wall insulation that keeps your beverage hot while your hands don't get fried. This larger size is convenient as I also use it for freeze dried dinner prep and serving as well. And it weighs almost nothing!! Wish they made a sipping lid like they do for the smaller sizes. And be aware: because of the double wall construction it is NOT suitable for cooking directly on the stove!! If you want that functionality Snow Peak makes a titanium 700ml single wall that might do the job.
this thing is perfect. a nice big mug like I like, titanium, double wall insulation, snow peak quality, and it fits inside my trek 900 cookset like a glove. sure it's expensive.... but you should only have to buy it once.
I heard that you can get a lid for the...
I heard that you can get a lid for the cup, is that true?
I use the lid from my Mini Solo Cookset. Snow Peak doesn't have a separate lid for this cup. Go to backcountrygear.com. They have the lid for this cup, made by snowpeak. Not sure why backcountry doesn't.
I think the company only makes lids for the 300 and the 450....check out snowpeak.com, or a few websites have them as well, but most are sold out of the 450 til june....im waiting for one myself...