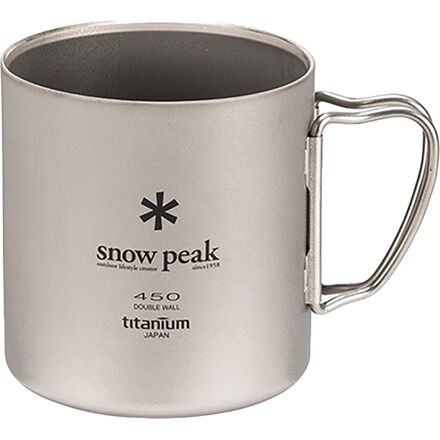 Community Images
Description
Use it for your favorite hot backcountry beverages—it won't taint your morning coffee with the taste of the hot toddy you had around the fire the previous evening.
The Snowpeak Titanium Double Wall Cup 450 is a super lightweight, insulated cup that will hold 14 oz of your favorite hot beverage. This tough and rustproof cup features an insulating double wall construction that will keep your beverages warm to the last sip. Corrosion-resistant titanium is super lightweight and has superior strength compared to steel. Backpackers who count every ounce will barely notice it is there. This ultralight cup weighs in at only 4.2 oz.
Hey Tony,



This Snow Peak cup does not come with a lid. Feel free to shoot me any additional questions about camping gear.



Kyle

Expert Gearhead

klivingston@backcountry.com

801-736-4337
does it come with a carrying pouch?
Goes everywhere with me
Familiarity:

I've put it through the wringer
To camp, to work, around the house.



Great mug. Indestructible.
Am I correct in assuming the double wall...
Am I correct in assuming the double wall 450 will nest inside the double wall 600? Need to pack two coffee mugs and want one big nest kitchen set up.
Hey Traci,



I wouldn't count on it. My DW 450 does *not* nest into my SW 600.



Hope this helps,



Ben
Traci -



The 450 will NOT nest into the 600. It may nest into the Trek700 or the Mini Solo cook kit.
Best Answer
Inside my Trek 700 I fit the following :a 450 double wall mug, a Lite Max Ti stove , one mini Bic lighter, one hot lips (all inside the stove stuff sack) and a Ti wind screen from Four Dogs Stoves. Put on the lid and drop a 110 gr IsoPro fuel can on top of the lid. Insert the Ti spork into the slot. The spork and the funny protruding flap pin the fuel can in place on top of the lid .I put all of the above into my self made Refectix pot cozy and off I go.
Backpacker Magazine EDITORS' CHOICE 2013
http://www.backpacker.com/editors-choice-2013-gold-award-snow-peak-titanium-double-wall-450-mug-/gear/17503
I had always scoffed at spending this kind of money on a camp mug, but when I finally caved and did it, I wished I had done it sooner. Amazingly lightweight and the double wall insulation is impressive, even while winter camping it kept the coffee hot long enough to finish a cup without it cooling. Amazing product.
Does this thing nest well into any other...
Does this thing nest well into any other snow peak pots? I'm looking for a Ti pot (for use with a cat can alky stove) to mostly boil water & do some simple cooking as well as have a sexy Ti coffe mug that passes the cool test and nests with my whole cook set. I think this is the mug - but can it nest into something else - that's the big question!
Best Answer
Hey,



If you're going to spend the money, drop a little more and go to the 600 double-walled (sexier??...I guess). And yes, the 600 cup will nest into the Trek 900 pot, and the 450 cup will nest into the 700.



Okay, so the photo shows a 450 Evernew single-walled mug, inside a Snow Peak 600 double-walled mug, inside the Trek 900, inside the Trek 1400. I'm not sure if the 900 is still available, but there is the combo set.



Hope this helps, but yeah, the 600 is the way to go.
Not only is this incredibly expensive but it weights nothing. the double wall of the cup prevents hot coffee from burning your lips while sipping my favorite morning beverage. Appears to be able to take a beating.
Snow Peak Titanium Double Wall Cup 450
Obviously titanium is the best way to go. Sure it's expensive but it's as light weight and durable as you can get plus it's the last mug you will ever have to by. The thermal heat transfer across titanium is distributed less than more dense metals which means you can heat the cup directly over the stove and drink it without burning off your lips. No more waiting for your coffee to get cold before you can drink it. An added feature that makes it that much better is the collapsing handle which makes it much easier to pack inside of other nesting cook sets. Once you go titanium you don't turn back.
Snow Peak sells lids for these cups on their web site. Makes it perfect, I think. These mugs will fit perfectly inside my Snow Peak Ti Solo Kit.
This mug is light weight and gets the job done. I think you can find something that does the job just as well for half of the price. Either way this is my new everyday mug, I need to get my moneys worth!
Will it destroy the cup if used over direct...
Will it destroy the cup if used over direct heat?
Best Answer
You can always use titanium over a backpacking stove though it looks as though the handle will probably get hot. However, If by direct heat you mean a camp fire then I would say try not to use it. I have a lot of titanium cookware and though it will always hold up over a fire it WILL warp due to the differences in temperature on the bottom of the cup. If your just purchasing it for a light weight cup to beat up, go for it; its not going to break. Anyways, love snow peak and wish you the best of luck!
I would heed the warning that the manufacturer gives regarding double wall mugs, "Please note that any double wall cup should not be used over direct heat."

You cannot always use titanium over a stove or fire. If it's single walled go ahead, but never with double walled vessels. Best case scenario the cup will bulge. Worst case it'll explode from the pressure.
Can you put cup on direct flame?
Can you put cup on direct flame?
Best Answer
Any double wall cup should not be used over direct heat.
What is the color ofthis product?...
What is the color ofthis product? Thanks.
Best Answer
a beautiful matte silver...
Please invest the extra money for the double wall, believe me it is worth it!!!! I understand it's pricey but you will waste your money if you buy the single wall because you will be disappointed. The cup keeps the beverage warm longer and is the perfect warmth to hold with your hands and does not burn your lips when drinking! Well worth the extra money!
Just got this cup, is one handle meant to...
Just got this cup, is one handle meant to be looser than the other? Also it sounds like there is something loose inside the double wall when I shake the cup? Should I return mine for another one?
Best Answer
If the piece of flash that's rattling around bugs you, return it. It's not uncommon for one or both the handles to be a little loose. I don't want you to wreck your cup, but the way to fix it is to pull the handles out the ends of the little tube they fit into. That's no problem, but then take a pair of pliers and slightly compress both the tubes on the cup a little. Don't screw up the weld and don't overdo it. Repeat it if you need to. If you're not comfortable with it, try compressing the tubes with the handles in place.