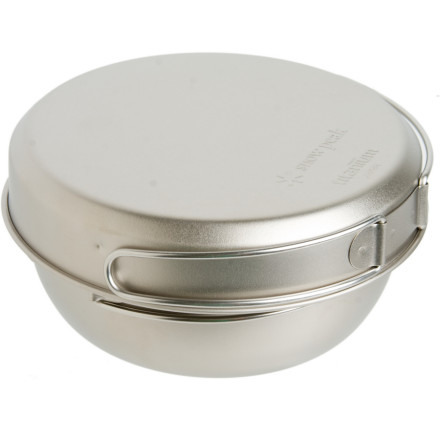 Detail Images

Community Images
Description
Add variety to your backcountry kitchen without adding weight to your pack.
Ounce-counting backpackers will love the light weight and durability of the Snow Peak TI Silicone Hybrid Cookset. For a slim 8 ounces, this small kit offers quite a bit.
Compact titanium spork does the work of 2 utensils
Taste-free silicone bowl resists temperatures up to 400°F and thus accommodates all your culinary explorations
Silicone bowl also retains shape even after being battered, , and smashed in your pack
Most versatile light weight cooking set!
Familiarity:

I've put it through the wringer
I have had this set for over five seasons now in the backcountry. It has been all over the Uintas, Wind Rivers, Great Western Trail, and locally here for over nighters in the Wasatch. The lid makes a great plate, and the squishy bowl is nice to put a meal in, or use to prep ingredients for a nice meal while you are backcountry camping. You can leave everything but the main pot and get UL performance out of this set if you only need to flash boil your food. I have cooked just about everything including pancakes and scrambled eggs on the lid, and I re hydrate my home made dehydrated meals in the pot. Recommended for low burns for long cooking so food does not stick to the bottom. Takes up much less space in your pack and weighs nothing compared to some cook sets. For the price and what is included you really are not going to find a better mess kit our there.
Great Kit
Familiarity:

I've put it through the wringer
I recently was charged with outfitting my group (wife, sister, brother-in-law, brother, sister-in-law) with gear for a week long trip in southern utah canyon country. We got tents, sleeping bags, stoves, backpacks, the whole run. All of our gear held up and served us well.
The Snow Peak Cookset served us more as an eating bowl than a cook pot, but it did its job well and didn't add much weight to the pack.
so light!
Familiarity:

I've put it through the wringer
Great cooking set for the ultralight backpacker! Very durable and strong, especially for its weight. I love how compact it is and is a two piece set, I have other sets that are approximately the same size but are only one piece sets, the frying pan is my favorite feature of this set (sautéed many apples with this bad boy!). I would recommend this set to friends, but I would also recommend looking for it while it's on sale or clearance, it is just a little pricey for what it is, but lightweight comes at a price...
Perfect set of everything
Familiarity:

I've put it through the wringer
At first I was a little doubtful about this product coming to my doorstep, but I was very pleased with everything. The bowlisa little heavy, but there is a tradeoff when I use it for my rice and other breakfast meals. The pot is great for one person for cooking soup or boil water. The spork is perfect to use, but not for dry food bag. The fry pan is excellent and is little wider than Trek 900 fry pan. With this fry pan, I can cook eggs and pancake much better than the Trek 900. I use the Snow Peak Hybrid Spatula Spork Combo which is excellent for egg and pancake. Also for dry food bag. I also have Snow Peak single wall 450 mug. All the items that I have, stated above, are all I need for ultralight backpacking.
Does a stove (Pocket Rocket) and fuel fit...
Does a stove (Pocket Rocket) and fuel fit in this?
Best Answer
Well for some reason it says the pot volume is 2L, 2.5L which is incorrect.. I looked it up on another site and it says the pot holds 22 ounces, which is only approx. .65 liters. So the pot itself is really small. I believe it could still hold a fuel cannister and small stove though.
The pot can't fit a full size MSR isopro. You can fit the half size fue. This is a pretty small pot, and as jts4649 points out, it is incorrectly described in capacity here.
The pot with. bowl inside, can accommodate either a 110 gm fuel canister OR a Snow Peak stove, but not both at the same time.