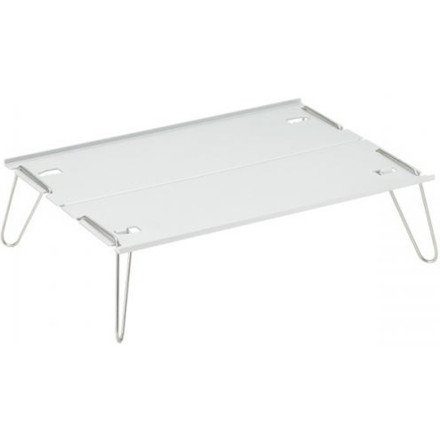 Community Images
Dragging a kitchen table out into the wilderness isn't practical, but the compact and easy-to-setup Snow Peak Solo Table is happy to take the place of your dining room beast. Bust this low-to-the-ground folding table out from its case, unfold the legs, and drop it inside your tent or on the ground near the campfire. Blammo—you're setup with a lightweight metal table that you can easily keep in your car.
What do you think about this product?
Have questions about this product?
The lightest and the best out there
Familiarity:

I've put it through the wringer
Perfect size for what I use for cooking, dining, and backpacking. Weight less than a pound to pack in your bag whereas it doesn't take a lot of space. Great for winter to keep the canister off the cold ground when boiling water or cooking food. It does keep your food hot from cold ground. I also use it as a table inside my tent to write journal or eat outside. Never eat inside your tent in the wild, because a bear can smell food a mile away. I cook food 100 feet away from tent and change my clothes there before going back to tent.