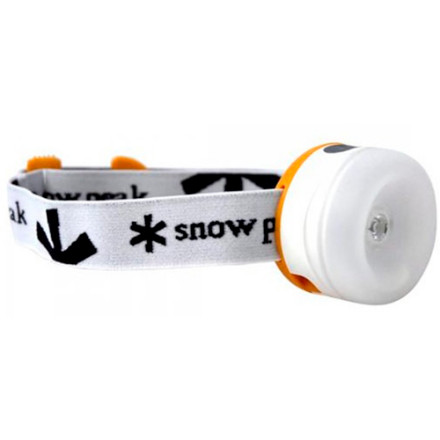 Community Images
Description
Taking something great and making it greater-er.
What makes the Snow Peak Snow Miner Headlamp special is that it can function as both a high-power headlamp to light your way at night and as a hanging lantern that can dispense ambient light in a tent, cabin, or yurt. That's right; no more trying to play cards under a headlamp that only lights up one corner of the playing table or tent floor. Advantage: you.
Simple mechanical bubble design on the front of the lamp lets you convert the unit from headlamp to lantern in nanoseconds
Integrated hook lets you hang the headlamp from the canopy of virtually any backpacking tent to create ambient light
High-power, 80-lumen bulb delivers plenty of directional brightness when used in headlamp mode
Variable dim mode lets you adjust the lighting output to as little as two lumens to save battery power and for use as a night light
THIS.....IS.........AWESOME!!!
This this is great!! I've never seen something like this before, I didn't read the summery before I bought it, because it was a gift for my brother and, when i first pulled it out of the package i couldn't figure out why the cover case was soft and squishy!! When i put in the battery and turned it on i was amazed when i saw this thing could be a directional light and a lantern!! This is the coolest thing I've seen, and i am going to be buying one for myself!!
Love the dual purpose headlamp
Familiarity:

I've put it through the wringer
Being able to switch it lantern mode is awesome. I don't carry a lantern backpacking due to it not being worth the weight, but it's great to have the headlamp take on the role. I love my petzl zipka, but this is really nice too and worth the $ imo. I would buy more of these as gifts for hiking buddies or for anyone who could use a good headlamp. Snow peak has some really innovative designs and this is one of them.
Weekend on the Appalachian Trail
Familiarity:

I've used it several times
I was pleased with this lamp. The configuration is a little large, so wearing it felt awkward at times, and I had to wear it high on my forehead, but the headband is very comfortable. The housing has a hinge on it and I had to angle the light to work in my field of vision while walking. When hanging a bear bag, mine was the only headlamp that provided enough illumination to see up to the higher tree branches (of course if we hadn't walked so far, we wouldn't have had to use it in the dark). In the 'Lantern' mode, it provided plenty of illumination in the tent for reading and other miscellaneous tasks in the dark.



Bottom line: I would buy it again.
How wide a range of light is thrown by...
How wide a range of light is thrown by this bulb? If you were reading a newspaper with it, how wide a display of light would be available on the page.
It is a pretty wide range. You should be able to read the full page width and about 3/4's of a full page down. Even with that spread, it is an incredibly bright light when on the focused setting. When the lens is away from the bulb, it lit up my whole, 3-man, tent with no problem.
Boy did I really want to like this headlamp. Just about everything Snow Peak does is extremely well thought out. Well, this is- almost. I used this for a weekend backpacking trip and was pretty underwhelmed.

A fundamental problem is that the light is very diffuse, especially on the high setting. You get a halo ring right from the light since the silicone throws the light which, for me at least, caused a light blindness almost. I sure couldn't tell it was 80 lumens since the halo comes into your visual periphery. This is caused by the lack of an effective underside light-deflector combined that the light housing extends further than most headlamps. This makes trail walking at night more tenuous than it needs to be.

As others have mentioned elsewhere, the silicone cover is dust magnet, although it cleans off easy enough. The hook isn't noticeable wearing. The option to power down the lumens is a nice touch. Popping out the 'lantern' is nice and does work great for tent reading, etc.

I will say however for car camping, this might be fine. Even then though, why wouldn't you bring a lantern if you weren't concerned about weight? Perhaps to have a two-in-one gadget- but this just isn't worth it for me. The Petzl Tikka XP 2 seems a better option at the same price point- you get longer battery, plus the ever helpful (for your tent-mates) red light.

Hopefully Snow Peak will go back to the drawing board and improve this. You can see they are on the right track- still a good ways off still though. First thing I've ever had to return to BC- hoping it's easy!

Just my two cents.