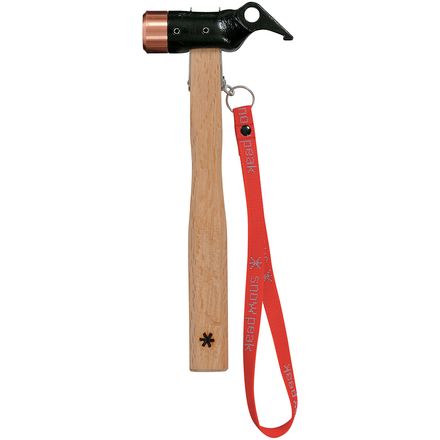 Community Images
The Snow Peak Peg Hammer provides some solid pounding power. Easily pound in and extract pegs and stakes with this mean puppy. The Snow Peak Peg Hammer's handle is made from hard and resilient natural evergreen oak. And its head is made of soft copper which keeps the hammer from slipping off peg heads during serious hammering. It also alleviates the impact transmitted to the arm.
It's a little heavy, but.. as pointed out in previous review, prevents you from having to use (and ultimately jacking up) other gear.
Pounding Stakes into Frozen Tundra?
Boots & ice axes can be ruined. Frozen ground with hard packed snow won't take froo-froo 'snow stakes' - you need them long and hard and they need a good pounding. And this little hammer gets the job done! Peg hammers are just for girls, you think? Think again, steroid boy. There's plenty of power here and the copper head won't damage those expensive stakes!