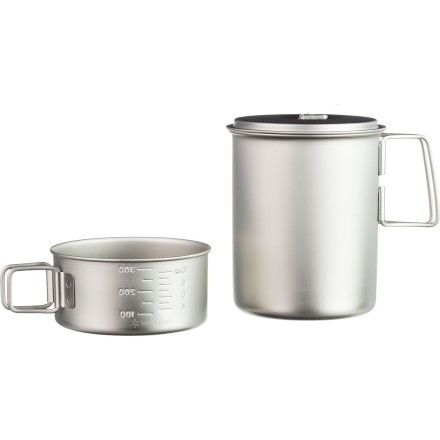 Community Images
Description
A cookset for me, myself, and I.
The Snow Peak Mini Solo Titanium Cookset is made for one-man treks into the outback. Super light titanium is used to reduce weight and speed heating times. Easy to clean titanium is also used for its great strength-to-weight ratio. The Mini Solo can also store certain models of Snow Peak stoves to save space as well.
One up
Familiarity:

I've put it through the wringer
Bust out the Sharpie at home, measure out 16oz into the pot, and mark it. Ditch the measuring cup. Your Mountain House will still be swimming, but at least you're on point.
UL Bliss!
Familiarity:

I've put it through the wringer
This product obviously has some pretty raving reviews here, so I'll keep this one short.. It's good enough to deserve another 5 star rating though!



This thing virtually weighs nothing and takes up hardly any space in your pack. About 3/4 the space a Nalgene would, fitting the small fuel canister and stove inside the large pot along with a camp towel and camp soap should you need/want.



Saved a ton of room/weight over my old REI aluminum set. Cools super quick allowing you to get back on the trail in a hurry should you need too. Graduated markings on the mug are a nice addition. Only gripe would be the small triangle on the lid makes it difficult to grab when water's boiling. Minimal nuisance however..
This set rocks. I pack in the western high country with horses. This set has served me well for over 50 pack trips as well as uncountable backpack trips. It has been packed in pack saddle panniers as well as saddle bags and back packs. It still is dent free and heats just as good as it did on the first day I used it.
I can heat water to a boil in 3 minutes in the pot with my MSR stove. With 3 guys and some Mountian House food dinner is ready in no time at all.
One warning though. The titanium transfers heat almost insantly. Make sure you have a glove or some kind of holder if you pour boiling hot water into the coffe cup. I have a hard time holding the coffe cup with the provided holder. But that doesn't keep me from giving this a 5 star rating.
Top shelf, ultralight cookset
I'll preface this review with my cut and paste statement that I work as a backcountry backpacking guide in Yosemite National Park. Nearly all of the products I take the time to review have seen at least a half a season, if not more, of use... and I'm committed to not bothering to write a review until I feel like I've really gotten to know a product. I never thought I'd bother to write reviews, but I've recently decided that since I've spent so much time over these last many years reading reviews, and finding a tremendous amount of value in articulate and well-informed opinions, that I wanted to give back to the community. So, with that being said, here we go...

With this set, my Snow Peak LiteMax stove, and some fuel... I'm done with messing with cooksets. Granted, this set isn't for folks looking to actually do a lot of cooking. I reviewed the GSI Soloist cookset, which is a decent option for someone looking to do more cooking. However, if you're stocking with dehydrated meals, oatmeal, cereals, finger/bag foods, and other simple cooking where most of what you do is boil water... this is as good as it gets. I use the cup for my coffee while boiling more water in the pot for my oatmeal or dinner in a bag. I just wrap my stove up in a bandanna, throw it inside along with a can of fuel, and go.

One downside to keep in mind... if you dent the titanium while a fuel can is inside... good luck getting it out. It is only with caution that I store a fuel can in the pot. Also, if you've never handled hot titanium... it transfers heat almost instantaneously. If you're bare-handed, and holding the body of the cup while you pour hot liquid in it, you'll yowl like a cat and throw hot liquid everywhere. Great way to make friends in the backcountry.
So can you get a 110 g fuel can in the...
So can you get a 110 g fuel can in the bottom, then the pocket rocket (or Soto) inside of the 450ml cup on top of the fuel...AND put the lid on? That would be exactly what I'm looking for!! .....now if it only cost half as much :)
I am pretty sure fuel and stove will fit; I have a Microrocket and that fits in with fuel and enough room for a small bottle of soap.
What is the capacity of this and is it...
What is the capacity of this and is it appropriate for cooking noodles and pasta etc ?
Best Answer
Don't know the volume capacity, but it's definitely ok for any normal foods and cooking you'd do.
This will work for noodles too. The capacity of the pot is 28oz and the cup is 10oz.
Yes, this would perfect for cooking noodles or pasta for 1 person.
Was wondering if this set fits over a...
Was wondering if this set fits over a standard 32oz Nalgene bottle. If so, has anyone stored the set over the bottle in a MOLLE-type bottle holder?
Best Answer
Hey Kevin,

Yeah, it's wide enough to fit a 32oz Nalgene into, but the MOLLE is only 4" wide, so the set won't fit in.
The set fits in a Maxpedition 10x4


Snow Peak mini titanium cookset
I have a 3.5 oz. alcohol stove I've made that I use when I hike alone. This cook set will be a good replacement for the cheap aluminum pan I've been using. My Stove fits inside this titanium pot and the accompanying cup slides in the bottom. Space saving and ultra light. Overall the stove, pot, and cup will weigh under 10 oz. Can't beat that!
What I like about this cookset is the fact it is light, compact, and durable. I can store the Snow Peak Giga Power Stove, a can of fuel, and a folding titanium spork inside the large pot. Then the mug nests to the bottom of the pot, and the Snow Peak Giga Power Windscreen nests under it. My whole coockset, stove, and utinsels fit in the stuff sack smaller than a 32oz bottle. The Titanium will last for ever, and wont be absorbed into your food. The mug has a nice set of measurements stamped inside.

What I don't like is the lid's handle is tiny, the pot and lid's handles get hot, and the mug looses warmth quickly. I use my multitool to open the lid, and a hankerchief to handle the pot. The mug I either deal with it or sometime use a neoprene koozie to insulate it.

Overall this is my favorite cookset and I use it every time.
this might be a long shot, but... is this...
this might be a long shot, but...

is this pot too small to fit onto a Clikstand S-2? according to my hand-drawn dimensions of a clikstand (difficult considering its polygon shape), i think the diameter of the pot is too small. but, i would appreciate anyone else giving it a go.

ayres
Best Answer
This pot only has a 4.125" inner diameter so I would say your "Clikstand S-2" will not fit however most canister stoves will.
will an msr fuel canister fit inside? ...
will an msr fuel canister fit inside? thanks,
Best Answer
1 will for sure, you can carry two in there is you use the cup for a lid.
Great little cook set. My Giga power stove fits inside. Weighs almost nothing. Plus titanium will make you cool.
I like this because of the size and weight. It's a little unstable on my MSR pocket rocket as it's pretty narrow. I would like to see the handles stay open as well. Hard to grab with gloves on. No real complaints though, worked well for me. Houses my lighter, msr pocketrocket, rope to hang up food and my foldable utensils.
The Mini Solo Combo works great like it's name or in a group set. In solo mode, I just use the pot & lid to boil water which weighs only 3.5 ounces. Since it sits up higher than other pots, make sure to position it carefully on your pot supports to avoid spills. Stores stove, spork, & lighter inside pot. Nice mesh storage sack. Long live titanium!
Add the Snow Peak Double Wall 450 as well
I've only had the chance to use this set a few times now, but it works great. Very compact, and my MSR Pocket Rocket stove fits nicely inside for added protection and to keep the bulk down. The first time I used it, temps got down to 18 degrees, and the single wall cup just wasn't enough to keep coffee warm. Because of this, I picked up the Snow Peak Titanium Double Wall Cup 450 which fits nicely inside this solo set. No more bulk with minimal added weight.

The only problem I had is that the larger pot is just barely wide enough to fit on my stove. It works, but it looks like it would fall off with the slightest bump.
i hadn't received my fuel canister yet, so i had to balance the set up on the campfire. really kept things hot, and the handles cooled quickly. just had to make the initial grab with my bandana. overall, a good little one-man set. light, keeps things hot, holds a small stove and fuel canister. i can't complain. and you get asked too, why you're drinking out of a tuna can.
Everything you need and nothing you don't. I love it. I wish I hadn't given away my soda can alcohol stove 'cause the Trangia Vargo I now have doesn't quite hold the small diameter pot sturdily enough. Easily the best money I spent on reducing my pack weight and cooking time.
You will have to decide whether you want a tall pot or a more squat pot. If you want a 'taller' pot then there is no better one than the Snow Peak Solo. For several years I tended to keep my kitchen in an outer side pocket of the Mithril-this meant a taller pot was the way. The Snow Peak Solo has covered almost a 1000 miles of the AT with me, several hundred miles in many national parks, and been taken on too many paddle trips to remember. It still is dent free, it still heats up and cleans quickly. The fact that the cup nestles onto the bottom is a nice feature (I avoid putting anything flavored into a bladder and the cup is nice for drink mixes). I've got a Snow Peak stove but discovered alcohol stoves (I use a Brasslite) and prefer them over lugging an empty canister out. An alcohol stove, a pot gripper, mini-bic, micro scrub set, and leatherman micra all fit inside. To keep things from rattling I stuff in a water bag.
My only complaint on the Solo pot is the little triangle lifter on the lid-it is hard to pull off the lid with just it, that is using the pot gripper.
All in all a great product that, like the Brasslite stoves, should become an heirloom.