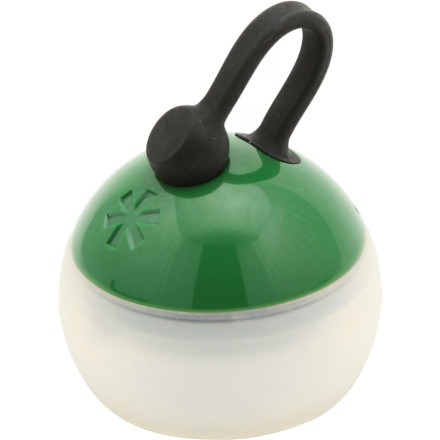 Colors

Detail Images

Community Images
Sleek, lightweight, and flexibly strong, the Snow Peak Mini Hozuki Lantern lights up the darkness with long-lasting, multi-function illumination, including strobe and candle-flicker modes. Never a dull moment, always a bright idea.
Ample 60-lumens brightness
Polycarbonate plastic, ABS resin, acrylic resin, silicone rubber, and aluminum construction provides lightweight, durable, and flexible strength
Water-resistant IPX4 classification for those stormy blackouts
Powered by three AAA alkaline batteries, which last 40 hours (high) or 70 hours (low) for plenty of light time
High, low, variable dim, strobe, and candle-flicker modes give you lighting for every mood
Weighs a mere 2.4 ounces so you can take it with you everywhere
Very good lightweight lantern
Familiarity:

I've put it through the wringer
Used it on few trips to mountains/hiking; also it's good to have it in areas, where electricity loss is common. It is lightweight and has several modes of operation. One is blinking. Special mode is candle-like blinking. It doesn't react to wind sounds etc. (seems that non-mini hozuki does) - simply programmed to blink. But behaves quite well and adds some mood for your evenings with a cup of tea near tent. Changing mode is simple with pressing on light element cover (semi-transparent); there are options to long press or double press to change modes. Brightness can be fine-tuned with long press. Double press activates candle mode. Overall it's good but not intuitive - better read that manual. What I liked is that it is very lightweight and battery-saving. I could take it without batteries and use those from headlamp that I use for moving time. Virtually no additional weight, but very comfortable when it's camping time. Also, special thing is specter of light - it's warm unlike most "white-light" LEDs. For me that was key feature along with overall design - I highly prefer this tint of light.



To summarize,



What I liked:

* Light is not white - slight yellow cast is pleasant to eyes.

* Aesthetics of design!!

* Good battery life

* Lightweight

* Magnetic hook clip - lantern can be attached to tent, tree, refrigerator :), curtain, tracking pole, backpack (although I'd not attach it to pack on track in day time - can be lost), virtually anything. Also, can simply put it on the ground not using clip - then have smaller circle of light.

* Candle mode is sometimes fun



What I was ok to live with:

* Not waterproof

* Colors... white-orange is my choice; I'd like to have one more... but other colors are a bit strange combinations.

* Changing operation modes with press on light bulb cover.. still feels a bit strange often.

* Silicone shade captures many dust on it. Almost attracts it. But overall I'd rather live with it because of design and pleasant light caused by it.



What I'd change:

* Silicone cover is very good solution in terms of spreading light.. but it's attachment to lantern isn't that good. I haven't lost it. But often I think that.. I haven't lost it YET. That and waterproofness are the things that cause me to put four stars and not five.



Would I recommend it to a friend - highly! And will definitely buy another one, should I lost it (hopefully not!).
Can't make it work. Never goes with me.
I've had this almost 2 years now and it's only been on 1 car camping trip and 0 backpacking trips which was the original intent. It was finicky when I first got it and now even with brand new batteries it will not turn on. I think it may be a problem with the contacts. I also purchased the larger LED lantern which I absolutely love and is reliable, easy to use and bright. Why this smaller version is such dud is a mystery to me. Wish I had not purchased it.
This thing is awesome no more to be said, but since I'm nice and have the time I will elaborate. First thing, it uses AAA batteries and therefor it matches the same battery requirements of my BD Spot headlamp, which is also awesome. If you buy a lantern make sure you get one that matches the battery specs of your headlamps, fumbling with AA and AAA and rechargeable is just not efficient, especially if you're hauling it all around in a pack.

I was not the first one to buy this in my camping group, but everyone in our crew quickly saw it's value when my friend propped this thing up over our kitchen setup at night. Wow, it fires off some great light and we were all able to preserve the juice in our headlamps for the entire time we cooked. It is so lite that hanging it on very small branches is a piece of cake. We now require that the Hozuki be packed on every trip we take as a group. It is more efficient using it with a group then everyone individually using their headlamps, so it's worth it's weight and battery power for that purpose. The longer the trip, the more value. I scored this on sale and I'm very happy with it. Added bonus is saying Hozuki when anyone asks about it.
Dud
Familiarity:

I returned this product before using it
So stinking cute. Put the batteries in and it didn't work. Swapped out the batteries and still didn't work. Instructions said if this happened, contact the manufacturer. Kind of a let down.
Versatile Lantern
Familiarity:

I've put it through the wringer
Pretty solid light source. Big fan of the magnetic closure. Have used it hooked to my pack when someone in our group forgot their headlamp and it worked like a charm. Great dimming feature. Gives just enough light to illuminate your campsite without blinding. Only issue is it turning on inside your pack.
Mini Hozuki Lantern Review
What a cool lantern!
Be careful how you pack it!
Familiarity:

I've used it several times
This is a great little light with the exception of what I consider one major design flaw. That is the convex lens that is used for the actuation (on/off) of the lantern?not a bright idea! Because the lens (on/off switch) protrudes out of the base there is nothing to prevent the light from inadvertently being turned on due to something pressing against the lens when stuffed into a pack; the silicone rubber diffuser offers no protection from this. This has happened to me twice before I figured out why the (fresh) batteries were completely dead when I went to use it?now I remove one of the batteries before packing the lantern. So either plan on packing the lantern so that there is no chance of pressure being applied to the switch or remove one of the batteries. Other than that this is a great little lantern. I really like the multiple light levels and modes.
Backpacker Magazine EDITORS' CHOICE 2013
http://www.backpacker.com/gear-review-snow-peak-mini-hozuki-lantern/gear/17491
Need a lantern buy this one.
i typically just use a head lamp for my lighting needs.

As i've started camping with the wife and kids I've had to try and bring more comforts to the wilds.

This lamp does an excellent job of lighting up a tent its relatively light and has a solid run time.
Cheaper and smaller than the original, seems like the way to go.