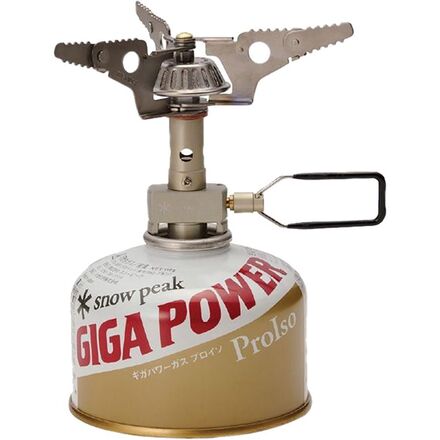 Community Images
Description
Trust Snow Peak to break the barriers of stove weight and size.
Don't forget where you put the Snow Peak LiteMax Stove, because at less than two ounces and about three inches across, you'll never find it again. This titanium and aluminum stove is seriously light and compact, folks. You can close your fist around the entire package, yet when deployed and attached to a fuel canister, the LiteMax is surprisingly stable for being so tiny and its folding arms double as wind shields to prevent blowing out. Turned to full power, 11,200 BTU's get your noodles to a rolling boil in a jiffy.
The champ!
Familiarity:

I've put it through the wringer
This little stove flames without any issue. I used this stove in a mild wind and the flame was still burning while my other friend's stove kept going out. He used my stove to cook. It's very compact and the blades around the burner are like wind guard. It blows 1/3 of the flame while other 2/3 are still burning. I use simmer as well for light cooking such as scramble eggs. This is the best stove that I own without a doubt.
Snow Peak LiteMax Stove & 700 Mug
Here's a quick review on The Snow Peak LiteMax stove & Snow Peak 700 Titanium Mug Cook System!


Superior Versatility, Ultralight Package
Gender:

Male

Familiarity:

I've put it through the wringer
People have already mentioned that this thing burns HOT, and you can tell from the stats that it's light.



What you might not know is that the flame is very adjustable, and it even makes a simmer possible.



Very versatile, super light. It's a great combination. I fear my JetBoil may never again see the light of day.
Does this come with a full feul canister?...
Does this come with a full feul canister?
Careron,

David is correct. Backcountry.com chooses not to sell fuel canisters in general because of the potential dangers involved in shipping (especially air shipping). However, we sell all other relevant parts, and you can find a variety of isobutane fuel canisters at your local sporting-goods store.
I simply don't know how many other things can be so light, yet do so much. This stove looks cool and does the job really well.
Snow Peak LiteMax Stove = Great stove
I bought this stove a few months ago and have been out in the mountains on 6 different trips since. The stove is fantastic. It's very light and stable. I like the way it packs down into my SP 600 mug along with a fuel canister, topped with a custom Ti lid. I am so glad I traded in my Jet Boil set-up.

The new set up weighs much less, is a lot smaller and is far more versatile.
I've used many different stoves but THIS one has got to be my favorite. I will always have it with me.
Amazing little stove! Folds down to nothing, great for any backpacking trip. Cooks hot so you don't spend forever making meals. Works great!
Don't lose it, it's really small
If You are looking for small and efficient there is no where else to turn, 1.9 oz it really must be 2012 because 1985 aint got shib on this, unless you are going to use a titanium alcohol stove combo, which, mind you, has no simmer, this will out perform most if not all others.
I'll preface this review with my cut and paste statement that I work as a backcountry backpacking guide in Yosemite National Park. Nearly all of the products I take the time to review have seen at least a half a season, if not more, of use... and I'm committed to not bothering to write a review until I feel like I've really gotten to know a product. I never thought I'd bother to write reviews, but I've recently decided that since I've spent so much time over these last many years reading reviews, and finding a tremendous amount of value in articulate and well-informed opinions, that I wanted to give back to the community. So, with that being said, here we go...

Great ultralight stove. Packs down so small I've almost lost it once or twice. I just wrap it in a bandanna and toss it inside my Snow Peak two piece mess kit, along with a can of fuel. Though I've never had a problem with it, it does appear a bit fragile. I wouldn't handle it like a monkey and expect it to work for long. I make sure to hold the base firmly when screwing it on or off a can.

I've had it up to about 12,500 or 13,000 feet and its always worked like a champ, though I sleep with my fuel in my bag. Now... what Snow Peak needs to start making is a fuel can koozie that's a teddy bear. That would certainly be a little nicer to snuggle with than a metal can.
What are the best lite wght options for...
What are the best lite wght options for lighting this stove?i
I normally carry a mini bic lighter in my kit....but your fire starter flint will work as well.
Book matches are the lightest way to carry fire. However, this option is far from idiot-proof.
Do you need to use a windscreen with this...
Do you need to use a windscreen with this stove and if so do you guys sell it? thanks.
The pot supports on this little stove provide enough protection for normal wind gusts...Snow Peak does not make a windscreen for this model. That being said, I have blocked the wind with anything I could find when necessary, but really it has not been an issue for me.
Best Answer
I just happened across this and I think a warning is in order here. Wind screens are NOT recommended for stove that attach directly over a canister. They can cause the fuel in the canister to overheat and explode! Be very careful how you attempt to block wind when using this type of stove.



I have never used a windscreen with mine, however I sometimes attempt to block the wind somewhat from the side the wind is coming from and leave the other side open so my fuel does not overheat.
Hey guys in a nut shell which is better...
Hey guys in a nut shell which is better this or the giga power regardless of price and weight what is the efficency and pot support like, cheers matt!
Best Answer
Hey Matt,

Of the two, I like the LiteMax better. Essentially the same performance and efficiency. Grooved pot supports with a minor amount of wind protection built-in, great flame control from simmer to high (I think it's 11,500 BTUs), reasonably frugal with fuel, and roughly a 4 minute boil time per liter. Efficiency diminishes below 25F or so, but that's more a function of the fuel than the stove. Pot support is good up to about a 1.5L, although I've been know to use it effectively with up to a 2.5L. Typical rig is the LiteMax on top of a 4 or 8oz MSR canister with a Primus canister footrest (for $10, get the footrest). Even with lots of stoves, this remains one of my favorites. Hope that helps. Cheers!
Aside from the Snow Peak logo & made in...
Aside from the Snow Peak logo & made in Japan & Kovea Supalite Titanium made in Korea. Does anyone know any facts about the Kovea? Size/ BTUs/ longevity/ etc. They look like the exact same stove to me.
Best Answer
Kovea produces the GST-120 LiteMax for Snow Peak. The Supalite and the re-branded LiteMax are the same stove. Go to Asia, AU, NZ, and it's Kovea that you'll find.

Here are the specs from Snow Peak's LiteMax page- notice it says- "Made in Korea"

Specifications

Material Titanium, Stainless Steel
Output 11,200 BTU's
boil time 4 min. 25 sec. / 1 liter
Dimensions D 4.9" H 3"
Size Stowed D 2.6" H 3"
Fuel Type Gas Canister
Combustion Type Vapor Burning
Usage Backpacking
Made In KOREA
Weight 1.9 oz

It's also my understanding that the MSR PocketRocket, as well as all MSR IsoPro fuel canisters are made in Korea by Kovea as well.
Very informative! Thanks Phil!