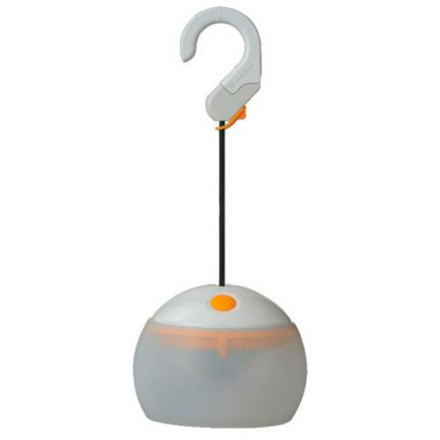 Videos

Community Images
Newsflash: tents are flammable, which is why it's rarely a good idea to have an open flame inside your lightweight, three-person home away from home. That said, nothing sets the mood for writing in your trail log or snuggling up with someone special like the flicker of a candle, which is why you never leave home without the Snow Peak Hozuki LED Candle Lantern.
Mimicking classic Chinese paper lanterns, the Candle Lantern provides reliable, long-lasting light as it hangs in your tent or sits on a camp table
The three brightness settings provide the right amount of light for your camp meals or for hanging out in the tent
Candle setting flickers in response to sound or wind to provide intimate lighting in the backcountry
Are there any left in stock?
Hey BJ,



Unfortunately we no longer have this item in stock.
Luxurious CarCamping Ambiance
Familiarity:

I've put it through the wringer
Got this piece of artwork to use in a 4P backpacking tent on car camping trips. Wanted something functional and adjustable and got a Japanese lantern to boot! It hangs from any corner of the gear loft or the ceiling peak and gives off a soft glow ( very calming and peaceful) all the way up to room bright. If you happen to crawl around and hit your head on it ( just a thought, that didn't happen to me) it won't gong you because the globe is a squishy rubber.

I used it for 3-4 hours every night of a 10 day Fruita, Colorado trip on the same set of batteries.

While I love this item, I also bought the mini one for a backpacking tent light. Although they look very similar, the mini one is difficult to use, fragile and I would like to send it back but I already discarded the packaging. Night and day between the design of the two. The bigger one rocks.
Snow Peak Hozuki LED Candle Lantern
The coolest lantern I've ever owned...
Snow Peak puts a lot of thought and effort into designing it's products and this little lantern is a prime example of that attention to detail and usability. The light has 2 settings: solid and flicker. The solid is what you'd expect- with 3 brightness settings. You also get a mode however where holding down the button slowly dims the light, just like a dimmer in your house, so you can get just enough light. The flicker setting, enabled by double-clicking the on button can also be set to stepped brightness settings, and puts out a light that feels remarkably candle like. But the best part of the flicker is that it's affected by movement- giving a surprisingly real feel as the lantern swings from the roof of your tent or truck-awning. It is even realistic to the point that if it gets jostled too hard or a big gust of wind moves it it will blow the light out. The lantern can either be hung or set on it's hook so it looks like a candle. And the globe around the lantern is a silicone rubber so it folds down pretty small. In the hook is also a micro-USB plug so you can run this from a rechargeable battery. The 1 downside to this lantern for me is getting the battery cover back on when replacing the batteries... it takes a little bit of finessing and isn't something you want to have to do in the dark while wondering what is making the noise in the brush...
While on the spendy side, this light nearly puts out the same light as a propane lantern when set at about 3/4 brightness. The flicker option is nice, and with multiple settings you can get just the right amount of light you want. Another nice option is you can power it with a rechargeable battery device (i.e. goal zero, brunton), so it is solar powered if you want.