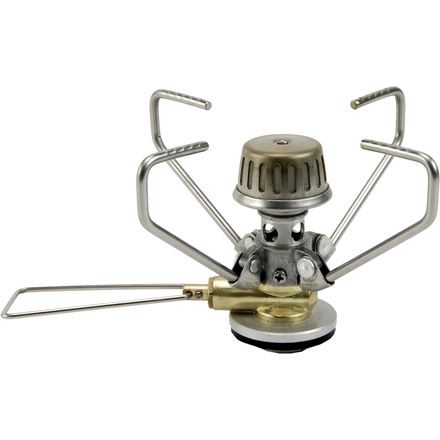 Community Images
Description
Smaller than other stoves but works harder when it comes to heat output.
Snowpeak GigaPower Stove with manual ignition is an incredibly small, lightweight, and convenient canister stove. This powerful little stove weighs just 3.25 oz but produces 10,000 BTUs (most camping stoves are 8-9,000 BTUs). Use this backpacking stove with Snow Peak fuel in temperatures as low as 14°F (-10° C). The Snow Peak GigaPower Stove is designed to stow with a fuel canister in a Snowpeak Solo Combo Cook Set. The GigaPower backpacking stove burns 45 minutes at maximum gas output (10,000 BTUs) with the GP-110 fuel canister. This lightweight, compact camping/backpacking stove comes in a high-quality plastic carrying case. Also available in a titanium version (our item no. SNO0004). **DOES NOT INCLUDE FUEL CANISTER.
Unanswered Question
Hello, can you use a standard green propane canister on this, or do you have to get the specific isobutene?
Excellent Backcountry Stove
Familiarity:

I've used it several times
We recently purchased a MSR Pocket Rocket but needed a second stove for our backcountry meals. Our Backcountry.com guy, Ben Rabinowitz, recommended this stove and we are glad he did. Compared side by side with the Pocket Rocket we find the GigaPower stove has better pot stability and better flame control especially when cooking on a simmer. The two most important stove features for us. The seal seams a bit better with the PocketRocket and we did have an issue with the GigaPower attaching to one of our propane canisters, but the canister was a decade old. We now use the PocketRocket for boiling water and the GigaPower for more precise cooking.
How stable is this stove with a 1 or 1.5 liter pot? Will the flame concentrate in the middle and burn the food in the middle of the pot? OR does it spread out and evenly cook the whole pot?
Best Answer
Hey Sas,



I've used this stove with the GSI Pinnacle Dualist, which is a 1.8L pot, and I've had no issues with it spot heating. I've used the pot for boiling pasta, cooking oatmeal, "sauteeing" vegetables, and cooking/heating stews. I'd say this stove has a pretty even flame pattern, although you won't be able to have the simmer control that a MSR Dragonfly would have.



Let me know if you have any other questions or want to place an order.



Ben



1-800-409-4502 ext. 4767

brabinowitz@backcountry.com
reliable, quick, and compact!
Familiarity:

I've put it through the wringer
love this little stove and the power it puts out. sturdier than the 3-prong MSR version and great variable control.
Invaluable
Familiarity:

I've put it through the wringer
Very reliable and the temperature control lets you go from a light simmer to a full-blast boil. And it is made even better by the low price!
Solid Little Stove
Familiarity:

I've used it several times
Really, my title pretty much sums it up. This stove is super sturdy. There's not much on here to break! It's super lightweight. I keep it in my mess kit and forget it's there. And it works great. It throws a healthy flame, but simmers great too. I've never had any problems with it. Do I wish it had an ignitor sometimes? Sure! But it's not that big of a deal. I just cram a Bic in the carrying case. It's a tight squeeze, but do-able.
How easy is it to find canisters on the...
How easy is it to find canisters on the AT or CT? I assume you can't mail these in drop boxes.
Best Answer
True, you can't mail them. But they fit on any standard small canister. They're sold in any outdoor store, any factory/army surplus store, and in some areas even Wal-Mart and gas stations carry them. They're pretty ubiquitous.
Bought this for long skimo missions to melt water. Works well with my Ti snowpeak pot and a small gas cannister. All fits together into the pot. It doesn't melt as fast as my Reactor but it packs up smaller and lighter. Definitely a balance when deciding what is the priority. Still experimenting to determine the water/gas ratio.
Love this little stove.
Familiarity:

I've put it through the wringer
This is a great little stove. Easy to use, super light weight and reliable. I throw it into my pack even just for day hikes.

Highly recommended!
does it all
Familiarity:

I've put it through the wringer
Almost any stove can boil water fast. The important thing to me in a stove is how does it simmer? This stove goes from hi to low really well. Oh, and you don't even notice you're carrying it.
Small ,light but powerful.
Gender:

Male

Familiarity:

I've used it several times
I love that this stove is light and small enough to take on a quick overnight, but has the power and long fuel burn time for lone trips.

It can hold pots very well for its size.
so small. so light. so easy. boils water fast with my titanium pot. love it
There's a reason that there are more reviews on this stove than any other and it's the same reason that these are "temporarily out of stock" as I write this review .... It's the best. Small, light, bullet proof and powerful. Buy the wind screen ... it will come in handy.