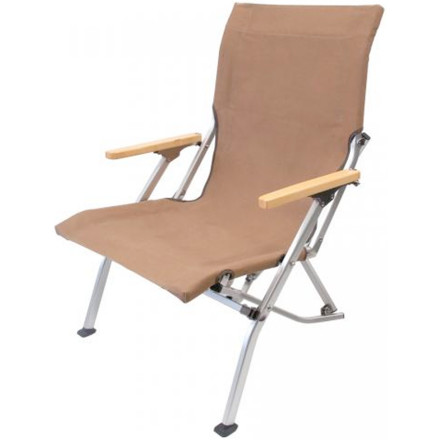 Community Images
Description
Stay relaxed at beaches, BBQs, or anywhere else.
The Snow Peak Folding Beach Chair may sound like an oxymoron considering it has both 'snow' and 'beach' in its title, but hear us out. It's also rugged, easily stowable, and pretty much generally awesome. Comfy enough to put on your back porch and portable enough to take camping or to the beach, the Folding Beach Chair includes a canvas carrying bag for easy transport.
High Quality
Familiarity:

I've put it through the wringer
I was pretty sick of buying $5 fold up chairs at my local grocery store. They always seemed to either fall apart after several uses or go missing because I wasn't attached to them and I didn't care about them.

I've needed a decent camp chair for quite some time now, probably going on 3 years - so this is a pretty big deal for me.

Construction is just beautiful. It's durable and easy to use.
I really like the height, which is somewhere between a low boy and a normal height chair. I like it much better than the lounger style chairs because it's so easy to get out of.

And comfy - man this thing is comfy. I curled up in this chair and read near a lake for a good 2 hours with no discomfort. Try that in your run-o-the mill 5$ Grocery store chair?!

I do however, miss the ease and convenience of a cupholder, which is why it only gets 4 stars.
Otherwise this product is perfection.
How tall is the back rest of the this...
How tall is the back rest of the this chair. I'd like to have the chance to rest my head on it.
Best Answer
Right around 32".
how much weight will it hold need something...
how much weight will it hold need something to hold 400lb
Snow Peak does not list a capacity. Given their tendency toward ultralight products and general Japanese market, I suggest you look elsewhere for a chair that will handle that weight.
The Snowpeak website lists the chairs capacity at 250lbs
how much weight will it hold
how much weight will it hold
Best Answer
One person, or one Labrador Retriever, or two medium cats.