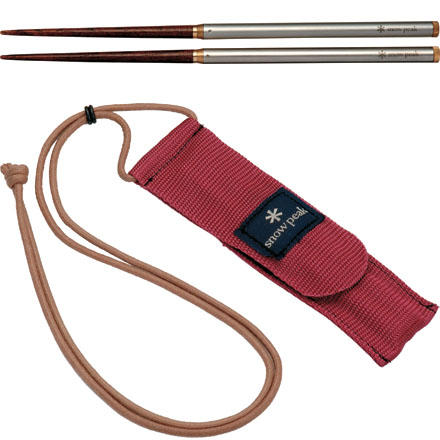 Community Images
Whip out the Snow Peak Carry-on Chopsticks to enjoy some backcountry stir fry, or to impress the delivery guy. Unscrew the wooden tips of these camp utensils and store them inside the metal grips to protect the tips from grime and germs in your pack. Collapsed, the Carry-on Chopsticks are only 4.5 inches in length. Using the Snow Peak Carry-on Chopsticks eliminates the need for disposable chopsticks, and Snow Peak makes the tips out of recycled baseball bats, so they're not only handy, but environmentally friendly. Snow Peak even included a carrying case with a lanyard, so you won't lose these in the recesses of your pack.
Great reliable chopsticks
Yeah the price is a little steep but I've had these for over three years, carry them with me all the time and they have held up quite well. They are easy to clean, easy to use and store, and they take up little to no room.

Makes a great little present.

4 Stars because of the price, not the chopsticks themselves.
Chopsticks for the backcountry and the board room.
I was looking for a backup utensil to carry in case I lost or damaged my spork so I decided to order the Snow Peak Chopsticks. I really enjoyed having them with me on a spring break camping trip, but I find myself using them every week as I head out to my favorite Sushi bars. They are easier to use than the cheap throw away sets you get in the restaurants and make for a great conversation piece. I know several other backpackers and campers that have ordered them after seeing my set. I carry them with my in my work backpack and I'm ordering a second set to leave in my Ospry pack as a backup.
These might be my new favorite piece of gear. They are all that everyone says - elegant, functional, well-made, well balanced, easy to clean, compact. I'll add awesome to that. Love that the wooden tips are made from recycled bats (japanese white ash) and sealed with tree sap to prevent stains.

Another reviewer said the snow peak short spork will fit in the pouch with the chopsticks so I'm going to order one and then I'll have the perfect little utensil kit for my lunch bag & backpacking.
Excellent gift for the outdoorsperson who has everything
Like all things Snow Peak, these chopsticks are well made, elegant and functional. The precision-crafted wooden tips screw snugly into the stainless tubes with a brass fitting, but store in the handles when not in use.

The end caps click in securely with a rubber O-Ring, and the whole package fits nicely in the burly nylon carrying case.

I purchased these as a christmas gift for my girlfriend last year, who loves them and takes them camping with us all the time. They have held up quite well under regular use.

Hope that was a help
The "light is right" crew would probably just bring a pair of freebies from the Chinese restaurant, but these Snow Peak chopsticks are quite snazzy--and functional too! I freezer bag cook while out camping and normally pack chopsticks and a bowl for all foods (what you can't scoop with the sticks goes straight down the hatch from the bowl itself.) I've had these fancy storable chopsticks on my gift list for a while and the wife finally came through. Some reusable chopsticks have plastic or highly pollished wood, which ends up giving having no grip on food. The finish on these chopsticks have a nice grip to them, and the whole assembly feels right in the hand. Given the twitchy nature of TSA agents I wouldn't advise trying the "carry-on" part of these untensils--what with the metal barrels and all. If nothing else they'd feign security concerns and confiscate them simply because they look so darn cool! Because I'm most likely not going to keep them on my person at all times, I'm thinking about snipping the lanyard off of the nylon case.While not an essential camping item, these chopsticks still fall more on the side of funcional over flair for back country gadgets. I'd happily recommend them.
Fantastic!! I love these things. If there is a meal that can be eaten with them, I do. I wish the caps were screw on so I'd worry less about losing them but I'm always very cognizant when I pull these out anyways. They really make you use proper technique too. Not sure how long the wood will last but when it gives out I'll definitely buy more. If you know anyone who loves sushi or eats a lot of noodles this is their sexy new utensil. Here's a pic of beef stroganoff in an Orikaso bowl with the Snow Peak Chopsticks.
These are some really well made chop sticks! They're well balanced, compact, and easy to clean. The case will also hold a Snow Peak short spork, in addition to the sticks, for added versatility. They may not be essential, but your friends will be jealous.
This is one of the best peices of gear anyone has ever given to me. Not sure I would have ever have thought to buy them myself, but now that I have them I can't image life without them. Perfect for trail ramien. Small, light and compact.
After 3 years of daily use (I bring my bento lunch everyday to work), recycled baseball bat chop stick finally gave up. Beside I lost the top cap covers after 3 days, this is the gear that your friends or peers always ask you about everytime you use them. Stoke #4!
I have owned a pair of these for I can't remember how long, and everytime I use them, I get excited all over again. A friend of mine has been commenting on how much he liked them, and I finally located them through your web site, and purchased a pair for him. I delivered them in church one Sunday, and I'm still hearing about it. The workmanship is superlative, and the fact that they break down and store in the handle allows you to bring them along even when space is critical. I would highly recommend these for any gear kit, or even just for forays into the local sushi bar. Well done!
I got these chopsticks as a gift for a friend as a thank you. She had worked very hard on a volunteer project and knew this was the gift she would love. After presenting these to her, her mouth didn't close for a good 1/2 hour then her husband told me later that she actually wore them around her neck to bed. They are so extremely well made and frankly beautiful pieces of equipment. She has told me that she uses them on a daily basis. These chopsticks are not just for the backcountry, they are for any chopstick user far and wide.