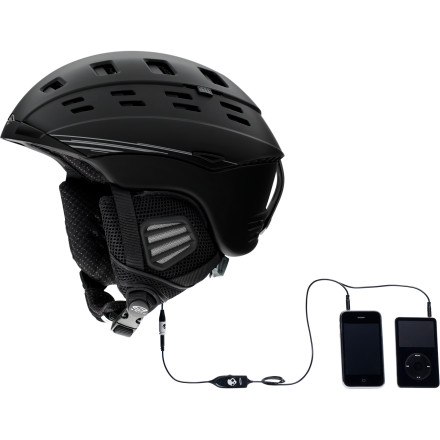 You ride more than 100 days every year, and you need a workhorse of a helmet to keep up with your near-constant shredding. The Smith Variant Skullcandy Twin-Tip Audio Helmet will keep your brain in one piece and your ears dancing.
Twin-Tip Audio Kit gives you phone and audio compatibility in a reliable, hard-wired package
22 Adjustable vents let you blow off steam whenever you need
Snapfit ear pads let you wash the soft stuff every once in a while so your helmet doesn't get too funky
X-Static Performance Lining uses a silver-coated fiber to help reduce odor and static and to increase heat transfer
SMITH Variant Skullcandy Twin Tip Audio Helmet
KILLER helmet, true to size, lightweight and the audio system works great.....better than expected. I own SMITH goggles, so they are a perfect match. I can even get a lightweight balaclava under it when the temperature drops hard.
I just got this in the mail, but it doesn't...
I just got this in the mail, but it doesn't have a brim on it!
Another brilliant snow boarder (has to be a boarder, no skier is that clueless) is there a brim in the picture? NO!
Wow, well they obviously the website updated the picture after our comments. When I bought this back in the beginning of December there was a picture with a brim on it. Way to shame skiers by speaking that way and being that immature.